Lessons learned from latest Canada flooding | Insurance Business Canada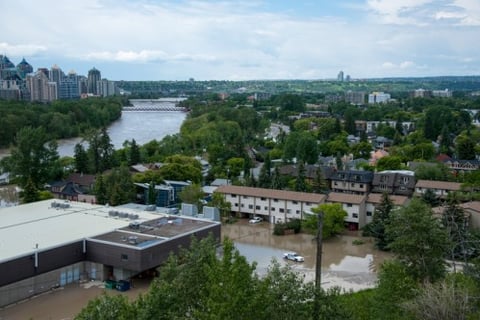 Repercussions from flooding in southwestern Ontario continue to affect homeowners in the area as losses are assessed and claims begin to be filed.
In Brantford, nearly 5,000 people were forced from their homes during recent flood events, according to the Canadian Press. A state of emergency was issued by the city on February 21 when warmer temperatures and copious amounts of rain caused an ice jam on the Grand River.
As inspections continue, the city of Brantford reported that "at least 30-50 homes in the assessment area have confirmed water infiltration – verification will follow once inspections are fully completed as several properties still need to be entered."
Representatives from the Insurance Bureau of Canada (IBC) went to Brantford to answer residents' insurance questions and help connect them with their respective insurers.
The IBC learned that Brantford's homeowners experienced a spectrum of damage, from minimal to significant.
"It was obvious from those conversations that there was a whole range of water damage that people suffered," said Pete Karageorgos, IBC's director of consumer and industry relations (Ontario). "In some cases, people had water in their basement, but there was no water around the outside of their homes. In other cases, they were immediately beside the river that in some spots the water there overflowed from the breakwall, which is fairly high up."
Many consumers who spoke to the IBC had already reached out to their insurance companies, and while some were covered by their homeowners' policies for flood damage, others ran into questions of how exactly water entered homes and what corresponding coverage was available under their policies. For example, one individual was capped at $10,000 for sewer back-up coverage, but there was the issue of determining whether their basement was flooded as a result of a sewer back-up or other types of flooding.
As natural catastrophes become more common, ensuring they have coverage for these events is becoming more important for consumers.
"I think the key thing is that people are now seeing the need, obviously, for this type of coverage," said Karageorgos, pointing to one homeowner who lived in Brantford her entire life and hadn't experienced flooding of the Grand River since the 1970s.
"People are a little more sensitive to the need and the possibility that they should be looking at it if they haven't yet: sewer, flood coverage, overland flood coverage, a whole host of issues to protect their properties," said Karageorgos.
The IBC director added that there needs to be change in the industry, too, since during past flooding events, it became clear that companies hadn't offered flood insurance for homeowners exactly because they were in flood risk zones.
"It's going to be a challenge and it really drives the message home that IBC and the industry is working on, that we're talking to the government, and the government needs to participate in a solution to help all Canadians with the challenge of the impact we're seeing floods having on our homes and communities," said Karageorgos.
Related stories:
IBC responds to Brantford flooding, deploys community assistance staff
IBC introduces new instructional water damage tool