Sun Life releases toolkit amid Canada's growing mental health crisis | Insurance Business Canada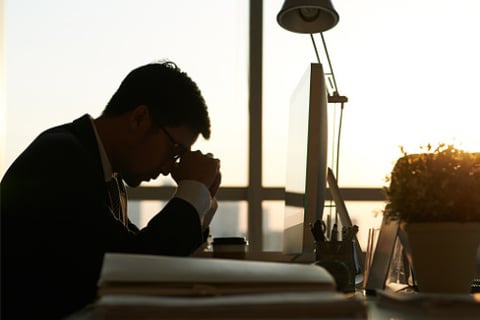 Canada is facing a growing mental health crisis. According to the Centre for Addiction and Mental Health (CAMH), one in five Canadians experience a mental health issue each year, and at least 500,000 Canadians miss work each week due to mental health issues. They were the stats before the COVID-19 pandemic disrupted normality as we know it, causing heightened distress, anxiety and depression.
The pandemic continues to amplify the need for healthy workplaces. According to Sun Life, which provides coverage to over three million employees and their families in Canada, mental health is the leading cause of disability leave in Canada – and the fastest growing claims type.
A recent Sun Life study found that two-thirds of Canadians (66%) say their employer hasn't provided additional mental, physical or financial wellness support during the pandemic, or they don't know if their employers have done so. In response, Sun Life has built a free, digital mental health strategy toolkit for companies of all sizes, no matter where they are in their support of employee mental health.
Read next: Mental health and insurance: More work to be done
Marie-Chantal Cote, vice president of market development, group benefits, Sun Life Canada, commented: "At Sun Life, our purpose is to help Canadians achieve lifetime financial security, but also live healthier lives. We've spent a lot of time thinking about how we can support Canadians through this global pandemic. This toolkit is a result of that. It's meant to be a framework or approach that helps employers think about the health of their organizations and the mental health of their workforce.
"We work with many employers of different sizes, and one of the things that's apparent is that employers care tons about their employees. [The potential gap in mental health support] is not from a lack of interest or lack of wanting to be helpful to their employees, because employers definitely want to have healthy workplaces. Often, it comes from not necessarily knowing where to start or not necessarily having the right resources."
Tackling mental health can be a delicate topic. When it comes to mental health, everybody's experience is "unique," Cote stressed. People have different journeys based on the kind of support they get in their organizations, and the tools and resources they leveraged before maybe taking disability leave.
Sun Life's mental health strategy toolkit simplifies the process for organizations. It walks employers through the stages of building a strategy, with integrated access to Sun Life's tools, information and resources.
"We like to suggest a strategy that revolves around a few key areas: understanding factors that can influence mental health in the workplace, assessing the current state, determining what resources are available, and setting objectives and goals," Cote told Insurance Business. "Continuous assessment is also something that we encourage because things like workplace culture, workplace health, and employee physical and mental health are not static; they're always evolving.
"We also believe that employers – especially leaders of organizations, C-suite members and managers – have a strong role to play in shaping workplace culture and creating a safe space that normalizes discussion about mental health and encourages positive dialogue."
Read more: Sun Life forum puts spotlight on Canadian mental health crisis
Before the COVID-19 pandemic, there was still some stigma around acknowledging, discussing and dealing with mental health in the workplace. That's why Sun Life's new toolkit arms employers with ways to create a "safe environment" where mental health is normalized through the language that they use in their organizations.
As well as Sun Life's new mental health strategy toolkit, there are plenty of publicly available mental health resources that Canadians and Canadian employers can tap into. For example, Sun Life provides all Canadians with free access to Lumino Health, Canada's largest digital health network that provides tools, resources, links to providers, and general health and wellbeing information.
"In addition to the tools we've made available for all Canadians, we have a full toolkit available for our clients to help guide them based on their particular mental health needs," Cote added. "We provide access to Lumino Health virtual care, a telemedicine platform that gives employees virtual 24/7 access to a medical practitioner, who can help with both physical and mental health issues.
"We're doing a pilot for a digital mental health coach, which will help employees navigate their mental health journeys, making sure they're aware of the tools and solutions available to them, and using some predictive analytics to help identify people that might need some support. We also have tools for employees on disability leave. For example, we can use pharmacogenomics to help identify the best drug based on a person's particular DNA to help them if they suffer from depression or anxiety."