Ferry captain's actions contrary to insurance requirements: expert | Insurance Business - Page 2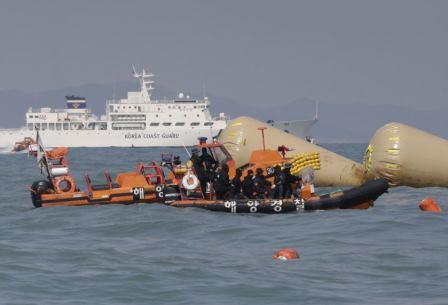 Fending off criticism of her own government in the handling of the tragedy, South Korean President Park Geun-hye said that the captain and some crew members of the sunken ferry committed "unforgivable, murderous behaviour."
South Korea has been a member of the International Maritime Organization (IMO) since 1962.
The captain initially told passengers to stay in their rooms and waited more than half an hour to issue an evacuation order as the ferry Sewol sank last week. By then the ship had tilted so much it is believed that many of those still missing could not escape.
"What the captain and part of the crew did is unfathomable from the viewpoint of common sense, unforgivable, murderous behaviour," President Park said at a cabinet briefing, with those comments posted on the website of the presidential Blue House.
Park said instead of following a marine traffic controller's instructions to "make the passengers escape," the captain "told the passengers to stay put while they themselves became the first to escape."
"Legally and ethically," she said, "this is an unimaginable act."
For McLea, marine accidents can be commonplace – but adds maritime crews in Canada are well-trained and have years of experience. (continued.)