Helping Canada's oil and gas industry recover | Insurance Business Canada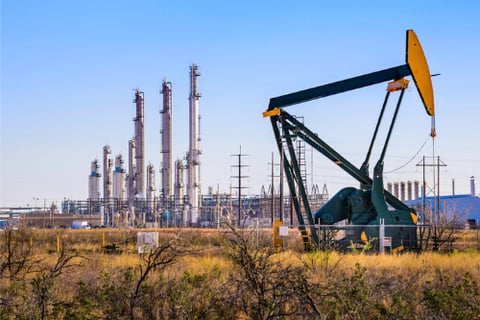 The oil and gas industry in Canada has been in a slump for the past couple of years, with net earnings plagued by record-low pricing, increased corporate tax rates, and the introduction of a coordinated nationwide carbon tax in 2019 – and that was all before the COVID-19 pandemic caused demand for oil and gas to plummet as countries around the world locked down to prevent spread of the coronavirus.
With the oil and gas industry at a low, investments in drilling and production projects in Canada were shelved, which meant contractors couldn't get work and the unemployment rate in the industry increased. This pushed some contractors to look for work abroad, often in the United States, as they wait for the Canadian economy to improve.
The situation was not helped by the COVID-19 pandemic. Mary Robichaud, assistant vice president of underwriting at CNA, based in Calgary, Alberta, explained: "The global economy shut down. Everybody across the world stored their oil and put equipment into storage because there wasn't enough demand, and that impacted the industry."
But as the global economy has started to recover and countries, including Canada, are slowly reopening, some positive trends are emerging. The price of oil and gas has rebounded, and drilling operations have picked back up in Western Canada.
"This year, we've seen a great increase in drilling activity – especially directional drilling – in Alberta and a little bit in Saskatchewan," said Robichaud. "With oil and gas prices improving, that is helping to drive production, which will get drilling projects back online, and there will be more work available for contractors.
"We are seeing some general industry improvement, which is exciting. The industry is hoping that in the next couple of years, the oil and gas industry will get back on track. In the meantime, the industry is looking very closely at how to become greener. I think we'll also see a continued evolution in that respect."
"As the oil and gas industry has faced challenges, their insurance options have also been restricted. For some of the major refineries, production companies and pipelines, insurers have started limiting how much capacity they're willing to provide, leaving firms with potential gaps in their liability coverage towers. The contractors in Canada are usually insured by the domestic markets, who for the most part are still writing those accounts even if they have faced challenges over the past few years," added Robichaud.
CNA is one such carrier to continue providing solutions for oil and gas companies across Canada. The insurer offers Oneworld+® Oil & Gas - a package solution designed and tailored to meet the complex challenges and threats that oil and gas businesses face today. Some of its unique coverage solutions include an oilfield towing extension, a well servicing endorsement, and protection against currency devaluation.
"Oneworld+® is a great package solution for oil and gas companies because it automatically includes coverages that other markets sell as endorsements," Robichaud told Insurance Business. "For example, we provide downhole tool retrieval expense coverage, which means if a tool gets stuck downhole, we will automatically pay up to $100,000 for the expenses incurred to try and retrieve the tool – and higher limits can be purchased if necessary."
"We also provide cab & chassis coverage through Oneworld+®. A lot of markets have stopped covering physical damage on units with attached equipment under the contractors' equipment; they will only cover them under commercial auto. But some equipment – like wireline units, slickline units, or coil tubing units – are so integral to the cab & chassis, that it's hard to separate the value of the cab & chassis and the attached equipment. This is an option that CNA can provide under our contractors' equipment coverage. This provides peace of mind for our insureds, they only have to pay one deductible, and it improves ease of claims handling."
Claims through CNA's Oneworld+® Oil & Gas are handled by a specialized team in Calgary, whom Robichaud said "know the oil and gas industry" inside-out and know how to get clients back up and running after a claim as quickly as possible. Oneworld+® clients also get access to CNA's risk control specialists and the insurer's extensive international capabilities, especially in the US.
"With Oneworld+® and our international team, CNA is one of the top markets, providing a streamlined approach and a tailored insurance program for our brokers and insureds " said Robichaud. "If a Canadian broker gives us a call [about a client expanding their operations into the US], the underwriter in Calgary will handle everything and send all the information to our North American business team, who will rate it and provide us with coverage terms, and then we can very seamlessly provide the quote and other information to that broker.
"The client doesn't have to work through a broker in the US. The broker and insured has a single point of contact that they always go to. It's a very seamless procedure. Our claims people in the US would be right on top of a claim if an insured suffered a claim in the US, and likewise, our risk control specialists can go out and help clients with US operations. It's almost like there's no border; it's all very straight and streamlined."
As the oil and gas industry continues to heal in Canada, CNA is positioning itself as the go-to solution for contractors. For more than 10 years, CNA has been a member of the Canadian Association of Energy Contractors (CAOEC), which gives the insurer invaluable insight and connection to the industry.
Robichaud commented: "We have our finger on the pulse of the oil and gas industry in Canada. We have the expertise, we know who's who, and we've created Oneworld+® Oil & Gas to meet the unique coverage needs of the industry. That's the comfort that we can provide our broker partners and insureds."