Drone exposures causing sky-high headaches for insurers | Insurance Business Canada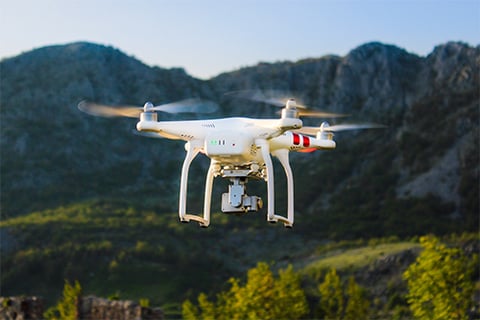 A recreational drone pilot has been fined US$20,000 after he lost control of his drone while flying it illegally near McCarran International Airport in Las Vegas. In June of 2018, pilot Rueben Burciaga lost control of his DJI Phantom 3 drone while operating it in Class B airspace – a no-go zone surrounding the nation's busiest airports. The drone then drifted more than two miles towards the international airport before landing next to an active runway.
The Federal Aviation Administration (FAA) slapped Burciaga with a hefty US$20,000 fine in November 2019 for committing "a litany of serious violations" and flying his drone "carelessly and recklessly". The FAA added that the incident could have turned out much worse. FAA spokesperson Ian Gregor said: "An incident like this could've resulted in a plane hitting the drone or in disruption of airport operations or in injuries to people walking on the strip if it had crashed there. It was very fortunate that it ended up crashing where it did and didn't cause any damage or injury."
People operating drones where they shouldn't be is just one of the challenging risks that aviation insurers face in the booming drone market. While the Burciaga case was one of carelessness and recklessness, insurers are well aware of the potential for bad actors to operate drones with criminal intent or for terrorism.
"It's a risk we're watching very closely," said James Van Meter, head of aviation programs & product development at AGCS. "Outside of North America, we've seen criminals use drones to deliver explosives. There was one case that involved a chemical weapon being strapped onto a drone. We are seeing low-end consumer drones being used for terrorist activity because they're very capable pieces of technology. They can be operated remotely, and they're sophisticated – even in the US$1,000 range."
The potential for drones to be used for malicious purposes has resulted in the rise of the so-called anti-drone industry. This is made up of companies focused on the detection of drones, and developing solutions to bring drones down safely if they're operating where they shouldn't be.
"Unauthorized operation of drones is a big issue at things like music festivals and concerts. People bring drones in their backpacks or they launch them from a nearby parking lot, and then they fly them illegally over crowds of people. That's certainly a risk to the innocent bystanders that are underneath these drones," Van Meter told Insurance Business. "As a result, we've seen big public events like music concerts or the Super Bowl, where the venues themselves are deploying anti-drone technology to keep drones away from airspace that they shouldn't be operating in."
A prime example of illegal drone operation would be the December 2018 London Gatwick drone crisis. During a three-day incident, which started on December 19, two drones were used to completely cripple the international airport, disrupting a total of 1,000 flights and affecting more than 140,000 passengers just before Christmas.
"The Gatwick incident shows that a drone operator can disrupt hundreds of thousands of people through malice," Van Meter commented. "This new anti-drone technology that's in development, and some people already have in use today, jams the drone's radio frequency, enabling the technology to take over the drone and bring it down to ground in a safe and controlled manner. Shooting a drone out of the sky is not a practical solution in most cases because it's not safe for whoever's underneath or nearby the drone."
One risk that insurers are aware of in the drone operation sphere is cyber spoofing. This is when criminals hack into the Wi-Fi signal or the radio signal that's being used to operate a drone and they interfere with its flight plan. Successful spoofing could result in another drone/airport situation but with even more severe, and possibly even fatal consequences. Luckily, that's a risk that Van Meter and the AGCS team have not seen come into fruition on the claims side - but they're not ruling it out as a possibility.