Building resiliency | Insurance Business Canada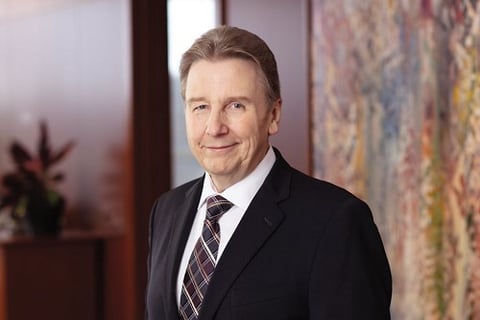 The path to a long and successful career is oftentimes more about the journey than the destination. Long before Tom Lawson reached the upper echelons of commercial property insurer FM Global, he found work right out of college at the firm as a field engineer, where he conducted risk assessments, provided loss prevention engineering recommendations to clients, and was exposed to the wide range of industries and Fortune 1000 companies to which FM Global brings value.
As a 23-year-old, the experience proved invaluable, and the longer Lawson did the work, the more he enjoyed the job and saw how the company's values aligned with his own – and he was given the opportunity to advance his career at FM Global.
"Forty years later, here I am," says Lawson. "It's pretty rewarding to sit back and think about it now – that you can start out as a field engineer, and end up as chairman and CEO. For me, it's been a great journey."
In between his first position at FM Global and his current one, Lawson climbed up the ranks of the company's engineering group, and was responsible for opening a branch office as an engineering manager. He later picked up the title of underwriting manager, which was his first foray into the insurance side of the business.
"It was interesting not having any insurance experience, but the real focus was the ability to differentiate risk, which is something that's fundamental to everything we do in the company," Lawson says. Later down the road, he created the unit that oversaw the company's global forest products operations, and eventually led the team that built the company's research campus, the world's largest center for science-based property loss prevention research and product testing. It was one of the shining moments of his career at FM Global.
"Our research campus is where everything starts. It's really a foundation for everything the company does related to engineering and underwriting," says Lawson. "To be able to design and build a one-of-a-kind facility that is used to deliver on our value proposition was pretty important."
Employee of the decade
When Lawson took over the operations of the company as an executive vice president in 2008, and finally was elected CEO in 2014, before picking up the title of chairman in 2018, he was more than prepared to lead a company whose many sides he had already seen.
Today, he's a key example of the company's ability to retain its team members for an average of 13.2 years, if not longer, in part thanks to FM Global's mutual structure.
"We're a mutual company as opposed to a stock company, which allows a singular focus on what's best for our clients, who are actually our owners. Unlike a publicly traded company, there's never a conflict between what's best for our shareholders versus our clients," Lawson explains. "It also sets the tone for our culture in the way we deal with our mutual owners, our clients. It permeates into how we deal with each other at the company, and contributes to long-term relationships."
With FM Global's high employee retention rate, it's clear that the company is doing something right as retirements of senior experts loom over the insurance industry. Millennials get a bad rap, according to Lawson, who meets with many such new employees when they join the company and finds that they consistently tell him they're taught to change jobs every few years in order to advance in their careers.
"What they say is that as long as their employer is interested in their development and spends time to communicate with them, they're not interested in switching companies every two years," explains Lawson.
A focus on loss prevention
FM Global aims all of its capital and risk management expertise on commercial property insurance, and aligns itself with companies that share the company's belief in the value of loss prevention. It's important to find clients who think the same way, says Lawson, and are also willing to commit to making loss prevention a key part of their strategic planning as well as taking the actions needed to make their facilities resilient.
"To do that though, part of 'Being FM Global' is that we need to develop a thorough understanding of what the clients' businesses are, and then those exposures that threaten their resilience," he tells Insurance Business. In order to create resilient companies, FM Global's experts need to identify the property-related risks facing their clients and provide them with practical solutions to mitigate exposure. In fact, the company is unique in its risk management approach in that it uses engineers, not actuaries, to help clients mitigate, assess, and address their property risk. "The fact that we're a research-based organization, as opposed to an insurance-based organization, allows us to create the science that our engineers then turn into practical solutions and share with our clients."
The FM Global Research Campus is devoted to stopping physical threats from becoming major catastrophes. Its four laboratories study fire technology, natural hazards, electrical hazards, and hydraulics, where teams run experiments that help to develop understanding around each risk. In the fire technology lab, for example, researchers learn about the causes of structural failure, the speed at which fire spreads, and sprinkler protection systems.
Natural catastrophes, business interruption, and cyberattacks that demobilize physical facilities are a few of the top-of-mind risks threatening insureds today, but there's another, often overlooked danger that Lawson believes is crucial for companies to pay attention to.
"The biggest risk that's emerging is when you don't make loss prevention and risk management part of your strategic planning," he says. "I think that's acknowledging that loss is not a foregone conclusion, and you don't have to accept that. The majority of loss is preventable, so the good news is you can actually change your future by choosing to make your facilities and your corporation resilient."
After all, FM Global was founded in 1835 on the premise that members of the mutual company had to take care of their businesses' facilities. This belief continues to underpin the insurance company's work as it turns science into solutions for its clients around the world.