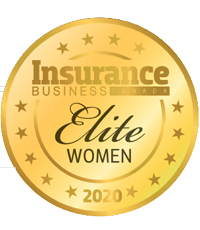 In an industry traditionally dominated by men, the tides are finally turning. More and more women are entering the insurance field and climbing the ranks into leader­ship positions. This year's Elite Women list shines the spotlight on 45 women who are changing the gender balance of Canada's insurance industry, 40% of whom hold executive­ level positions, from CEOs and owners to directors and department heads.
The industry's overall shift toward inclusivity wouldn't be possible without the many trailblazers who began their insurance careers decades ago, before gender equality was a badge of honour for insurance companies. Several of these women, who entered the industry as fresh­-out­-of-­school graduates and continue to pave the way now as executives, are highlighted on the following pages.
From insurtech leaders and specialty program experts to entrepreneurs and analytical masterminds, these 45 women have proved themselves capable of overcoming stubborn cultural and societal obstacles to achieve any goal. As they forge a path for future generations of insurance professionals through today's especially challenging economic climate, IBC is proud to highlight their individual achievements and contributions to the industry.