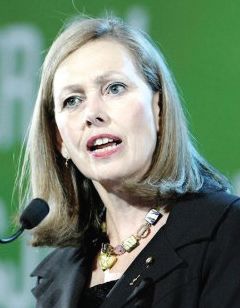 ​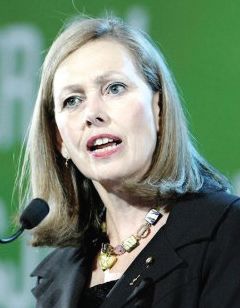 MONIQUE LEROUX
President & CEO
Desjardins Group

WHY HOT? MAKING DESJARDINS A MAJOR PLAYER IN CANADIAN INSURANCE
Before joining Desjardins Group, Monique F. Leroux had already made a name for herself as a high-level manager in the world of finance.

Held up as an inspiration for women looking to break the executive glass ceiling, the chair of the board, president and CEO of Desjardins Group rose through the company ranks when she first became a member of Desjardins' senior management back in 2001.

"Desjardins ranks among the most stable financial institutions in the world and this is in large part thanks to its capitalization," said Leroux, following the issuance of $500 million in shares to its Desjardins caisse members. "Acquiring capital shares allows caisse members to show their support towards the development of their cooperative."

Currently a member of the Canadian Council of Chief Executives and the Founders' Council of the Québec Global 100 network, Leroux is also a member of the United Nations IYC Advisory Group (International Year of Cooperatives, United Nations).

CAREER
Current:
President & CEO, Desjardins Group (2008)
Previous:

Senior Executive Vice-President and Chief Operating Officer of Quebecor Inc.
Senior Vice-President, Quebec Division, Royal Bank (1997 to 2000)
Senior Vice-President of Finance for the Financial Group (1995 to 1997)
Associate Director of Quebec, Earnst & Young (1978-1995)

Years of Experience:
ACHIEVEMENTS/RECOGNITIONS

Honorary doctorates from Université de Montréal in 2013, Université de Sherbrooke in 2012, University of Ottawa in 2012, Concordia University in 2011, Bishop's University in 2011 and Université du Québec à Chicoutimi in 2010.
Outstanding Achievement Award, Ordre des CPA du Québec 2013
Designated a Fellow by that same order in 2013
Chevalier de l'Ordre de la Pléiade of Assemblée parlementaire de la francophonie (2012)
Mercure Leadership Germaine-Gibara Award, Fédération des Chambres de commerce du Québec (2012)
Excellence in Business Award, Canadian Civil Liberties Association (2012)
Women Corporate Directors Visionary Award (2012)
Woman of Outstanding Achievement by the Women's Y Foundation (2012)
Quebec's Financial Person of the Year, Finance et Investissement (2012)
Woodrow Wilson Award for her contribution to Canadian society from the Canada Institute of the Woodrow Wilson International Center for Scholars (2011)
Centre Jacques-Cartier medal (2011)
Champion of the Catalyst Canada Honours 2011

AFFILIATIONS

Vice-President and member of the Board of Directors of the International Confederation of Popular Banks (CIBP)
Board of Directors of the European Association of Co-operative Banks
Conference Board of Canada
Founding partner of the Quebec International Summit of Cooperatives (2012-2014)
Canadian Council of Chief Executives
Founders' Council of the Quebec Global 100 network
Chair, Conseil Québécois de la Coopération et de la Mutualité
Member of the Board of Directors of Co-operatives and Mutuals Canada

EDUCATION:
Current Town
Quebec
Hometown
To read the full feature, click on the following link
Insurance Business Hot List 2014
.