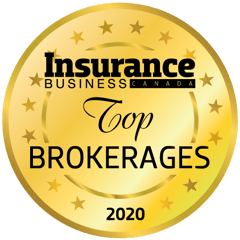 There's no such thing as a smooth year in the insurance industry, but even so, 2019 threw some especially challenging curveballs. From technology changing at lightspeed to the devastating effects of climate change and

impossible-to-anticipate economic conditions, the industry has survived countless hurdles. Despite the obstacles, several brokerages soared by embracing new markets, upgrading processes and wowing with digital advancements.
Now in its seventh year, Insurance Business Canada's Top 10 Brokerages list celebrates the brokerages that achieved significant growth over the last 12 months. By using a 'handicap' formula, IBC can evaluate brokerages of all sizes on an even playing field. In addition to focusing on metrics of size and volume – such as revenue and number of clients – IBC also looked at brokerages' year-over-year growth. On the following pages, this year's Top 10 Brokerages share their insights into the industry and the drivers that have made their businesses thrive.
Methodology
To be considered for IBC's Top 10 Brokerages, each company had to provide key details about its business in 2019, including revenue, policies written, number of brokers and profit margin. Each brokerage was ranked according to 11 criteria:
Revenue
Revenue growth*
Revenue per broker
Number of brokers
Number of new brokers
Client growth*
New clients
New clients per broker
Policies written
Policy growth*
Profit margin
Each brokerage's ranking for each category was added up into a composite score. The brokerages were then ordered by their composite score – as with a golf score, a lower composite score equals a higher ranking – and the 10 brokerages with the best scores were named to the list.
The majority of the criteria used by IBC measures growth and business volume per broker, rather than just critical mass, allowing brokerages of all sizes to compete fairly. In addition, measuring metrics such as revenue growth and policy growth as a percentage of total business ensures that the very best-performing brokerages are recognized.
*Percentage change between 2018 and 2019