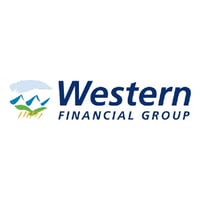 5. WESTERN FINANCIAL GROUP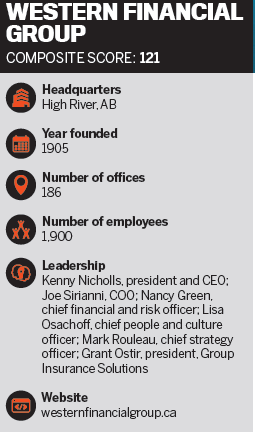 What made 2019 a banner year for Western Financial Group?
Kenny Nicholls, president and CEO: Western Financial Group went into 2019 focused on creating opportunities. We concentrated on our strengths and achieved some important milestones, including launching a financing portal to ease our customers' payment process. As our customers reacted to the hardening market, we leveraged our size and brokers' expertise to ensure customers kept the coverage they need, resulting in healthy retention levels and support from carriers. Solid growth in our specialized group and association products, commercial programs, group benefits, and personal life insurance products contributed to our healthy results.
Adding to our organic performance, we continued our expansion into Ontario, acquiring a three-office agency in the Ottawa Valley and increasing our Ontario footprint to 16 locations. We also take pride in our charitable arm, the Western Communities Foundation, which awarded $345,000 in grants to charities across Canada last year. Our dedication to people has earned us a bestin- class customer experience score. We're proud of what we've achieved, and we're ready to continue growing and evolving.
What are Western Financial Group's specializations?
KN: We pride ourselves on having solutions for any challenge our customers present to us in their personal or commercial lines, financial services, or group benefits. With 186 locations and nearly 1,900 insurance experts, Western offers specialized services to suit any need across Canada. We work with numerous insurance partners and keep updated on their offerings and priorities. We also design unique products and programs, including home and auto products, indoor growers, and daycare programs; an affordable high-quality group benefit product, TotalGuard; and protected self-insurance programs.
What's the biggest challenge facing brokers in 2020?
KN: Our industry is adapting to the digital age, and customers and employees expect to access a broad set of products and services easily over multiple channels. Western Financial Group works to deliver a customer experience that focuses on high-value touchpoints, leveraging our expertise to build customer confidence and security.
As an employer, attracting and supporting the development of insurance professionals is key. As the traditional roles of brokers change, our teams are evolving to provide value to customers in new ways. One thing we know: Customers will continue to need personalized expert advice from our brokers.