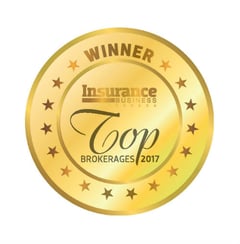 After months of receiving nominations from coast to coast, it was time to narrow down hundreds of brokerages to just 10 that are worthy of the title of one of Canada's top brokerages.

These brokerages should be applauded for having navigated through a tumultuous year marked by catastrophes, such as floods, storms and the wildfire that has been the costliest natural disaster in Canadian history, coupled with continuing industry consolidation, the running theme of cyber risk/insurance and the increased use of drones, all of which have made the insurance landscape more complex than ever.

For IBC's Top 10 Brokerages special report, a handicap system ensured all brokerages – large and small – were placed on a level playing field. While the amount of written premium and revenue are obvious marks of successful performance, also considered were the extent of the brokerages' growth in the past year in terms of new policies and clients, as well as retention rates and efficiency in their operations.

The efforts of participating brokerages to share with Insurance Business Canada readers details of their businesses and how they made them so successful makes pertinent reading indeed – so thank you to you all.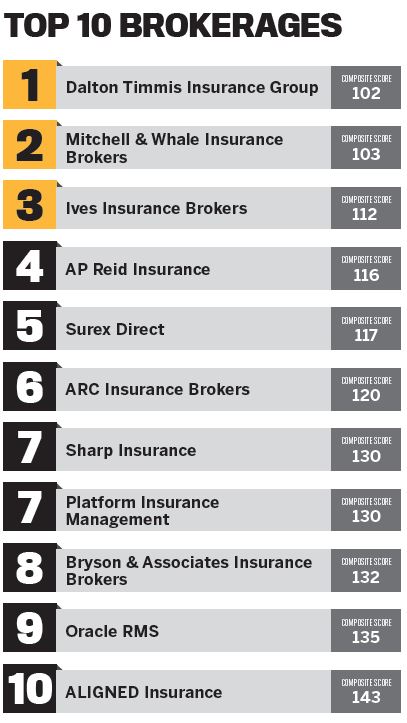 THE METHODOLOGY
Insurance Business Canada asked each brokerage to supply its own details in order to qualify for consideration. In total, we captured data for 2016 in 13 key business areas:

• Revenue
• Revenue growth (2016 vs 2015, as a %)
• Revenue from new policies written in 2016
• Revenue per broker
• New revenue per broker
• Brokers
• New brokers
• Clients
• Client growth (total clients in 2016 vs total clients in 2015, as a %)
• New clients
• New clients per broker
• Policies written
• Policy growth (policies written in 2016 vs 2015, as a %)

Each brokerage was ranked according to these criteria, and their rankings for the categories were added up. The brokerages were then placed in order of who had the lowest overall score (think of it like a golf score). Higher ranking (i.e. lower value) in each section results in a lower overall score.

The majority of the criteria we used recognized business volume achieved per broker, rather than just considering critical mass, allowing us to fairly recognize brokerages of all sizes and not just the ones with large amounts of business.

As metrics such as revenue growth were expressed as a percentage of total business, it ensured that the very best performing brokerages were rewarded.