10 ALIGNED INSURANCE INC.
Headquarters: Toronto, ON
Year founded: 2014
Total number of offices: 4
Number of employees: 11
Specialty: Commercial insurance
Head leadership: Andrew Clark, president and CEO
Website: https://www.alignedinsurance.com/

What makes your brokerage unique?
ALIGNED was built upon 18 points of differentiation to deliver unmatched value to its clients. These include: our direct access to ALIGNED advocates, exclusive products, no sales people, our ALIGNED process, staff standards, our corporate responsibility program, 0% commission/fee option, 100% electronic policy issuance and e-storage option, tiered levels of service, service guarantee, only business insurance, priority claims response and 24/7 claims reporting, longer office hours and weekend hours, 100% Canadian owned, capped workloads, independence and, finally, clients all deal with owners of ALIGNED.

The three points of most interest are our game-changing fixed fee/0% commission option, our bronze-, silver-, gold- and platinum-tiered client service packages, and the ALIGNED share plan, which makes all employees owners of the business.

In what areas of business has your brokerage experienced recent growth?
We've experienced considerable organic growth in small- and mid-sized clients across the country from all industries and across all lines of business.

What is a proud accomplishment for your brokerage and why? Three main things stand out for us:
Our considerable organic growth and interest in our business model
Completing two acquisitions within the first two years of operation
The recent launch of the ALIGNED share plan, which makes all employees owners of the business, was a milestone for our team, culture and positioning for future growth
What challenges did your brokerage experience last year and how did your team overcome them?
Due to weakness in the economy in specific sectors across the country, we had a number of clients who ceased operating their businesses and stopped buying insurance as a result. These are tough loses, as they were completely outside of our control and were sad to see. But we worked hard to find new clients to replace the ones we lost and experienced considerable growth as a result.

What are your brokerage's plans for 2017?
Given how quickly we've grown, we spent a lot of time in 2016 creating, implementing and refining policies, procedures and best practice to ensure we could continue to deliver the best possible client experience. As that is working really well, 2017 is all about growth and continuing to execute on our existing strategy of delivering unmatched value to clients, while educating and informing others about insurance and risk management matters.

What five factors have contributed to your brokerage's success?
The experience, expertise and strength of our team
Belief in our 18 points of differentiation
Clients' excitement and appreciation of our business model
A passion for winning that exists across the organization
Good, old-fashioned hard work!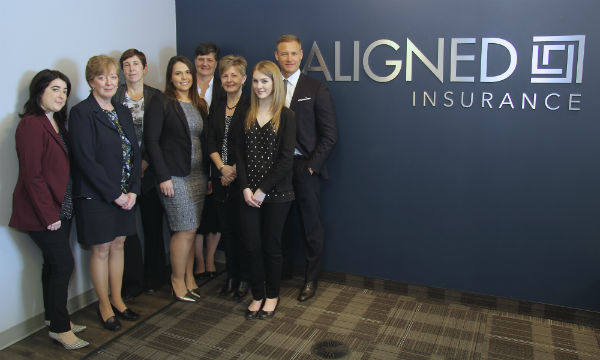 Company

Information
ALIGNED Insurance Inc.

100 King St W Suite 5600, Toronto, ON M5X 1C9, Canada
Contact

Information
647-313-3223 / 1-866-287-0448