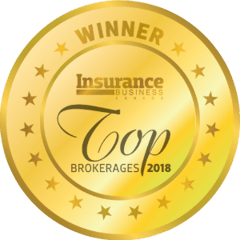 For the fourth year in a row, Insurance Business Canada is shining a spotlight on the brokerages that have achieved impressive growth and unparallelled success over the pas year. Despite difficult economic conditions in some areas of the country and an industry that is rapidly chaning with modern times, these brokerages have found success by embracing technology, entering new markets, and expanding their experitse and teams to find a competitive edge in today's insurance industry.



By employing a 'handicap' method for the rankings, IBC ensures all brokerages – large and small – were measured on a level playing field. While the amount of written premium and revenue are obvious marks of a successful brokerage, each company's growth over the past year – both in terms of new policies and new clients – was equally important.

This year's list features some familiar names, along with a few newcomers. On the following pages, they share their most valuable insights on the factors that have driven their success over the past 12 months.

THE METHODOLOGY
To qualify for consideration, each brokerage supplied its own details to Insurance Business Canada about 11 key business areas, including:
Revenue
Revenue growth (%change between 2016 & 2017)
Revenue per broker
Number of brokers
New brokers
Number of clients
Client growth
New clients
New clients per broker
Policies written
Policy growth (%change between 2016 & 2017)
Each broker was ranked according to these criteria, and their rankings for the categories were added into a composite score. The brokerages were then ordered by their composite score – as with a golf score, a lower composite score equals a higher ranking.

The majority of the criteria used by IBC recognized business volume achieved per broker, rather than just critical mass, allowing brokerages of all sizes to compete fairly. In addition, expressing metrics such as revenue growth and policy growth as a percentage of total business ensured that hte very best-performing brokerages were awarded.