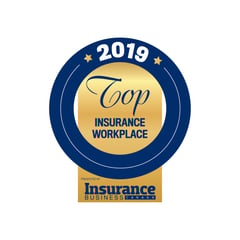 There are countless factors that separate a good workplace from a great one. In today's world of once unheard-of perks (on-site massage therapists and napping pods, anyone?), it's becoming more and more common to see companies in all sectors offering something beyond competitive salaries and expected benefits to stand out from the competition and retain top talent.
To find out which companies in the insurance industry are considered exceptional by their employees, Insurance Business Canada asked thousands of insurance professionals to rank their employers' performance in regard to compensation and benefits, diversity, employee development, culture and those illustrious 'extras' – and share which of their employers' initiatives have been most effective and attractive.
After sifting through their feedback and crunching the numbers, IBC narrowed the list down to 26 companies that achieved the distinction of Top Insurance Workplace for 2019. The following pages outline what the industry's best-rated employers are doing differently and reveal the inaugural class of IBC Top Insurance Workplaces.
METHODOLOGY
To be considered a Top Insurance Workplace, organizations were invited to fill out an employer form to provide details on their various offerings and practices. Employees from nominated companies were then asked to fill out an anonymous form evaluating their workplace on a number of metrics, including benefits, compensation, culture, employee development and diversity.

To be considered, each company had to reach a minimum number of employee responses based on overall size. Organizations that achieved at least an 80% average satisfaction rating from employees were named a Top Insurance Workplace.