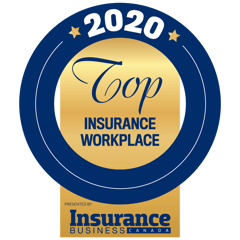 There are countless factors that separate a good workplace from a great one. To find out which companies in the insurance industry fall in the latter category, IBC once again asked thousands of insurance professionals to weigh in on their employers' performance in regard to compensation and benefits, diversity and inclusion, employee development, and culture.
As ever, the fundamentals of a good workplace – a competitive salary, good health benefits, solid retirement programs and the opportunity for growth – hold weight. However, the top-rated workplaces are delivering offerings that go beyond the basics, including on-site yoga, lunch-and-learn sessions, paid time off to volunteer and mentoring programs, to name a few.
In addition to asking employees to rank their companies on a scale of 1 (poor) to 5 (excellent) in each category, IBC also asked respondents to share which of their employers' initiatives have been particularly effective. Employees highlighted everything from flexible work schedules and unlimited vacation time to compensation for continuing education, approachable managers and a welcoming culture. Read on to find out what the industry's best-rated employers are doing differently and which companies made IBC's second annual list of Top Insurance Workplaces.
METHODOLOGY
The process to become a Top Insurance Workplace encompassed two phases. In the first phase, IBC invited organizations to fill out an employer form, asking them to explain their various offerings and practices.

In the second phase, employees from nominated companies were asked to fill out an anonymous form evaluating their workplace on a number of metrics, including benefits, compensation, culture, employee development and more.

In order to be considered, each organization had to reach a minimum number of employee responses based on overall size. Organizations that achieved an 80% or greater average satisfaction rating from employees were named a Top Insurance Workplace.