Revealed – Top 10 UK travel insurers offering COVID-19-related cover in 2022 | Insurance Business UK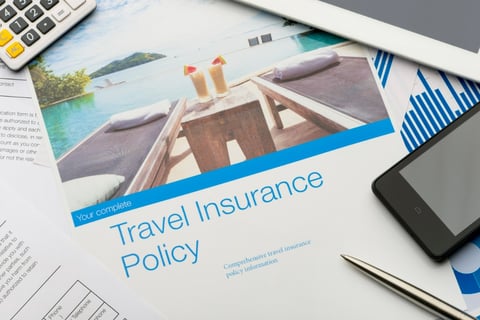 Earlier this year, the UK government has begun further relaxing the nation's travel rules, making it easier for citizens and residents to travel abroad, regardless of their vaccination status. Among these recent changes is the dropping of all COVID-19-related restrictions for British travellers returning to the UK.
Different countries, however, implement varying travel requirements. Several popular holiday destinations, including Greece, Turkey, and Egypt, for instance, have now removed all pandemic-related entry restrictions. But some, like France and Spain, still require proof of vaccination or a negative COVID-19 test, and for those who have contracted the coronavirus, proof that they have fully recovered from the illness.
In addition, the UK government also warned that the lifting of restrictions does not indicate that international travel has returned to pre-pandemic conditions as border settings and quarantine requirements in other nations continue to evolve, often at short notice.
Given the situation, Brits planning on travelling overseas have additional factors to consider, including airline requirements, COVID-19 regulations in transit and destination countries, and arrangements for their safe return.
Such considerations have prompted many UK travel insurance providers to launch policies that better serve their customers. These include coverage options that ensure their clients are protected from COVID-19-related risks.
Read more: What will the travel insurance market look like post-lockdown?
What types of COVID-19 coverage do travel insurers provide?
Most travel insurers in the UK are now offering COVID-19-related coverage, with varying levels of protection. Travel insurance plans typically cover medical, cancellation, and quarantine expenses incurred if the policyholder or their companion tests positive for the coronavirus.
According to the consumer financial information website Forbes Advisor UK, policies that "reflect the realities of COVID-19" provide the following coverages:
Cancellation cover if the policyholder or a companion tests positive within 14 days of their departure date
Cancellation cover if a loved one dies of the coronavirus ahead of the departure date
Cancellation cover if the policyholder misses their flight because the results of a required COVID-19 test are delayed
Curtailment cover if the policyholder is not allowed entry into the destination country because they tested positive
Curtailment cover if the policyholder is required to enter quarantine while travelling abroad
Forbes Advisor added that insurers typically offer three levels of cover, often presented as Bronze, Silver, and Gold, and priced accordingly. For example, a Bronze policy may pay out up to £3,000 in cancellation costs, while a Gold plan may cover up to £5,000.
The consumer website advised holiday-goers to purchase travel insurance as soon as they book their vacation to avail of cancellation cover right away. It also gave tips on what to look for when reviewing their plans.
"When reviewing what is on offer from various policies, look for sections of the policy documents or 'key features' literature that set out the extent of cover for COVID-19-related risks and choose accordingly," the firm noted. "Pay attention to any exclusions that apply, so you know what to expect."
Read more: Nine reasons why your travel insurance claim may be denied
What else does travel insurance cover?
Most travel insurance policies in the UK are designed to cover costs incurred from health-related emergencies and disruptions to the travel itinerary. Apart from COVID-19-related risks, coverage options typically include:
Baggage loss: Reimburses the cost of personal items up to the specified coverage amount if the baggage is lost, delayed, or damaged during the trip.
Scheduled airline failure insurance (SAFI): Pays out flight costs if the airline carrier goes bankrupt.
Personal liability: Provides coverage for compensation claims made against the policyholder if they are found responsible for causing injury, damage, or even death while travelling.
Personal accident: Pays out the insured or their estate in the event they are permanently disabled or killed in an accident while travelling.
Legal expenses: Covers legal costs to pursue compensation or damages following personal injury or other disputed loss while travelling.
Flight delay: Pays out for accommodation and meal expenses when a flight is delayed for more than a specified time.
Trip cancellation: Covers non-refundable or transferable expenses if a trip does not push through because of a covered event. Some policies also foot the bill for unplanned accommodations, meals, and rebooking flights.
Read more: Travel insurance crisis – summer travellers issued warning
Top 10 travel insurance companies in the UK covering COVID-19-related risks
To find out which travel insurers in the UK offer the best COVID-19-related cover, Forbes Advisor has partnered with insurance aggregator CYTI to sift through the fine print of these companies' travel policies as of August 2022.
For the list, the consumer financial website picked the top 10 results that cover cancellation due to coronavirus infection prior to departure and medical costs incurred for COVID-19 treatment while travelling as standard. It also considered plans with the following key features:
Cancellation cover if the insured companion contracts COVID-19
Cover relating to COVID-19-related FCDO advice
Excess if the insured needs to make a claim
Cover limits for cancellation
Cost of premium
All listed policies carry a minimum cancellation protection of £3,000, repatriation costs cover of £2 million, and maximum excess of £100.
Read more: Editorial: Travel in the time of COVID
Forbes Advisor based the travel insurance policy for a hypothetical family of four consisting of parents aged 42 and 44 and two children aged 12 and 14 going on a week-long vacation in Spain in July 2022. Here are the insurance providers that came out on top:
Insurer/Policy Name

Forbes Advisor ranking

Premium

Key features

TravelTime PremierPlus

5 stars

£28.39

Medical and cancellation cover for COVID-19
Cancellation cover if travel companion contracts COVID-19
Covers COVID-19-related risks if travelling against FCDO advice within Europe
No medical cover if unvaccinated

Insure & Escape Finest Plus

5 stars

£46.75

Medical and cancellation cover for COVID-19
Up to £5,000 cancellation cover
Low excess of £50
Covers cancellation and travel against FCDO advice if sole reason is COVID-19
Provides cover even if FCDO advice changes once policyholder reaches destination
Cancellation cover if travel companion contracts COVID-19
Provides cover if airline goes bust
No medical cover if unvaccinated

Admiral Gold

5 stars

£34.04

Medical and cancellation cover for COVID-19
Up to £3,000 cancellation cover
Cancellation cover if travel companion contracts COVID-19
Provides cover if insured shows COVID-19 symptoms while boarding
Covers missed excursions if insured needs to self-isolate abroad
Cancellation cover if family member is hospitalised or dies from COVID-19
No cover for travel against FCDO advice

Cedar Tree Premium Plus Single Trip

4.5 stars

£39.48

Medical and cancellation cover for COVID-19
Up to £5,000 cancellation cover
Low excess of £50
Provides cover if insured shows COVID-19 symptoms while boarding
Provides cover if airline goes bust
Provides cover if family member or friend the insured was due to stay with contracts COVID-19
No cancellation cover if travel companion contracts COVID-19
No cover for travel against FCDO advice

Explorer Travel Insurance Single Trip – Platinum

4.5 stars

£33.31

Medical and cancellation cover for COVID-19
Up to £5,000 cancellation cover
Low excess of £50
Cover for cancellation and travel against FCDO advice if COVID-19 is sole reason
Provides cover even if FCDO advice changes once policyholder reaches destination
Cancellation cover if travel companion contracts COVID-19
Provides cover if airline goes bust
No medical cover if unvaccinated

Post Office Money Max

4.5 stars

£36.88

Medical and cancellation cover for COVID-19
Up to £3,000 cancellation cover
Low excess of £50
Cancellation cover if family member is hospitalised or dies from COVID-19
Cancellation cover if person the insured was due to stay with abroad dies from COVID-19
Provides cover if travel companion dies from COVID-19
No cancellation cover if travel companion contracts COVID-19
No cover for travel against FCDO advice

CoverForYou Standard

4.5 stars

£33.50

Medical and cancellation cover for COVID-19
Up to £3,000 cancellation cover
Low excess of £50
Provides cover if insured shows COVID-19 symptoms while boarding
Provides cover if family member the insured was due to stay with contracts COVID-19
Provides limited cover for travel against FCDO advice
No cancellation cover if travel companion contracts COVID-19

Coverwise Select Gold

4.5 stars

£34.82

Medical and cancellation cover for COVID-19
Up to £3,000 cancellation cover
Low excess of £50
Provides limited cover for travel against FCDO advice
Provides cover if insured shows symptoms while boarding
Provides cover for cutting holiday short due to relative dying from COVID-19 or unexpected illness
No cancellation cover if travel companion contracts COVID-19

NOW Premier ST

4 stars

£30.77

Medical and cancellation cover for COVID-19
Up to £3,000 cancellation cover
Provides covered if even if FCDO advice changes once policyholder reaches destination
Cancellation cover if travel companion contracts COVID-19
Provides cover if airline goes bust
No medical cover if unvaccinated

yourtravelcover.com Gold

4 stars

£46.88

Medical and cancellation cover for COVID-19
Cancellation cover if travel companion contracts COVID-19
Provides cover for cutting holiday short if family member dies due to COVID-19
Covers cost of extending trip due to self-isolation
No cover for travel against FCDO advice
Source: Forbes Advisor UK