Aviva, RSA and Liberty Mutual are doing this – maybe you should too? | Insurance Business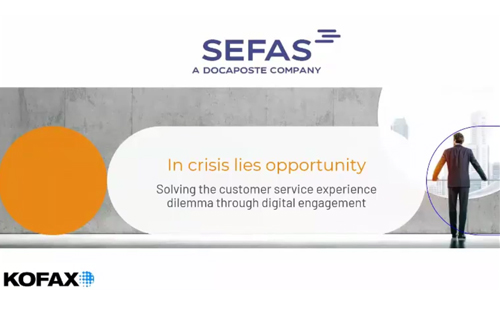 When the Managing General Agents' Association (MGAA) welcomed customer communication management firm Sefas to discuss how 'In Crisis Lies Opportunity' before Christmas, how timely the webinar would prove to be was not yet understood. With the UK now plunged into yet another national lockdown, the need for solutions to tackle ongoing working from home (WFH) challenges and to explore the face of the future of work is more essential than ever.
Read more: We all work from home now – what does that mean for the future?
Lending her perspective on how to identify key WFH challenges and to develop accessible solutions to these was Karen Peters, head of financial services at Sefas. Peters noted that the need for such services is widely understood by insurance companies as evidenced by the range of financial services clients Sefas serves – from Aviva, to RSA, to Liberty Mutual. The need, she said, is to consider communication management not just from a technology perspective but also from a people perspective.
"We cannot underestimate the impact this unique situation has had on the people that keep you in business, and that help to maintain and grow your business," she said. "So, looking at tools to support them in this weird and wonderful world that we're living in at the moment is something all of us must take as a high priority."
Peters believes the solution to the present predicament is engaged employees supported by managers with empathy in a tech-enabled environment that motivates them to become "customer-obsessed."
Looking at the impact of COVID-19 on consumers, Peters highlighted how they have been forced to move to an almost 100% digital environment in a severely limited amount of time. This, in turn, has forced businesses - from banks to building societies to insurance companies - to redefine their communication strategies. It's never going to be exactly the same as it once was, she said.
Read more: Direct Insurance Group makes permanent work from home switch
What insurance companies must understand when navigating the future of work is that the customer is both the external client and the internal employee, Peters said. While no-one is clear exactly how COVID-19 is going to pan out, companies must be prepared for any eventuality and not forget the impact of this future on the 'knowledge workers' who have the expertise necessary to keep their clients happy.
"So how do we respond?" she asked. "I believe that automation and employee empowerment will be the big differentiator as to who will fail and who will survive. Remote workforce and automation is now a joined-up strategy for many, and is an emerging trend that I think is here to stay. Even as we return to the office buildings after lockdown, businesses will still continue to automate activities.
"Robots and automation had only really just begun to reshape the workforce but automation of some sort will transform 80% of jobs by 2030, which is a staggering figure. Many of the tasks your workforce does today can be done better, and, in some cases, more cost-effectively. Robotics has had a growing uptake, particularly in financial services over the last few years, so take those manual repetitive tasks away. The value, however, is not in reducing your headcount or making people redundant - we've seen far too much of that just lately - it's in supporting your knowledge workers, and giving them the tools they need to be valued and to be successful."