Jump to winners | Jump to methodology | View PDF
INSURANCE'S BEST AND BRIGHTEST
After surviving a tumultuous 2020, the US insurance industry has enjoyed slightly calmer seas in 2021. Still, uncertainty abounds, and in an always competitive landscape, fortune rewards the bold. From rising stars who are helping transform the industry with innovative solutions to seasoned veterans who are helping steer large organizations through turbulent times, the 100 professionals who made IBA's annual Hot 100 list for 2022 have no shortage of boldness.
While their industry experience may vary, all of this year's Hot 100 honorees have at least three things in common: a can-do attitude in the face of adversity, a solid understanding of themselves and the industry, and a willingness to extend a helping hand to the next generation of insurance professionals.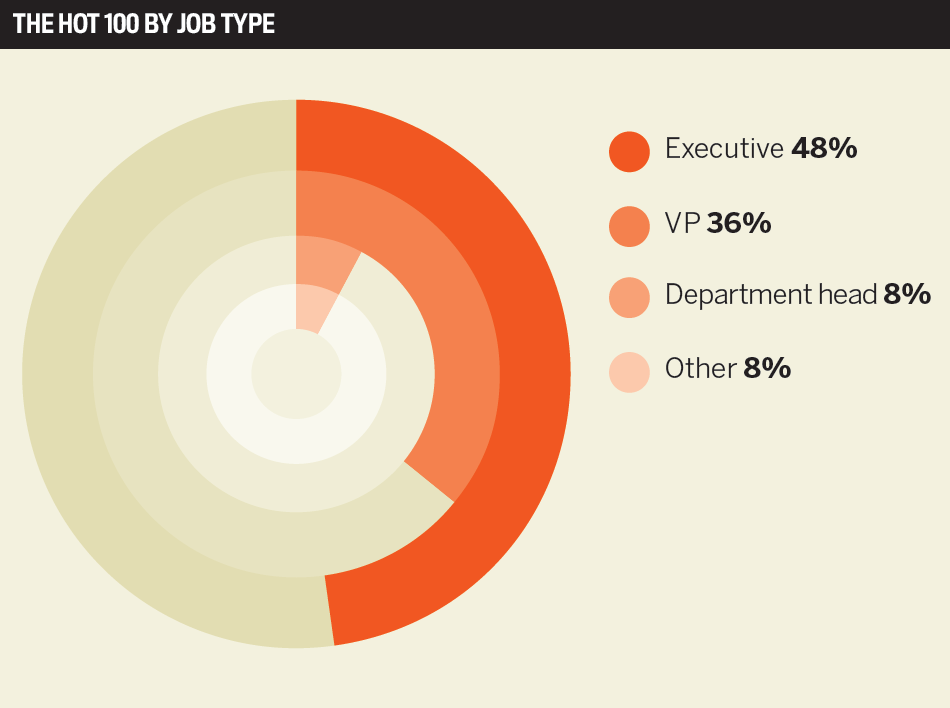 Rising to the challenge
For Hot 100 winner Tony McIntosh, a managing partner at The Liberty Company Insurance Brokers and president of Liberty's MGA facility, Aura Risk Management & Insurance Services, resilience has been key to building his career. Ten years ago, he made the leap from a family-owned MGA into a marketing role on the retail side of the industry with Barney & Barney (now Marsh McLennan Agency). McIntosh says he initially struggled in his new role, where he was responsible for helping producers and service teams negotiate coverage and position clients with carrier partners. However, he trusted in his mentor and boss and realized how important it was to learn new things each day.
"I leveraged this time and previous entrepreneurial, sales, and leadership experience into founding a property & casualty division at a publicly traded bank and then acquiring that business under private ownership years later," he says. "That brief difficult period of transition provided the opportunity for me to advance my career further and gain new partnerships and opportunities in this beautiful insurance business. All of this has led me to where I am today, of which I could not be happier."
Fellow Hot 100 honoree Eden Hancock, an area senior vice president for Risk Placement Services (RPS), faced similar challenges when deciding to change employers earlier in her career.
"I honestly did not understand the roller coaster of a journey I was about to embark on when I made the switch," she says. "When a decision is great, it will inevitably create some controversy, and oftentimes there can be sore points. To have peace, you must stay true to yourself. Avoid the distraction others may create – rise to the occasion and challenge yourself to show your worth and value. You, as I did, will come out better, stronger and happier."
Hancock's book of business is now 50% larger than it was when she started at RPS three years ago. What's more, she's led her fleet/transportation department to 50% year-over-year growth to become the fastest-growing segment in her branch.
Hancock says she has a few attributes that set her apart from the competition. The first is her ability to "read the room"; she acknowledges that there can't be a one-size-fits-all approach to personal interactions. She also has a knack for working diligently and not making a lot of noise, and she believes it's important to dress up and show up to the office – a real office – each day.
For RPS' Adam Wood, who began his career as a tennis pro before moving into insurance in 2014, success has been the result of taking accountability.
"Early in my career, we lost out to a market that we had access to," Wood says. "This is hard news to give an agent, but I am a firm believer in holding your hand up and not making excuses. [The agent and I] had a candid conversation about what happened and cleared the air. We still work with each other today, and he passed my contact along to his colleagues. Today, those referrals are my largest clients."
Wood says he differentiates himself from his peers through his ability to establish trust and facilitate business processes, helping agents to sell and exhibiting due diligence and quote options for the insured. In 2021, he achieved 100% growth of his book of business and was promoted to assistant vice president and Southeast casualty manager at RPS. For the past two years, he's written more than $400,000 in new business each year and landed an exclusive trucking program with Crum & Forster.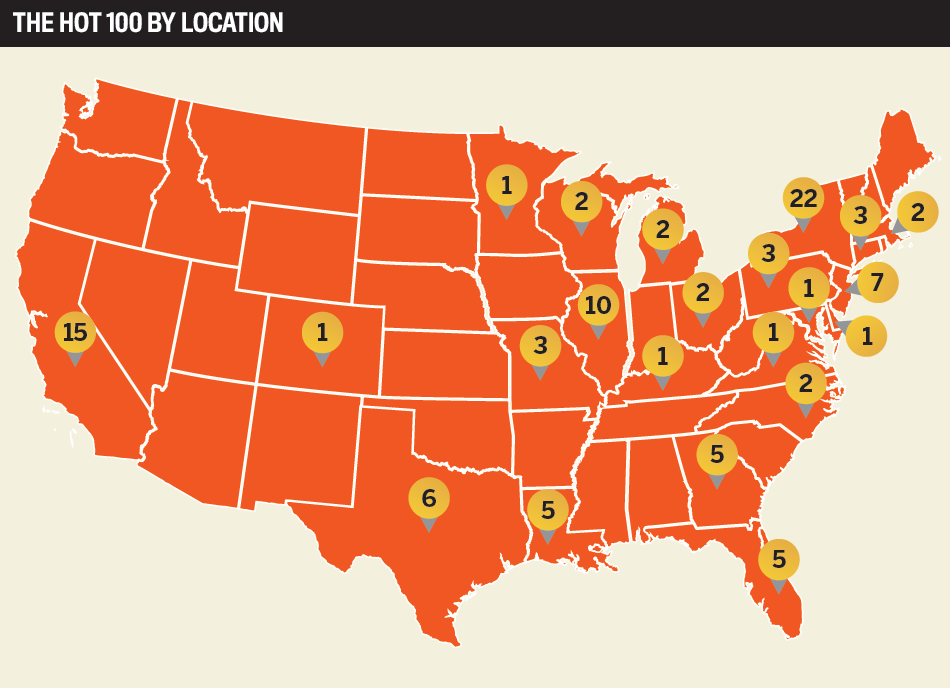 Nurturing new talent
They've built their own stellar careers by persevering through difficult times – so what do the members of this year's Hot 100 list think insurance companies can do to better cultivate talent?
"Be mindful of creating joy in your staff – success sparks joy, and joy fuels further success," McIntosh says. "If everyone is doing something they love to do and it brings joy throughout their day, you will inevitably see better results from your team. Wellness is vital to incorporate into your business philosophy and culture.
Be completely transparent with your teams on strategy objectives, goals and opportunities."
Hancock, meanwhile, says she's "a true believer that people want to grow. They want to be a part of something bigger. Create a team that wants to 'put a man on the moon while mopping floors.' Promote from within, listen to your employees' ideas and advocate for those employees. Be flexible and movable."
Wood believes insurance companies can and should do more to train their producers. "Insurance hires great talent and often fails to teach them the ropes," he says. "The sink-or-swim mentality for new hires is not what young people today are looking for, in my opinion. I personally take great pride in developing talent within RPS."
For those just starting out in insurance, McIntosh's advice is to "push yourself to the edge. Find out what stretches you and what you want to work on to improve in business and life. Find a good work-life balance that allows you to stay healthy. A good way to think about it throughout the year is what figurative leaves can you shed this season to allow you to clear the path towards your objectives? Try and focus on one thing at a time to accomplish more throughout your day. The insurance business moves very quickly. [Staying] on top of current events and how those may implicate carriers' results and their eventual pivots with rates/limits/capacity adjustments, along with your clients' buying decisions, is crucial to becoming remarkable.
"The other thing I would strongly encourage is to build a personal community of interest [COI] network that can help tell your story to others within your focused business segments. I can't stress the power of this effort and the results that come with it. The insurance business is a long play, not a get-rich-quick career.
The more investment you put into yourself, your COI network and your clients, the greater the return will be for you and your family."
Along those same lines, Hancock's advice for those just starting out is to be there when no one else is. "Soak in every bit of it as it comes," she says. "My definition of 'it' is everything. Take advantage of every opportunity to take notes, to listen in, to get the drinks, to share an Uber, to pick a brain, to ask the question you are afraid to ask. Put yourself out there, and people will notice. Finally, be the person your clients trust."
Wood echoes the advice he received from an old tennis coach. "Be default aggressive," he says. "If things don't go your way, be aggressive with marketing efforts. If you lose a renewal, aggressively make more cold calls. When I am on the offense, it helps my mood and focuses my mind on the positives."
Alex Bovicelli


Tokio Marine HCC

Amir Farid


Westfield

Amy Stepnowski


The Hartford/Hartford Investment Management Company

Andy MacFarlane


AXA XL

Angela Noble


EMC Insurance Companies

Anthony J. (Tony) Kuczinski


Munich Re US Holding

Anton Rosandic


ALKEME

Barbara Ingraham


Verisk

Belen Tokarski


Mylo

Beth Carter-Drury


Eagan Insurance Agency

Billy Grossmiller


AssuredPartners

Bob Hitchcock


Brightway Insurance

Brian Schneider


Higginbotham

Candace Rhea


The Hartford

Carrie O'Neil


CAC Specialty

Chaya Cooperberg


AmTrust Financial

Chetan Kandhari


Nationwide

Chris Zoidis


H.W. Kaufman Group

Christiaan Durdaller


INSUREtrust

Christine Rogers


Robertson Ryan & Associates

Dr. Claire Muselman


North American Risk Services

Clinton Anderson


HUB International

Curtis Barton


ALKEME

Cyndi Doragh


Iron Ridge Insurance Services

Dameion Baker


CAC Specialty

Daniel Ginden


Scottish American Insurance

David Boren


Synapse Services

David Lewison


Amwins

Davis Moore


Amwins

Debbie Brackeen


CSAA Insurance Group

Denise Lloyd


D.H. Lloyd & Associates

Denise Perlman


Marsh McLennan Agency

Elizabeth Davies


Stonemark

G. Greg Gunn


Gunn-Mowery

Garrett Droege


IMA Financial

George (Chip) Atkins


RH Clarkson Insurance Group

George Rusu


Captive Resources

Grace Grant


Gamma Iota Sigma

Jeff Kroeger


Insureon

Jeffrey T. Benson Jr.


Prominent Insurance Agency

Jeffrey T. Benson Jr.


Prominent Insurance Agency

Jessica Kearney


Travelers

John Lupica


Chubb

Jonathan Charak


Zurich North America

Jose Suarez


Assurance, a Marsh McLennan Agency company

Justin Goodman


AssuredPartners

Justin Kesner


Amity Insurance, a division of Brown & Brown of Massachusetts

Karl Henley


SeibertKeck Insurance Partners

Kelly Augspurger


Steadfast Insurance

Kerri Roberts


TIG Advisors

Kevin Gazitua


JAG Insurance Group

Krishna Lynch


Zurich North America

Lael Chappell


Attune

Laurna Castillo


CSAA Insurance Group

Leslie Wright


Brightway Insurance

Linda Merenguelli


HUB International Northeast

Mark Walls


Safety National

Marty Sansone


The Zebra

Matthew Cooper


Inner-City Underwriting Agency

Meredith Frick


Marsh McLennan

Michael Sicard


USI Insurance Services

Miles Wuller


RSG Underwriting Managers

Misty Kuckelman


Travelers

Montrae Williams


The Hartford

Nick Kohal


American Risk Management Resources Brokerage

Patrick G. Ryan


Founder, Chairman and CEO Ryan Specialty Group

Paul Gaglioti III


Harbor.ai

Paul Roberts


Word & Brown General Agency

Peter R. Taffae


Executive Perils

Rebekah Ratliff


JAMS

Robert Wiest


MS Amlin

Sara Kane


CAC Specialty

Scott Purviance


Amwins

Shannell Chibueze


Woodruff Sawyer

Sonji Grandy


Alliant Insurance Services

Sydney Hedberg


Marsh McLennan

Ted Dimitry


Higginbotham

Thomas Orabona


Synapse Services

Thomas Schaedel


RT Specialty

Tony McIntosh


The Liberty Company Insurance Brokers

Travis Pearson


CMR Risk & Insurance Services

Xiaolin Gong


Coalition

Yafit Cohn


Travelers

Yelena Dunaevsky


Woodruff Sawyer

Zak Fanberg


Eagan Insurance Agency
From innovators at the forefront of change to leaders who are transforming the way the industry does business, this year's Hot 100 list represents the best the industry has to offer.