How to start and run an insurance brokerage firm | Insurance Business America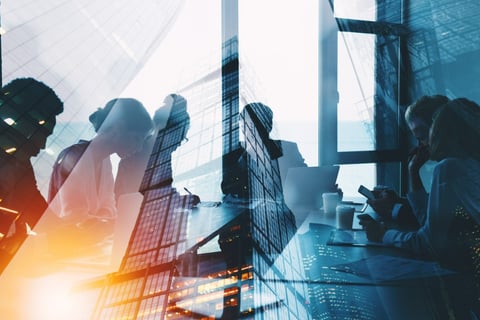 With the insurance industry predicted to continue its growth trajectory in the next several years, it also presents a massive opportunity for those wanting to venture into the insurance brokerage business. But just like with any business, starting an insurance brokerage company requires careful planning and preparation.
In this article, Insurance Business discusses what an insurance brokerage does, how to start a brokerage business from scratch, and how to keep it profitable under the current business climate. Be sure to subscribe to our newsletter to continue the success of your new insurance brokerage firm.
We encourage current insurance professionals to share this article with those they know who want to start an insurance brokerage firm to serve as a guide for those who are keen on entering the insurance brokerage services market.
Customers searching for the right type of insurance policies to suit their unique needs can often access coverage in two ways – through an intermediary, also referred to as an independent broker, or through a direct writer. While the latter works for an insurance company and, therefore, serves primarily the insurer's interests, insurance brokers represent the insurance buyers, helping them find the best coverage possible.
Consisting mostly of brokers, an insurance brokerage firm serves as an intermediary between the insurance buyer and the insurer. This means they have access to a wide range of insurance products, allowing them to provide customers with more coverage options compared to direct agents.
As a representative of the consumers, insurance brokerage firms are responsible for helping buyers assess their risks and match them with the coverage that best fits their needs based on their risk profile, budget, and risk appetite. And because brokerages do not serve a single insurance carrier, they can place policies with different providers depending on the market conditions and which one can offer their clients the best protection.
Insurance brokerage firms, however, owe insurance companies certain responsibilities as well. Because brokers offer the insurers' products for sale, they must also ensure that the information they provide the underwriters during the application period is factual and truthful. They must likewise make sure that premiums are paid on time. Some insurance carriers also give insurance brokerages the power to quote, bind coverages, and handle claims on their behalf.
With strong growth potential, insurance brokerage services can be an appealing venture. Launching a successful insurance brokerage firm, however, involves meticulous planning and preparation, and requires one to have a deep understanding of the industry, not to mention abundant financial resources.
Here's a list of what aspiring insurance entrepreneurs need when building a brokerage firm from scratch:
1. Startup capital
The actual amount needed to start an insurance brokerage is influenced by a range of factors, including the business structure, where the company is located, and types of insurance policies the company plans to offer.
On average, aspiring business owners will need a startup capital of "$50,000 to $500,000 or even more," according to the professional service digital platform B12. This will cover the costs to operate a brokerage business, including office space and equipment, licensing and registration expenses, technology, and insurance coverage. B12 adds that business owners "also need to have enough money left to maintain a positive cash flow in the first few years."
For those who are unable to meet the heavy financing required, taking out a business loan or looking into grants or crowdfunding can be an option.
2. Business expertise
When establishing any type of enterprise, a solid understanding of how companies run can go a long way in helping businesses succeed. This includes having a sound business plan. A business plan outlines the company's goals and the steps it plans to take to achieve them. It can also help the business secure funding and identify key markets.
Typically, a sound business plan details the following:
Who is involved in the business
Who is responsible for executing the business plan
How the company will access the insurance products and services it plans to offer
How the brokerage will attract clients
What sets the company apart from industry rivals
What risks the business can potentially face
What the start-up budget covers, along with cash flow projections
Business owners should also choose a business structure, keeping in mind that this will determine how revenue will be taxed and if business assets will be kept separate from their personal assets. The brokerage can be a sole proprietorship, partnership, limited liability company (LLC), or corporation. Each structure comes with its own share of benefits and risks.
3. Insurance expertise
One cannot start an insurance brokerage business without a strong understanding of how the industry works. Several years of experience working as an insurance agent or broker can impart the necessary expertise to run a brokerage firm. These can also give budding business owners a clear picture of which insurance lines – property and casualty (P&C), life, or accident and health – they excel at and want to pursue.
Brokers and agents can also use these years to build their network of insurance providers, which can give them access to different insurance policies, as well as expand their customer base who will serve as the lifeline of their insurance business.
4. Licenses, permits, and other requirements
For the insurance brokerage to legally operate, there are several registration and licensing requirements that the owner must meet, which vary by location. These include:
Registered name: Owners need to register the name of their business, keeping in mind that some states prohibit or restrict the use of certain terms to avoid misleading the public. This comes with a registration fee.
Tax identification number: The Internal Revenue Service (IRS) requires all partnerships and corporations to use their federal employer identification number (FEIN) when filing their taxes. Sole proprietorships or single member LLCs may use the owner's social security number.
State registration: Insurance agencies and brokerages must register as a "resident business entity" through their state insurance commissioner's office.
Business permits and licenses: Licensed brokers may need a general business permit or license to operate legally. The complete list of permits and licenses required can be accessed on the Small Business Administration's (SBA) business licenses and permits tool.
5. Business insurance
It would be ironic if an insurance brokerage firm operated without the necessary coverage. Ideally, any business would benefit from having the following insurance policies:
General liability insurance: Also known as business liability coverage, this protects brokerages against claims of bodily injury or property damage resulting from their activities. Some policies also offer coverage for reputational harm and copyright infringement.
Health insurance: Companies employing more than 50 full-time staff are required to take out health insurance for their workers, according to the Affordable Care Act (ACA). For those with less than 50 employees, the ACA offers a Small Business Health Options Program (SHOP) as coverage. Be sure to check the regulations for your country.
Professional liability insurance: Also called errors and omissions (E&O) or malpractice insurance, this protects the company from work-related claims such as mismanagement, sexual harassment, and discrimination.
Product liability insurance: This protects the business against lawsuits from clients claiming losses or injury because of the product. It also covers legal defense costs and compensation if the brokerage is found to be at-fault.
Commercial property insurance: This type of coverage not only pays out for damages to an insurance brokerage's premises, but also for lost equipment, fixtures, office furniture, inventory, and supplies.
Commercial auto insurance: This type of policy covers the cost of repairing or replacing a company's vehicle if it is accidentally damaged or stolen. It also pays for the cost of damage to other people's property caused by the vehicle.
Cyber liability insurance: This protects a business from the legal costs and expenses related to a cybercrime – including fines, penalties, and notification costs – in the event of a data breach.
Business interruption insurance: BI cover is designed to protect businesses from loss of income and additional costs incurred if their operations are forced to shut down because of an unexpected event.
Workers' compensation insurance: This type of coverage pays for medical expenses if an employee becomes sick or injured while performing their job.
There are two main ways insurance brokerage firms generate income.
1. Commissions
For each completed transaction, insurance companies pay brokers a commission, which is a percentage of the policy's total annual premiums. Depending on state regulations, the commission amount ranges between 2% and 8% of the premiums.
Insurance brokers typically will earn a lump sum percentage against the first-year premium of a policy that they sell. Then they will get a smaller but ongoing annual residual income payment over the policy's entire life.
2. Broker fees
Some insurance brokerage firms offer consultative and advisory services to clients as a source of additional revenue. These services come with a corresponding fee. Brokerages, for example, can charge fees for transactional services such as initiating changes in a policy or assisting clients in filing claims.
States also have regulations on how much brokers can charge. In certain instances, the amount must be at a "reasonable" level and something that the broker and their clients have agreed upon.
Establishing an insurance brokerage company is just the initial step. The real challenge lies in keeping the business profitable. To keep clients coming and cash flow running, business owners need to have a vision of how to maintain revenue growth. Here are some practical steps on how brokerage firms can sustain profitability.
Set goals.
Goals keep businesses and the people around them motivated. If set correctly, a company's goals can also help the firm measure its success. Setting goals is crucial in giving the business a clear picture of where it wants to go, how to reach these targets, and what new products and services it can offer clients.
Generate and nurture fresh leads.
Success in the insurance market means having to continuously drive leads. There are several strategies that brokerages can take to tap new leads, including targeted marketing and multi-channel lead generation.
Find your niche.
With clients' needs evolving constantly, so does the need for different insurance products. This opens an opportunity for insurance brokerages to find a niche that will help grow their business. While the road to discovering a company's niche market requires a lot of time and effort, it can reap dividends in the long run.
Take advantage of insurance broker technology.
Industry experts believe that the only way for the insurance industry to move forward is to embrace the best insurance technology currently available. This is evident in the increased adoption of artificial intelligence, cloud computing, telematics, blockchain, and IoT among insurance businesses to reduce costs, mitigate risks, and engage with clients.
Unlike in a brokerage firm where insurance brokers are under no obligation to sell policies of specific insurance companies exclusively, in an insurance agency, agents are responsible for distributing the products only of their partner insurers.
Read next: The basics on becoming an insurance broker
An insurance agency represents one or several insurance companies, acting as an intermediary that provides potential buyers with information about these insurers and their products. They also have contracts with carriers, detailing what policies they are allowed to sell and the amount they can expect to make from selling these policies. In addition, insurance agencies have the power to bind coverages – something most brokerages cannot do.
There are two types of insurance agencies:
Captive agencies: These represent just one insurance carrier, either full-time or as an independent contractor. They may receive operational support – including office space and administrative staff – and referrals and leads on potential buyers for these insurers.
Independent agencies: These work with several partner insurance companies and since they are not tied down to a single insurer, these firms can offer customers a wider selection of insurance policies.
Here is a recap of the key differences between an insurance brokerage firm and an insurance agency.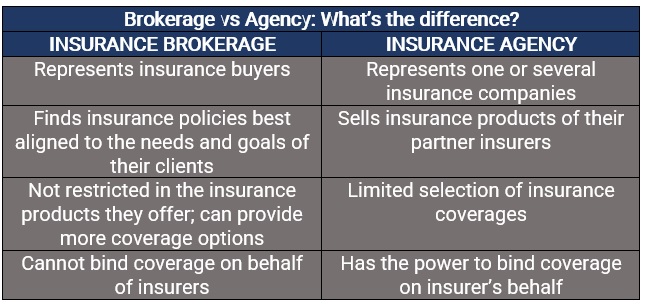 Planning on starting your own insurance brokerage? Are there other tips that you want to share with aspiring brokerage owners? Type in your thoughts in the comment box below.