"Huge asset" aiming to boost value for MJ Insurance | Insurance Business America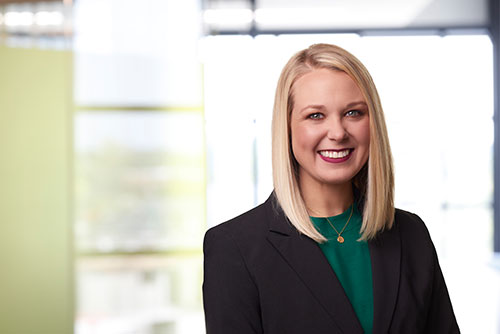 MJ Insurance, one of the largest privately-held insurance agencies in America, recently announced the expansion of its Risk Services team with the hire of Chelsie Sweazy (pictured) as a risk services consultant for the Risk Management + Commercial Insurance department.
Sweazy joins MJ after a decade at Travelers Indemnity Company, where she most recently served as a senior account executive - a client-facing role focused on large, complex environmental litigation. Her technical skillset revolves around litigation management, risk management best practices, risk mitigation strategies and tactics, and complex claims resolution.
In her new role as a risk services consultant at Indianapolis-based MJ, Sweazy will leverage her experience and knowledge to increase the success and sustainability of MJ's risk management plans. She'll be stepping in once MJ has secured clients to develop professional relationships and enhance those relationships through value-added risk management services.
Read next: Insurers, brokers must expand beyond traditional underwriting
"The level of care that MJ shows to their clients is amazing. I'm very excited to be a part of that," said Sweazy. "Honestly, when I was on the carrier side, I didn't encounter many agencies that go to the same level of care and service that MJ does. They're really in the business of consulting their clients and delivering on the value proposition. The Risk Services team is a crucial part of that. We really want to make sure we're creating an alignment between our clients' business objectives and their risk management program. We're not just in the transactional business of placing insurance."
Many companies that require the type of high-level risk consultancy that Sweazy specializes in are middle- to upper-market complex commercial risks. They will likely have centralized risk management departments, so what's the value of an agency like MJ offering these services as part of the insurance transaction?
"When you have a centralized risk management department in a company, you're not always able to look outside of the business to understand emerging risks. You're typically looking at what's affecting your organization," Sweazy told Insurance Business. "At MJ, we're able to do both of those things. The Risk Services team has access to a lot of data, so that we can analyze the impact of all risks that could potentially impact a client.
"At the moment, we're really paying close attention to cyber resilience and making sure our clients are fully aware of cyber risk. So, we're really trying to educate our clients on that front. And then there are other things like business continuity plans, supply chain disruption, crisis management – they're just some of the value-added services that we're looking into and really trying to tailor for our clients on an individual basis."
Read more: RIMS reveals new president
MJ Insurance president and COO Jon Loftin described Sweazy's expertise in technical risk management and business operations as "a huge asset to the development of [MJ's] risk services resource offerings". He added: "We're excited to welcome Chelsie to the team as we expand our value-add services."
It's those value-add services that really attracted Sweazy to the agency. She told Insurance Business: "On the carrier side, I really didn't run into a lot of agencies that took the time to do all that MJ does for their clients. The Risk Services department at MJ is continuing to evolve and grow, and we're looking to offer even more value-resources to our clients. I'm really at the ground level of this growth, and I'm so excited about it."