What are banks and lenders really worried about when it comes to cannabis? | Insurance Business America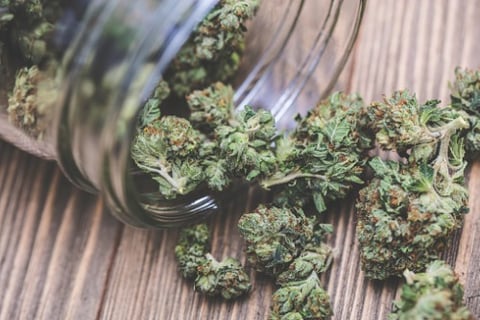 The United States cannabis industry celebrated a victory in September when lawmakers in the US House of Representatives approved the Secure and Fair Enforcement (SAFE) Banking in Cannabis Act by 321-103 votes. The landmark Act, if passed by the US Senate, would allow financial institutions like banks, credit unions and insurance companies to work with cannabis companies without fearing retribution.
While a legal green card would certainly remove some barriers for banks and money lenders looking to get into the cannabis industry, legal retribution isn't the only thing holding financial institutions back.
Chris Boden (pictured), cannabis practice group team leader at Crouse and Associates Insurance Services, recently attended the Mortgage Bankers Association's (MBA) Insurance Stakeholder and Conclave meeting, where the cannabis industry was one of the items on the agenda.
"It was interesting to get their take on money lending to the cannabis industry," said Boden. "I always thought it was primarily the federal illegality of cannabis that was holding them back, but that's only part of it. It's also an issue of awareness and understanding. They don't exactly know what kinds of cannabis operations are out there, and what's at risk when it comes to lending to these operations.
"Largely speaking, there was a lot of interest. Many banks and lenders see the cannabis business as a huge opportunity, so they were asking lots of questions about the details of regular business operations. For instance, they asked all about the types of equipment used, the values of the businesses, and how cannabis retailers are typically paying their bills. They also wanted to know about the different insurance coverage options that are available, which they might later request if they were to back a loan."
Cannabis insurance 101: Helping agents provide the best possible coverage
If the SAFE Banking Act is passed by the US Senate, banks and lenders will have the option to explore some of their questions via partnerships with cannabis businesses without getting into trouble. It could also have a positive impact on insurance growth around the cannabis industry, according to Boden, because when banks or lenders provide loans – whether they be for a piece of manufacturing equipment, or a commercial property – they're going to require insurance around those loans. This would also benefit the insured because the cash they otherwise would have used to purchase that equipment or that property would stay within their operation to be used for other business needs.
Read next: Is a co-op the answer to outdoor cannabis growers' insurance woes?
"Even if this Act passes, there are some major hurdles that still exist," Boden told Insurance Business. "One is that marijuana is still a Schedule 1 drug. That seems to be causing more hesitancy among banks and lenders than the federal stance on cannabis. That links in to a second major hurdle around reputation. A lot of banks are conservative in nature, which is why they're successful and why they've been around for so many years. A lot of them do not want to be connected with a Schedule 1 drug – it's as simple as that.
"I know a large publicly-traded insurance carrier that's keen to get into the cannabis space, but they can't because their investors and their partners are resistant to the Schedule 1 issue. If they become involved with a Schedule 1 drug, their reputation could be skewed and a lot of investors don't want to be involved in that. Credit unions and local banks have a little bit more flexibility, especially depending on the region that they're in – obviously a bank in California is going to be more progressive and liberal than a small bank in Mississippi – but the reputation piece is still a big challenge. If marijuana is taken off the Schedule 1 list, that would be an even bigger step than the passing of the Safe Banking Act."