XL Catlin partners with Slice to offer on-demand cyber solution for SMBs | Insurance Business America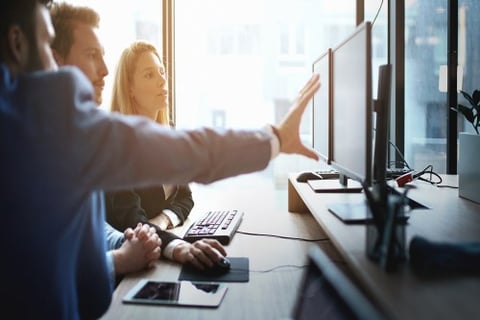 It's a question that has plagued the insurance industry for the last decade - how do we help small and medium-sized businesses (SMBs) understand cyber risk and see the benefits of purchasing a cyber insurance policy?
The reticence of SMBs to engage with cyber insurance stems from a widespread "lack of understanding about the product," according to John Coletti, XL Catlin's chief underwriting officer of cyber & technology in North America. It's a new exposure involving technology issues that many in the wider insurance industry struggle to understand, let alone SMBs.
However, XL Catlin may have found a solution to the SMB cyber problem. On Wednesday, the global insurer announced a new partnership with Slice Labs Inc, the first US company to offer cloud-based on-demand insurance. Together, the firms have created a slick and easy, on-demand cyber insurance solution for US SMBs, with the aim of easing the pain points in the cyber insurance purchase process.
"SMBs must contend with the same cyber issues as large corporates," said Coletti. "Unfortunately, they often do not have dedicated IT teams and the same information security resources that larger companies have. We've partnered with Slice to transform cyber insurance – making it easy to buy and simple to understand for them – with the ultimate goal of protecting SMBs from the potentially devastating impact of a cyberattack."
The solution is built on the Slice Insurance Cloud Services (ICS) platform, which enables XL Catlin to speed up product to market and increase scalability. The product will include services designed to help clients best prepare for cyberattacks and will also use artificial intelligence to deliver real-time alerts to customers and enable them to better manage their risks.
"SMBs tend to follow consumer trends in that they're accustomed to the on-demand world and services like Uber, Netflix and Amazon. Cyber, by its nature, lends itself to that type of experience because the risks are changing on a regular basis," commented Tim Attia, CEO of Slice. "I think moving away from the traditional insurance model – one of paper trails, endless questions and long lists of terms and conditions – to a more dynamic and agile on-demand model is something that's well suited to cyber."
XL Catlin's new solution has been developed to make the cyber insurance process simple for SMBs. The policy is going to be easy to read and understand, explained Coletti, and the process will be as automated as possible. "The platform is agile enough that brokers and agents can access it," he added. "We're just trying to solve the best way for SMBs to purchase cyber insurance."
The partnership also has big benefits for the insurtech start-up Slice. Attia commented: "As a start-up, we can innovate but when we're looking at scaling in the insurance industry - either by product or by jurisdiction - it can be very difficult. By partnering with XL Catlin, we can gain from their geographic presence and their breadth of knowledge around risks and products, and we can use that to scale our platform much quicker."
Related stories:
XL Catlin's multinational casualty insurance line-up gets new faces
How one insurtech is rewriting the hospitality insurance sector