The lure of baseball for insurance marketing | Insurance Business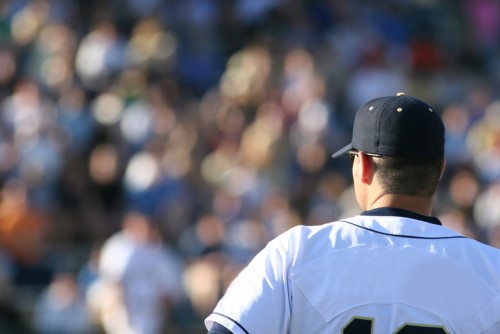 When you think of baseball, you don't immediately think of insurance. Yet maybe you should.
If you follow the sport, you're seeing plenty of insurance billboards, awards, and branded stadiums. Insurers like the pull of baseball marketing.
Insurance and baseball sponsorship actually go hand in hand. And it's not necessarily the sports-niche insurers with their names flashing up behind the batter's box or attaching their names to prestigious end-of-season awards.
Heading into the All-Star Weekend, if you're a baseball fan it's hard to miss Esurance's naming and branding all over the MLB All-Star voting process.
Kristen Gambetta, Esurance manager of brand sponsorships, said the company focused on "America's pastime" because baseball runs for most of the year and has such a dedicated – and engaged – fan base.
"The reach and the amount of fans and the engagement of the fans in MLB is really unparalleled in sports," he said. "We're based in the United States and we also have a presence in Canada, so it really was the right fit for us in that regard too."
The
Allstate
company had, until 2014, sponsored about 40 brands, before paring that down to just four: MLB, Minor League Baseball (MiLB), the San Francisco 49ers NFL team, and the South By Southwest (SXSW) music festival in Austin, Texas.
Gambetta said they chose to then focus on brand partnerships that would give the insurer better awareness and increase sales. And baseball fit that brief.
"The goal of this partnership … is really built to drive awareness of the brand at scale," Gambetta explained. "According to our research … those that are aware that we sponsor Major League Baseball are more likely to quote and consider buying from Esurance."
Celebrate excellence in insurance. Nominate a worthy colleague for the Insurance Business Awards.
Likewise, for The
Hartford
, another MLB partner, the lure of America's national game was a great fit, said assistant vice president of brand strategy and management Mike Dunn.
"Baseball is just a great brand. For us, with baseball, a lot of other sports are not as wide-reaching with the breadth of the target audience that enjoys the sport," he said. "Baseball actually has a tremendous breadth of target audience, from young to old, male and female. It's a wonderfully long season … there are 162 games that every team is playing … and there are 30 teams, and you can actually get local with that."
Among other marketing approaches, The Hartford sponsors the National League and American League Relief Pitcher Of The Year awards.
"We pivot our sponsorship around relief pitchers and closers, and our whole positioning as a brand … the cornerstone of our brand is this notion of: prevail over the unexpected when it happens," he explained. "So when you think about what a closer does, the closer comes out to protect that team and help the team prevail over the opponent. It just made a lot of sense to us from a brand-alignment perspective."
Interestingly, Dunn said, The Hartford's history with baseball goes back a long way – including insuring Babe Ruth against injury, and covering the 1925 Pittsburgh Pirates championship team.
Elsewhere in baseball, insurance companies also have their names in bright lights above ballparks: Cleveland Indians' Progressive Field, Texas Rangers' Globe Life Park in Arlington, and Cincinnati Reds' Great American Ballpark, to name a few.
And then there's Safeco Field, the Seattle Mariner's park. But Safeco, a
Liberty Mutual
company, is pulling its naming rights at the end of next season, after its 20-year association with the Mariners.
"Safeco Insurance has proudly attached our name to the ballpark since the first pitch was thrown on July 15, 1999," spokesman Glenn Greenberg said. "At that time, Safeco was considered a mid-size, regional insurance company. In the nearly nine years since becoming a Liberty Mutual company, Safeco has grown to become one of the nation's largest personal lines insurance providers sold through independent agents. While our Safeco marketing approach is changing, we intend to remain active partners with the Mariners."
Related stories:
Insurance holding firm hires baseball agent
Making the major league