Brokerages' adoption of digital tech is stagnant year-over-year - Applied | Insurance Business America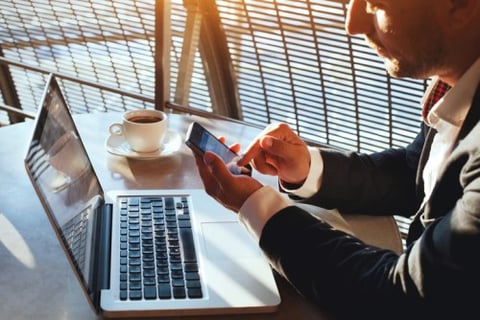 Brokerages are adopting technology, but not fast enough. The average rate of digital adoption at an independent brokerage is 44%, which is the exact same score that brokerages got last year, according to the 2018 Digital Technology Adoption Benchmarks and Trends report from Applied Systems.
"It's flat year-over-year, which we view as really just an opportunity for the industry to continue to push and continue to get better. In other words, we're not done by any means," said Michael Howe, VP of product management at Applied Systems.
Some technologies fared better than others: most independent brokerages (97%) from the US, Canada, UK, and Ireland report using a management system, but only one in five receive data analytics from applications to actually gain insights into the information being collected by their management systems – bad news when 20% more profit is realized by information-centric organizations, reads the report.
A similar number of brokerages offer mobile apps (24%) and self-service portals (18%) to their clients, and 65% host software in the cloud, which is still brokerages' top pick for hosting software in general.
"We're pretty far along the curve on a few of those. For example, the agency management system, broker management system at this point – that is so foundational to how a broker runs their business that it's the rare exception now when a broker wouldn't have something like that in-house," said Howe.
The report also reveals that having one system is important since switching between many systems that don't work together can reduce staff productivity by as much as 30%.
There are, however, other areas where brokers are much earlier on in the lifecycle of digital adoption and have yet to reap the rewards from technology.
"Take mobility or mobile apps – we certainly see strong adoption – lots of customers and brokers beginning to figure out how to fold that into their operations and improve their customer experience – but we're pretty early in that process, so way less than half of brokers, in some cases even less a third, have adopted mobility," Howe explained.
Mobile use is baked into our daily lives now, explained Howe, so this technology is an example of one where the more brokers that can get comfortable with using it themselves, the more comfortable they can get with rolling it out internally and externally to customers. The earlier they can jump on the mobile bandwagon, the better.
"Today, it's a huge opportunity to differentiate from your competitors as a broker," said Howe. "By tomorrow, next week, next month, next year, pretty much mobile is going to become a 'you must do it to remain competitive.' We're still in the early innings of that transition," Howe told Insurance Business.
There are high points in the report as well. The flow of information between carriers and brokers can be seamless today, which is likely why 77% of brokerages receive downloads directly into their management systems.
"The easier you can make it for those two constituents – brokers and carriers – to work together, there's a tremendous amount of value in that for both the brokers and the carriers," said Howe.
The use of the cloud is another area of improvement. Three to five years ago, Howe says that Applied spent a lot of time convincing brokerages that taking advantage of the cloud was a good idea, in terms of it being more cost-effective and a more secure offering.
"Fast forward to today, we spend much less time trying to persuade people of that," said Howe. "There's been a real overall shift in mentality in the industry around familiarity and comfort with having solutions run in the cloud."
Related stories:
How insurance companies can utilize IoT data in their business strategies
Nationwide announces plans for new innovation center