Case study: CoverEase debuts new small biz brokerage platform | Insurance Business America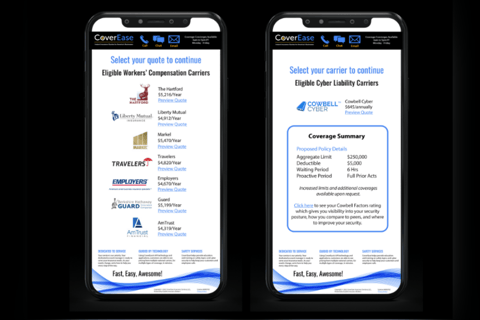 CoverEase recently debuted its new digital insurance brokerage platform, four years after initial development began.
The pitch: its artificial intelligence automates the quoting and underwriting process to help small business customers shop, compare and buy workers' compensation and related cover in about three minutes.
"We have simplified the process of shopping for business insurance," explained CoverEase CEO and founder Shawn Edgington .
Edgington noted that the platform eliminates the need for small business customers to compare and shop for coverage such as workers' compensation insurance, one carrier at a time.
"We've simplified the process for our customers, so that in three minutes they can get seven workers' compensation quotes," Edgington said. "They can go through the underwriting process –and, at the end of their journey, they're going to get quotes … [with] the top carriers in the country."
Carrier partners so far include The Hartford, Travelers, Liberty Mutual, Markel, Berkshire Guard, Employers, Cowbell Cyber and Great American Insurance Company. CoverEase specializes in a number of industries including service, professionals, hospitality, retail, manufacturing, medical and contractors.
Long gestation
The company officially launched earlier in March. Based in Livermore, Calif, it runs on the same base technology used by sister company E-COMP NOW!, a workers' compensation digital agency. Edgington is CEO and founder of that company, too. About 35 employees are based in E-COMP and seven key employees familiar with CoverEase now work for that company.
"E-COMP [launched in 2006], our workers' compensation national distribution channel, partner with 500-plus payroll companies to offer pay-as-you-go workers' compensation to business," Edgington explained. CoverEase was developed as a result of E-COMP's success, she said.
"I wanted [business owners] to be able to go to one place and shop the marketplace and get all the insurance they need within a couple of minutes," Edgington said. "The idea is choice … I wanted to offer a full scale of carriers and coverages, giving the business consumer what they need to feel confident about their insurance program. Businesses typically need workers' compensation, property, general liability, employment practices liability and cyber liability. They might also need group health insurance [and] life insurance."
As envisioned, the platform is also embeddable into associations' and groups' websites that want to add business insurance to their offerings.
The details
CoverEase's platform is cloud based. Beyond AI, it relies on API technology to link its platform to carriers.
"Each carrier has its own set of APIs that we leverage to do their underwriting," Edgington said.
Integration with participating carriers can vary in terms of time. Linking up Integrating with Cowbell Cyber, for example, took eight months, Edgington said, with meetings between developers, and a tight focus on functionality and proper API testing was completed to make sure both CoverEase and Cowbell Cyber's systems communicated well.
Integration with more traditional insurers is easier, taking about 30-90 days, depending on the level of integration and complexity, of the product, Edgington noted.
This includes developer calls, beta testing, and verifying endpoint connections, and the success of passing data back and forth.
Customers, at least, have an easier time, putting in their data in three minutes and getting quotes within about 15 seconds.
Questions are simple and to the point, asking business customers for contact information, brief descriptions of their operations and whether they have workers' compensation currently, and when they want coverage to begin. A few other questions cover payroll and cyber protections and the type of business. While they're waiting for quotes, "Lightening Max" the dog appears – a cartoon dog with a cape and goggles riding a vespa.
The platform then returns quotes with participating carriers, allowing the customer to compare and choose coverages and carriers, in one spot.
Growth plans
CoverEase, which is licensed in all 50 states, is already seeking to expand. According to Edgington, those plans include selecting a life insurance carrier, among other initiatives.
The company is also working hard to get the word out to as many businesses as possible.
"We need to get the message out there to the country that there's an easier way to get business insurance quotes," Edgington said.
That effort includes the hiring of an advertising company, with plans to start shooting its ads in April.
"We're just excited to bring a brand-new tool to businessowners, because, as a businessowner myself, I know how difficult it is to shop for insurance," Edgington said. "We are not just an InsurTech but we include our human touch and expertise if you need help, have questions, or want to verify what's best for your business … we have a team of experienced professionals that are here for you."