Will the vaccine mandate for nursing home staff increase liability risks? | Insurance Business America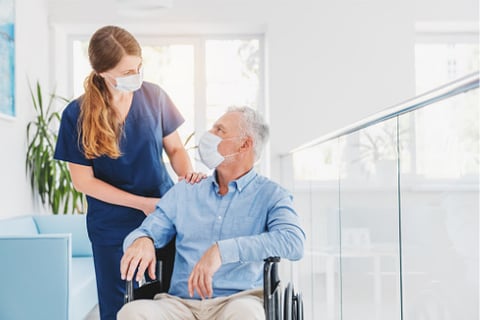 The long-term care sector has already faced countless challenges throughout the pandemic. Last month, the federal government added another by mandating nursing home staff be vaccinated - and nursing homes that are not willing to follow the mandate will not receive Medicare and Medicaid funding.
So, what does this mean for the insurance industry?
With the mandate, nursing homes are, in many cases, losing staff as many are hesitant or resistant to being vaccinated against COVID-19.
"From all the data that's been collected from Q1 this year, vaccination rates are only in the 30% range for nursing home workers," Gigi Acevedo-Parker, the national clinical risk manager leader for Hub International, told Insurance Business.
With a low vaccination rate, the government stepped in with a mandate to ensure infection prevention for residents and staff. With the resistance in staff taking the vaccine, Acevedo-Parker noted that the turnover rate was higher than ever, increasing liability risks for the nursing homes due to the amount and quality of staff available.
"Consistently training new employees while managing the need for strict clinical care measures, makes this a very difficult and risky time for nursing homes," said Acevedo-Parker.
"Research tells us that the lower the level of the healthcare worker, the less they will want to be vaccinated," said Acevedo-Parker. "Almost weekly half of their staff are turning over as people are angry and burnt out."
Other areas in nursing homes that need risk management planning and measures in place are frequently being left to the side now, Acevedo-Parker explained, as the focus is currently on trying to keep staff on the right side of the door.
"There are 10.9 million job openings in the US - most of those are lower wage jobs such as nursing home workers, and if they can go to a job with less stress and no vaccine mandate, they will," said Jim Burke, VP senior risk consultant, and national risk services practice lead for healthcare at Hub International.
Being in the most fragile of settings, Acevedo-Parker said nursing home workers, such as aids, assistants and orderlies, have been exhausted due to the demands of the pandemic, and the mandate is now bringing up feelings of isolation and victimization.
"I hope the nursing home leaders and owners will be able to rise to this because it will be difficult to keep skilled staff in this pressing situation," said Acevedo-Parker.
"Safety and risk mitigation is most important," Acevedo-Parker noted. "We're currently looking at LTC and making sure we focus on all risks, clinical and non-clinical. On the positive side, there's a lot of PPE available, and training in infection prevention and control has improved."
Acevedo-Parker explained that the difficulty will be having enough front line, lower-level staff, consenting to being vaccinated to reduce potential liability risks in nursing homes.
Burke explained that there were overlapping regulatory and liability issues prior to the mandate; but issues with building maintenance, or other basic safety functions, have taken a back seat.
"From a risk control standpoint, we should prepare our clients for continued short staffing issues," said Burke. "When you have reduced staffing, and you're continuing full operations, there's going to be a big impact on your facility."
Acevedo-Parker explained that the priority should be on having a comprehensive risk team in place. Insurers can bring in the right people to help mitigate the known risks within the healthcare organization and decrease the likelihood of a liability claim.
Going forward, Burke noted that with an influx of new staff that may be new to the industry, enhancements in training and supervisory efforts will be the next, most important risk management practices on the agenda.