Yoga enthusiast finds her peace in insurance | Insurance Business America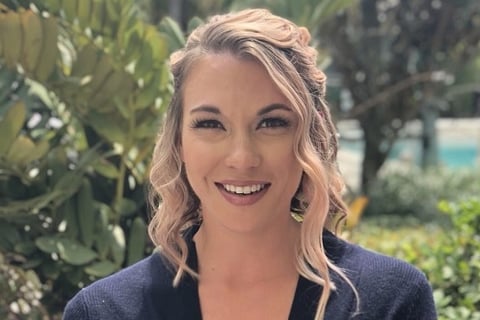 When Madeline Schrull (pictured) secured a post at SLB Insurance Group weeks before her university graduation, she felt that her young age would be a hindrance to gaining the trust and respect of her clients.
However, for the past seven years, yoga enthusiast Schrull, now a senior broker, has forged strong ties with the firm's retail clients. She has helped establish a strong team of underwriters-in-training which plans on pushing the company's book of business by an additional $1 million.
Insurance Business had a brief chat with Schrull to learn more about her early struggles in the insurance profession. In this short Q&A, Schrull shares how SLB Insurance helped her build her network of clients.
Please share with us how you got into the insurance industry, what led you to this career?
I graduated from Florida State University with a degree in Risk Management & Insurance in 2011. The Risk Management & Insurance (RMI) program at FSU is among the top in the nation – they place a lot of focus on their student's success, including connecting them with industry leaders and career opportunities nationwide. I was very fortunate to secure my job at SLB Insurance Group before I even walked the state on graduation day!
Tell us briefly about your company and its role in the insurance industry. What makes it different from other companies in the same space?
SLB Insurance Group was founded in 2000 to distribute insurance products to retail agents who do not have access to premier markets due to agency size, coastal location, or company volume restrictions.
We understand your frustration in dealing with brokers that won't give you service unless you have significant volume, or brokers that reduce your commission or service level on smaller policies. We consider every piece of business that comes through the door the same, regardless of premium size or agent.
Our combined company and retail agency experience is second to none and provides us with the knowledge we need to answer any questions you might have. We represent multiple admitted & non-admitted carriers and pride ourselves on being the "path of least resistance."
What has been the biggest obstacle you have had to overcome so far as an insurance professional? What did you do to conquer it?
I started at SLB in 2011, right after graduating from college. Being only 22 years old at the time, the biggest challenge I had to overcome was being such a young female who was brand new to the insurance industry. At times it felt like it would be impossible to gain the trust and respect of my clients, some of whom had been retail agents for 20+ years.
Over the past seven to eight years, I've built up some really strong relationships – not only with retail agents, but also with company underwriters who have been really knowledgeable and supportive along the way. The owners of SLB have also been incredible – they are extremely helpful and always encourage us to be innovative. Our approach is to try to stay one step ahead of the customers and the competition!
What are your passions or hobbies outside insurance?
Outside of work, I practice and teach yoga! About two years ago, I started offering a free yoga class once a week to all employees that work in our building. We have about 10 people who take advantage of this class on a regular basis - it's a really nice way to bring some peace into an environment that can be a little stressful at times.
I also love to travel – I host a yoga retreat in Costa Rica once a year. In addition to that, I'm also going to Spain and Portugal in a few months! Last year I traveled to Iceland, and the year before that I went to Thailand, Tokyo, Singapore and Hong Kong.
Related stories:
Summer fling with insurance turns into a lifetime career
Strong legal background can boost an insurance career