Young broker defies age expectations in the industry | Insurance Business America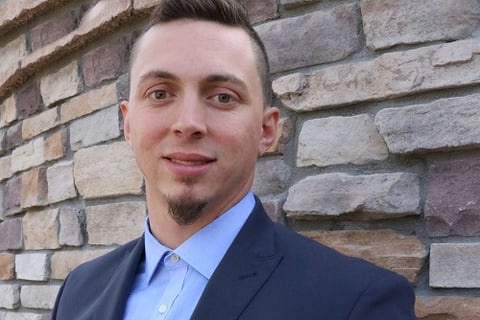 Unlike other professionals who ended up in the industry by accident or a sudden epiphany, Harrison Scheider (pictured) always knew he wanted to be in insurance.
Scheider grew up working as an intern for his parents' independent insurance agency in northern Wisconsin – he started in the industry by literally scrubbing toilets.
When he was 18 years old, Scheider earned his property and casualty insurance license. After finishing his business administration degree at Fort Lewis, Scheider had a brief stint at Allstate as a producer in 2012, and, in the latter part of that year, he joined the American Risk Management Resource (ARMR) Network where he found a niche market in the environmental insurance space. One of the highlights of Scheider's career has been his contribution to the development of one of the first-ever farm environmental impairment liability insurance programs in 2014.
Currently, Scheider serves ARMR Network as vice president and environmental insurance broker. Aside from assisting leadership in the growth of the group's staff, he also focuses on business development. Scheider also heads the group's Agricultural Environmental Insurance Program.
Insurance Business caught up with Scheider to learn more about his career. In this exclusive interview, Scheider shares how he overcame age expectations in the industry.
What is the most fulfilling aspect of your work in the insurance space?
The most fulfilling aspect of working in the insurance industry is I get to solve problems every single day. I am always in 'do mode' and within the environmental insurance space, with coverages being so complex and the risks so unique I get to solve issues and fill coverages gaps for my clients and their insureds every single day.
What advice can you share for those wanting to join the insurance industry?
For those looking to join the insurance industry I think first and foremost you have to educate yourself. Find a niche market or type of business and be about that market. Get your insurance designations and then imbed yourself in an industry. Work to become a voice in that community and person of influence. This will help your career grow immensely.
What are the three most important qualities for someone to thrive in the insurance industry?
For me, there are six: faith, family, persistence, discipline, organization, education.
What has been the biggest obstacle you have had to overcome so far as an insurance professional? What did you do to conquer it?
The biggest obstacle I had to overcome and still work at today is my age. I am only 29 and most of the clients I work with on the agency side are almost 20 -30 years older than me. To get past this barrier, I became, and am still working to become, a master of my craft. Age is just a number and if you really know your stuff, show up every day for your clients, and provide insightful value and information this obstacle or objection is eroded very quickly.
Tell us briefly about your company and its role in the insurance industry. What makes it different from other companies in the same space?
American Risk Management Resources (ARMR) is the premier environmental insurance wholesale brokerage, expert witness, & consulting firm. Our founder, Dave Dybdahl, invented the first contractor's pollution policy working to clean-up nuclear facilities back in the 1980s. We also did $1.2 billion dollars in litigated environmental insurance coverage dispute work last year alone. With this historical knowledge, no matter how complex or routine the risk, ARMR enables our broker and agent partners to compete with some of the largest insurance brokerages in the world.
Describe a world without insurance.
Chaos. If you look at the catastrophic losses we have had around the world from hurricanes, to wildfire and even earthquakes - you could argue right now the need for insurance to respond is arguably at an all-time high. You can only imagine if those businesses and people affected had no means to recover their losses - the world would look quite different indeed.
If you were not working in the insurance space, what would you be doing now?
If I was not working in the insurance space, I would like to think I would be doing something in the fitness industry. I was a college athlete and still compete in cycling and lifting events today. I would own a gym or supplement business if I were to be doing something other than insurance.
What are your passions or hobbies outside insurance?
My hobbies and passions all revolve around my family. I am the most efficient broker you will ever meet as I have two sets of twins. I enjoy spending time with all my kids and wife outdoors. I am an avid cyclist and fitness advocate. I like hiking and hunting anything to get me out into the mountains of Colorado.
Related stories:
Lessons from the past: How brokers can help clients prepare for disaster-related risks
Is there a lack of understanding about the role of insurance?