Jump to winners | Jump to methodology
A successful product strategy
Professional operations have to continue during good times and bad, and the professional liability and directors' and officers' insurance sector provides consistent support, as Insurance Business Canada's 5-Star Professional Liability and D&O report shows.
Margo Lyons, vice president of broker distribution at Apollo, an award winner, says that it's important to assess the professional lines sector through various lines of coverage. "In areas such as cyber liability and D&O, there continues to be an uptick in exposures and loss activity coupled with decreasing capacity," she says.
"This will continue to drive increased rates and a deeper level of underwriting through 2022 as the pandemic drags on and cybercriminals become even more sophisticated."
"We build our underwriting appetite with a great deal of detail and then convert it into an unbreakable digital algorithm"
Margo Lyons, Apollo
Regarding E&O, Lyons says the sector is seeing increased activity and has performed well and will continue to be competitive. For her, the ability to collect and underwrite data metrics will sift the winners from the losers in this space.
In the D&O sector, terrible industry loss ratios for the past five years, both in Canada and abroad, point to a hardening market, says Michael McLachlan, president of Trinity Underwriting, another winner. This condition has led to greater premium increases, capacity reduction, and a reluctance among many companies to write new business.
"After a year of sharp increases, there are signs that the market is shifting, but these risks still require more experience and time to underwrite properly, and it can be difficult to know the future of some of these companies that are greatly affected by the pandemic," says McLachlan.
Meanwhile, Keith Morrison, vice president for underwriting strategy and performance at Liberty Mutual Canada, another winner, echoes McLachlan's concerns regarding the D&O sector's performance during the pandemic. He says conditions are stabilizing in the economy as the pandemic wanes, mitigating risks such as bankruptcy and employee termination claims caused by declines in business or government restrictions.
"I believe the general sentiment in the D&O market and outlook over the next year will become more positive," Morrison says. "We expect capacity to return to pre-pandemic levels over time, with rate increases leveling off for most classes of risk."
"At every level, our underwriting teams try to understand the needs of our customers so that we can put them at the core of the insurance solutions we offer and service we provide"
Keith Morrison, Liberty Mutual Canada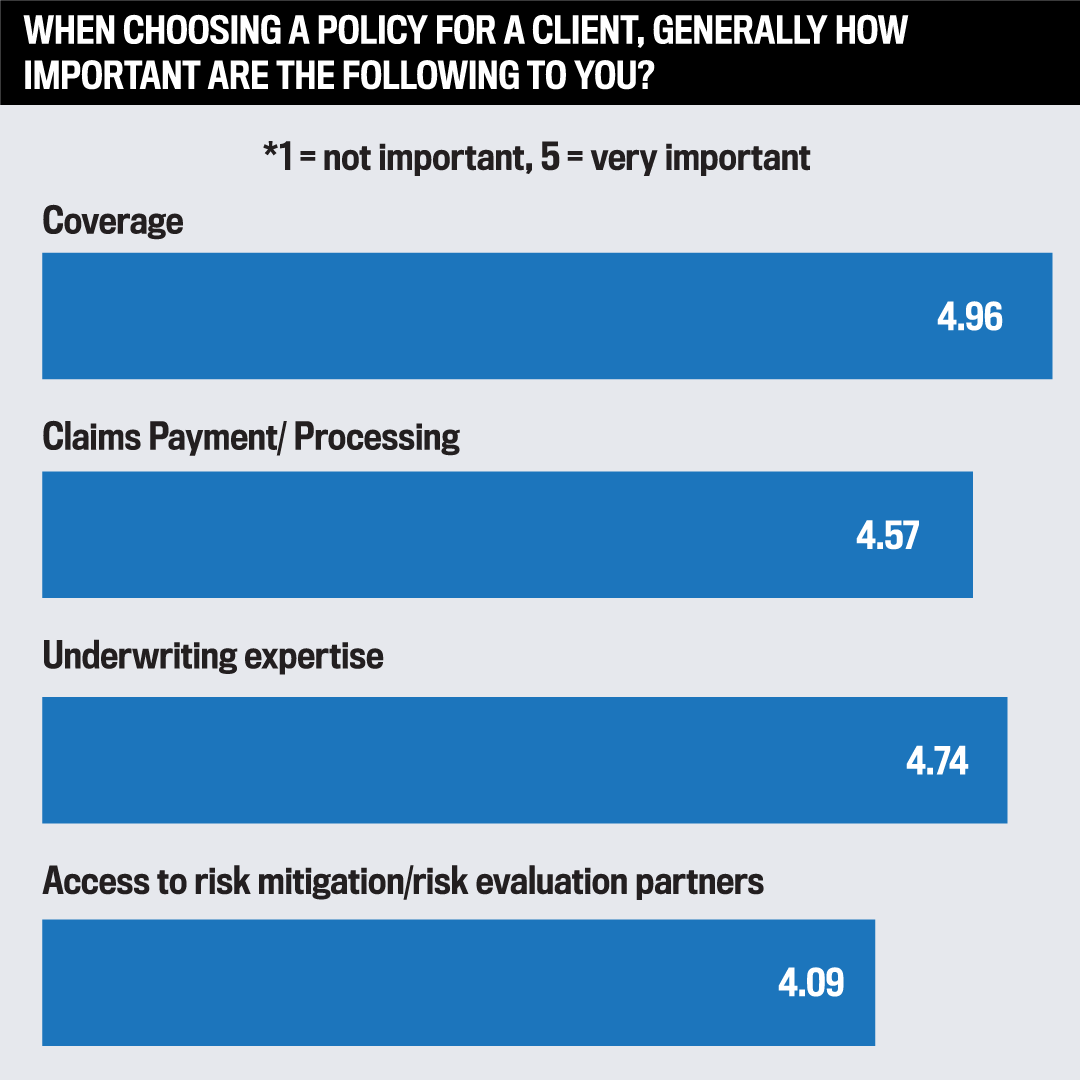 Effective solutions
Apollo, Trinity Underwriting and Liberty Mutual Canada all have different offerings. For example, Apollo builds its professional liability products into a digital platform that enables real-time quote, bind and issuance. The company also offers unique products for yoga instructors, RMTs, industry professionals and hundreds of other business classes. While Trinity Underwriting provides professional liability and D&O coverage backed by in-house underwriting authority to enable unique solutions, Liberty continues to build on its suite of Liberty Advantage D&O and E&O products for both commercial and financial services industries.
Regardless of the product and product name, the survey participants ranked each nominee on general service quality. For the respondents, the most important factor was coverage, followed by underwriting expertise, claims payment/processing, and access to risk mitigation/risk evaluation partners.
Regarding coverage, Apollo leverages data to create products in response to a wide variety of needs. As a result, they can meet their clients' needs while adapting quickly to market fluctuations. Trinity Underwriting offers options for defense costs outside the limits and options for $0 deductibles. The company can also write startups and provide primary or excess limits, a legal advice hotline for every quote, and the ability to create a full package of coverage for E&O, CGL, property, crime, LEI and cyber. Liberty collaborates with its brokers, underwriting counsel, claims team, and law firm partners to address emerging risks facing directors and officers. They also offer tailor-made coverage for larger policyholders with complex risk structures.
"At every level, our underwriting teams try to understand the needs of our customers so that we can put them at the core of the insurance solutions we offer and the service we provide," says Morrison of Liberty. "We've taken this customer-centric approach to our underwriting efforts by creating a local presence from coast to coast, where our underwriters can truly understand the needs of the local marketplace."
Meanwhile, Apollo's underwriting team has diverse backgrounds and expertise to ensure that clients' needs are met. Trinity Underwriting is an MGA, not a wholesaler, so it can write all accounts in house.
Another key area is claims payment and processing. "Our claims have been handled locally for many years by Cameron & Associates, a TPA," says McLachlan of Trinity Underwriting. "Jim Cameron has over 30 years' experience handling claims in professional liability and D&O. He provides local expertise and quick handling. This helps keep defense costs down to avoid claims payouts creeping up."
Apollo also has a team of qualified adjusters who are available 24 hours a day to help with claim submissions, reviews and payouts.
Over its nearly 30-year history in the Canadian D&O market, Liberty has handled thousands of D&O claims and paid out more than $400 million in losses. The company's in-house experts are capable of servicing large multinational insureds with access to local claims experts through their global network of offices. They are continuing to add claims professionals to the regional offices in Canada to better service local SME accounts.
Finally, access to risk management or risk evaluation partners is also paramount. "We build our underwriting appetite with a great deal of detail and then convert it into an unbreakable digital algorithm," says Lyons. "It ensures there is little to no room for error as it prevents any human intervention and risk of bad underwriting decisions."
Meanwhile, Liberty's in-house team of specialized lawyers work closely with policyholders on its defense strategy, drawing from years of experience in handling claims.
"This business is all about relationships. Talk to your brokers and show them how you can fit their needs"
Michael McLachlan, Trinity Underwriting
Strengthening customer relationships
The survey results of the survey show that the winners are on the right track.
For Apollo, putting the customer first is fundamental to the company's decisions regarding products and services in the specialty insurance space, Lyons says. "Data is the key to understanding our customers and in practice, it is as simple as taking the time to ask them about the challenges they have and the opportunities they want to fulfill. Unique to the Apollo business and our insurance technology platform, we use our enormous amount of data to inform us on where there is demand for our products and the areas that we need to improve. For us, it's all about driving that optimal customer value and experience through decisions that are informed by superior data and feedback."
Apollo increased its monthly lead traffic by 90% and its sales by 80% in 2021.
Liberty made a commitment at the beginning of the pandemic to support its brokers and insureds and offer fair renewal terms. After two years, the company has retained well over 90% of its management liability accounts.
"I think it boils down to creating a seamless buying process for your customers through best-in-class service levels and a market-leading approach to developing new products and evaluating risk," says Morrison. "We've also worked very hard at putting together a portfolio with a sustainable bottom line and we're proud of the stability this allows us to offer. A stable bottom line enables us to continue offering meaningful capacity and reliable coverage to the thousands of Canadian policyholders we protect."
For McLachlan, business is all about relationships, so he suggests speaking with brokers and showing them how to fit their needs. He says that awards make brokers aware of who is excelling in the market in which lines of business.
"[At Trinity Underwriting], we have always believed in the power of data. We analyze our results by line, by industry, by province, by limit constantly. As a rule of thumb, 10% of the risks cause 90% of the claims. If we're able to avoid those 10%, then our results enable us to provide very competitive terms to the 90% of the insureds out there who run their businesses well and deserve superior coverage and pricing," he says.
AIG
Apollo
Beazley
Cansure
Chubb
Travelers
Victor Canada
D&O
Apollo
Cansure
Intact Specialty Solutions
Liberty Mutual Canada
SGI Canada
Victor Canada