Zehr Vintage C.A.R.S. Program's "next level" partnership with RSA | Insurance Business Canada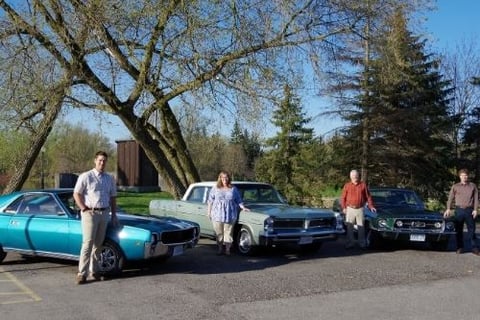 Nothing says 'labour of love' quite like classic car collection and restoration. It takes a true fan to eye up a piece of chrome at a swap meet and know without a shadow of doubt that it derives from a 1964 Ford F100 pick-up truck, as opposed to its 1965 counterpart. That was the type of knowledge and passion that John E. Smith brought to the table when he launched the first ever vintage motorcar insurance program in Ontario with Zehr Insurance back in 1968.
Fast-forward five decades and the Zehr Vintage C.A.R.S., program, ("Classics, Antiques, Rods & Specialty") remains one of the leading specialty programs in the province, designed to provide affordable and tailored insurance solutions for car enthusiasts who own vintage and collectable type vehicles. Today, the program is managed by the late John's son, Scott Smith, who inherited a similar passion for collector cars.
"It was very gratifying to follow in my father's footsteps," said Smith. "Taking over the Zehr Vintage C.A.R.S. program in 2012 ignited a flame in me. I inherited some of my father's prized possessions and I started collecting cars myself. I got heavily involved in the industry and started building on my first-hand knowledge. I know how to turn wrenches, I know how to modify a vehicle to accept a modern drivetrain compared to the original drivetrain, I've done bodywork, I can weld – I understand the craft of the industry. That really helps us to make meaningful connections [with the vintage and collector car] market rather than just sitting in an office and issuing insurance policies."
The Zehr Vintage C.A.R.S., program has been underwritten by RSA Canada since Smith took over management of the program in 2012. Right from the get-go, Zehr and RSA had a "really strong relationship," reflected Smith. He said: "All the stars aligned; it's been awesome. RSA took away a lot of our pain points, and they gave us the ability to develop and grow our program. Being able to partner with such a distinguished insurer gave us a boost of competence and the ability to succeed."
Read next: 'Our brokers and clients can trust in our consistency'
The policy administration and technology support offered by RSA at the onset of their partnership was "next level," according to Smith.
"Technology was made available to us right away so that we could seamlessly upload our policies right into the RSA system and we'd get e-docs back within a week," he reflected. "Fast-forward to today, and the RSA portal still works well for us. It's like clicking that easy button."
Zehr's Vintage C.A.R.S. program covers up to $2 million legal liability for both property damage and bodily injury, with a $0 deductible for direct compensation property damage, a $300 deductible for comprehensive damage, and $500 for an at-fault collision. The program also contains an OPCF19A agreed value endorsement, which means the policy will pay out a guaranteed total loss to the amount the car was valued upon appraisal. Policyholders also retain rights to the salvage if their prized vehicle is damaged or destroyed in a loss.
Read more: Helping Canadian SMEs bounce back post-pandemic
RSA provides a hassle-free claims guarantee on the Zehr Vintage C.A.R.S. program. If policyholders are not contacted within six hours of a claim being reported, the insurer will issue them a cheque for $500. This is another "wow" factor in the partnership, said Smith. "With our claims guarantee, it shows that RSA is willing to put their money where their mouth is. That's not always easy to find. Add to it a bonus for enrolling in the Air Miles program, this really is a company that we feel strongly about partnering with."
When all is said and done, Zehr retains exclusive representation and ownership of the Vintage C.A.R.S. program. In the words of Smith, "we hold the pen" and have the expertise and the passion to provide bespoke solutions in what is a "very niche market" in Canada.
"RSA has come fully on board with our program. It's worked out well in all aspects of the operation, and that's partly because the team at RSA really listens to us, which is so important in a partnership like this," Smith added. "Our broker reps at RSA are great people and we all enjoy working together, so when we go to them with a request for information about the program – for example, we recently put in a rate increase (the only one in 10 years) – they listen to us, they trust in our expertise, and they run with it. We really appreciate them for their hard work in support of this program."