ICBC amends policy on seeking damages from cyclists, pedestrians | Insurance Business Canada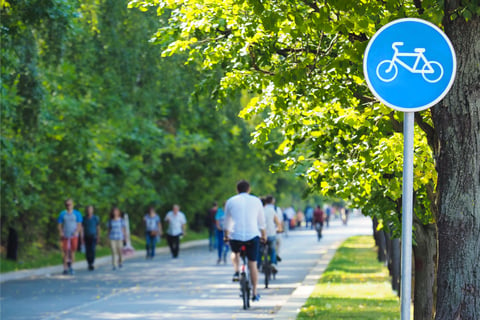 Following a Vancouver cyclist's concerns over being exceedingly billed for damages to an automobile, the Insurance Corporation of British Columbia (ICBC) announced that it will be changing its policy on when cyclists, pedestrians, and other active transportation users can be charged with damages if they have some liability in a crash.
Moving forward, the Crown insurer will no longer seek recovery for costs in certain clearly-defined situations, such as when a cyclist/pedestrian has suffered a severe or catastrophic injury; if there has been a fatality resulting from the crash; and when ICBC must determine liability as 50/50 since there is not enough evidence to decide what happened in a crash case.
The changes come after cyclist Ben Bolliger went public with his unpleasant insurance experience. He was slapped with a $3,700 bill from ICBC to repair the hood and windshield of a car that had hit and injured him last summer. The cyclist was incensed that ICBC had treated his bike as an "uninsured vehicle" under its no-fault insurance system.
"Government and ICBC listened to the concerns raised from cycling advocates and Mr Bolliger about the decision to bill him for vehicle damage after he was involved in a collision," said BC Minister of Public Safety and Solicitor General Mike Farnworth. "The previous approach was not reflective of the changes we've made to auto insurance in British Columbia and that needed to be fixed."
ICBC also announced that claims involving a cyclist or pedestrian who has suffered a non-severe injury will be "carefully considered by a committee of experts." The insurer hopes that with these changes, the number of times it will seek recovery from cyclists or pedestrians will be "much more limited," it said in a release.
"We are committed to continuing to improve and this claim highlighted a situation where improvements needed to be made, and we are now making those changes," said ICBC president and CEO Nicolas Jimenez. "Our new care-based model is just one year old and we will keep looking for ways to improve on how we deliver Enhanced Care to British Columbians."
Read more: ICBC renewals move online; insurance decals no longer required
ICBC announced last week that starting this month, it would no longer require policyholders to display an insurance validation decal on their license plate. The revised rule coincides with the insurer's launch of its online insurance renewal services.