Travel insurance for seniors – what Canadians should know | Insurance Business Canada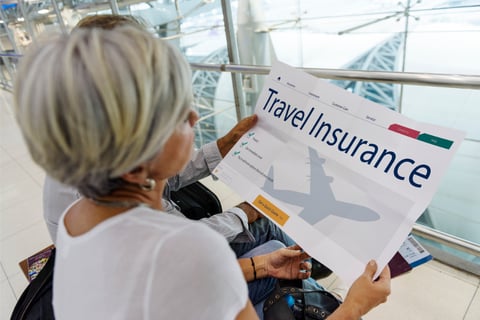 One of the finer things about getting older is that financial responsibilities often ease up, giving people the freedom to pursue lifelong dreams they may have put off to carry out other obligations when they were younger. For many Canadians, reaching this stage in life means getting the opportunity to explore new and different parts of the world.
But travelling after reaching senior age lso brings a different set of risks, making securing travel insurance even more essential, according to industry insiders.
"We all know that, in general, wisdom and time to enjoy life comes with age. [But] as we grow older, we are also more susceptible to health issues or injuries than younger travellers," Allianz Global Assistance explained on its website. "Because most countries don't provide free health care to visitors, travel insurance is a must-have if you need emergency medical treatment while you're away. Additionally, an increasing number of countries have started requiring proof of emergency medical coverage."
Read more: Nine simple ways Canadian travellers can save on insurance costs
Global Affairs Canada, meanwhile, reminded all travellers that "Canadian public health insurance is almost certainly not valid outside Canada," and getting treatment in "foreign hospitals can be very expensive and may require immediate cash payment." The agency added that the government will not foot any medical bills "for an illness or accident suffered abroad."
Travel insurance, however, works differently when a person reaches a more senior age as the risks, particularly those health-related, become more pronounced. Here's what people in this age group need to know about this tailored coverage.
Who qualifies as a senior?
In Canada, there is no "generally accepted age" that determines when a person becomes a senior citizen, according to Legal Line, a federal not-for-profit organization that provides free legal information to Canadians.
The group added that the number varies between organizations – whether public or private – but often, 55 is the age when a person is considered eligible for seniors' discounts and services, although some government financial benefits, including the Canada Pension Plan (CPP) and Old Age Security Benefit (OAS), cannot be accessed until one reaches 60 or 65, depending on the type of benefit and the eligibility requirements.
Read more: De-bunking three travel insurance myths
What does travel seniors' travel insurance cover?
According to the personal finance comparison website Ratehub.ca, the best seniors' travel insurance plans should provide broad coverage for pre-existing conditions and offer a range of health, life, and disability benefits, including emergency treatment, medical evacuation, and repatriation.
Travel insurance companies typically set a $5 million limit for emergency medical expenses such as hospitalization, doctors' bills, and ambulance services.
In terms of non-medical coverage, policies should include trip cancellation or interruption, delayed or stolen baggage, and 24/7 emergency assistance.
Ratehub.ca advised senior travellers to shop around and compare rates to find the best travel insurance policies that fit their needs.
Read more: Survey: Only 40% of Canadians purchase travel insurance despite rising global health risks
Does travel insurance for seniors cover pre-existing medical conditions?
It is very important for senior travellers to disclose any pre-existing medical conditions to their insurer as failure to do so could risk voiding their coverage. A pre-existing condition is any illness, injury, or medical issue that seniors knew they had prior to their departure. According to Ratehub.ca, these include any condition that travellers "experienced symptoms of, were diagnosed and/or treated, prescribed new medication for, or changed existing medication."
Most travel insurance policies for seniors provide coverage for pre-existing conditions but include a stability clause, which requires a medical condition to be under control with no major changes for between 90 days and one year.
Does senior travel insurance cover COVID-19-related events?
The good news for senior travellers is that unlike at the onset of the pandemic when COVID-19 coverage was rare, travel insurance providers have since stepped up their game and have started offering protection against disruptions related to the coronavirus.
Read more: What COVID-19-related cover do Canada's top travel insurers provide?
Tourists, however, also need to consider a few points before buying travel policies, according to insurance comparison website HelloSafe.ca. These are:
Coverage may be "explicitly excluded" if the destination countries are under an "avoid non-essential travel" (Level 3) or "avoid all travel" (Level 4) advisory at the time of purchase.
COVID-19 vaccination status may also affect coverage – those unvaccinated by choice may have their claims declared ineligible by their insurers.
What is travel insurance for snowbirds and how different are these policies from those designed for seniors?
According to Ontario-based insurance brokerage firm Policy Advisor, a snowbird is a Canadian who spends the winter months living in places with warmer climates such as California, Florida, Costa Rica, Mexico, and the Caribbean. Although not all are of senior age, the majority of the snowbird population consists of retired seniors.
Many insurance companies offer tailored coverage for this demographic. One of the biggest differences between standard senior travel insurance plans and those catering to snowbirds is the length of time for coverage. Regular travel policies for seniors cover trips lasting up to 21 days. Snowbird travel insurance, meanwhile, offers up to 212 days of coverage.
Read more: Travel insurance isn't keeping pace with how people travel today - report
How can seniors get the most out of their travel insurance?
Much like other types of policies, travel insurance for seniors provides financial protection in the event something goes wrong. Coverage details vary from policy to policy, which is why experts advise senior citizens to review the fine print carefully before purchasing. Here are some additional tips from industry experts on how this age group can make the most out of their policies:
Shop around and compare travel insurance quotes
Make sure you have the right type of coverage – most policies offer cover for pre-existing conditions as long as these meet the stability clause
For those travelling two or more times a year, opt for annual or multi-trip plans
Review policy details to see if you are getting the best coverage possible
Be upfront and honest about the information you provide as failure to do so risks voiding your policy
Don't just settle for the cheapest policy – make sure you choose the cover that suits your needs