A simple solution to the insurance "talent gap" equation | Insurance Business Canada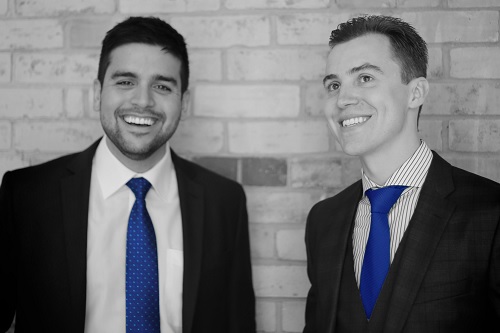 The talent gap in insurance. Unless you've been living under a rock, you'll have heard mutterings of "the talent shortage" and the dire need to fill positions as baby boomer insurance veterans reach retirement age.
For some organizations, addressing this talent gap is like trying to pull apart a really knotty equation. How do we get Millennials and Gen Z to choose insurance? How do we make insurance sexy? What do younger generations want from this industry? The questions are ongoing.
For others, like KASE Insurance, the answer has come easy. The Toronto-based specialty commercial insurance brokerage was founded in 2016 by Stanislav Kojokin (pictured, right) and Arian Ebrahimi (pictured, left). The pair opened a small office (only about 60 square-feet) on April Fool's Day – but what has followed is anything but a joke.
KASE Insurance has achieved soaring success since its founding three-years-ago. The brokerage has grown into a leading commercial insurance broker in Ontario, has won numerous industry accolades, and has hired a strong team to support its growth. In November 2019, the firm moved into a brand new 2,000 square-foot office in downtown Toronto, where growth will continue to be a key priority.
Read next: Slow tech adoption by insurance industry doesn't bode well for talent recruitment
"People talk about the talent gap in insurance, but we've never had a problem with that at KASE Insurance," said Kojokin. "When Arian and I found insurance, we both felt it was the best industry for us. The impact you can have when talking to clients about things that are vitally important to their businesses and how to manage their risks – it's just amazing.
"When hiring at KASE Insurance, Arian and I look for people who are just as excited about the industry as we are. We want people that love the industry and can see all of the opportunities insurance can bring to them. We also want people that are super ambitious and who can bring new ideas to our brokerage. There are lots of millennials who want to make a difference and have cool ideas for projects that they'd like to implement, but too often they're told there's no budget or appetite for that idea. We're looking for entrepreneurial people who strive to be the best, and we've been very successful in finding that talent."
Entrepreneurialism lies at the heart of KASE Insurance's successful recruitment strategy. According to Kojokin, this is something that will only play into the firm's favour moving forwards as the industry tackles change on multiple fronts.
Read more: Insurance industry must improve the female talent pipeline
"With all the changes happening in insurance, be it the firming market or the technology changes, there are so many opportunities for newcomers to make their mark," Kojokin told Insurance Business. "As new products arrive and new technologies arrive, it almost levels out the playing field because no-one can claim they have more experience than others. That's something that's amazing and unique to this industry – and it presents a huge opportunity for us as a brokerage because we have so much room to grow."
Kojokin and Ebrahimi were on the other side of the hiring spectrum not too long ago. They were looking for commercial insurance brokering jobs but came up against some resistance because of their youth and relative lack of experience. As Kojokin, and undoubtedly countless other millennials questioned: "How do you get experience if nobody's willing to hire you?"
As managing partners of KASE Insurance, the duo is determined to break down the barriers that are preventing young people from being successful in insurance. Their focus lies in training young brokers into becoming excellent commercial advisors and making them realize that the industry status quo doesn't necessarily need to be so.
"Our main differentiator is that Arian and I started from scratch three-years-ago. We want other energetic and forward-thinking brokers to see that, and if they want to follow our positive success, we can help lead them there," Kojokin told Insurance Business. He added that attracting and retaining talent in the insurance industry is only possible if you're willing to invest time and effort into those individuals so that they can strive towards their career goals.