It takes two: Insurance partners share their passion for problem-solving | Insurance Business Canada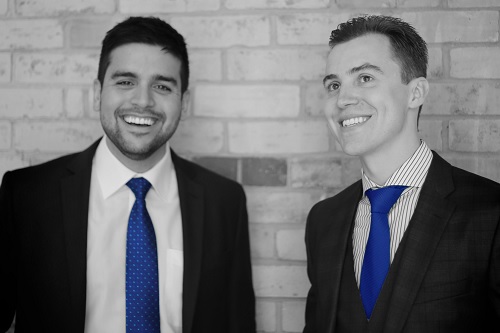 Arian Ebrahimi and Stanislav Kojokin are the co-founders of specialized insurance brokerage
KASE Insurance
; they are also both recipients of Insurance Business Canada's Young Guns distinction – Kojokin was recognized last year, while Ebrahimi was awarded just this year.
Ebrahimi, who considers mentoring other brokers the most rewarding part of his job, has a CAIB designation and is currently working on his CPIB designation, while Kojokin is one of the board of directors for the Insurance Brokers of Toronto Region and is working toward his CRM designation. Together, this dynamic duo hopes to not only provide commercial insurance that meets clients' needs, but also to train the next generation of insurance brokers.
We pick the brains of these partners and find out how their experiences led them from working in an insurance call centre to running an actual brokerage.
Tell us about yourselves
(Arian Ebrahimi) AE: KASE Insurance was established last year because we saw a need in the market for a boutique commercial insurance firm. KASE Insurance only provides insurance solutions for the commercial sector. Today, more than ever, specialization trumps generalization and in order to earn your client's trust, answering their questions isn't enough. You have to be able to proactively anticipate their needs so that they can understand what insurance coverages are available for their unique business.
(Stanislav Kojokin) SK: We place a huge importance on product knowledge, getting to know our clients and good old fashioned hard work.
How have you two gone from working in a call centre to starting an insurance brokerage?
AE: The two of us were Business Management students at Ryerson University. I majored in Finance and Stanislav majored in Accounting. Although we had a few overlapping classes, we only became good friends when we got the same part-time job at an insurance call centre. The two of us shared an interest with the advisor aspect of customer service as well as the problem solving involved when dealing with insurance.
SK: After graduating, I found it difficult to find a commercial producer position, although I eventually found the right opportunity at The Lyon and Butler Insurance Group. From there, Arian joined the team and it became very effective to be able to share ideas with each other and take the teamwork approach to winning over clients and providing the best service.
AE: Because that partnership worked so well, it was easy to envision starting a brokerage and being partners. After enough time and planning, the two of us decided to take on the challenge and start KASE Insurance.
How would you two describe the call centre experience, and what lessons have you learned from it?
SK: Arian and I were lucky enough to start our careers at one of the leading direct writers part-time during school. The advantage we got working there was that we got to talk to 30-40 new clients every day who needed different things. It required a lot of switching gears and critical thinking which were skills we use as brokers.
AE: The major disadvantage in the job itself was that we very limited in what we could offer the clients. We could only advise on what the company had available. All in all, it became clear that there was no comparison to being an independent advisor with a wide range of companies and products to choose from.
What are your thoughts about the insurance industry's difficulties in attracting and retaining young talent? Is there anything the industry in general can do to reinvent its "un-hip" image and attract young hopefuls?
AE: I think it's difficult to make any position in a financial sector appealing at first. What we fell in love with was getting to meet new people and helping them with the knowledge and experience we worked hard to get.
SK: There needs to be a better understanding of what the insurance sector is and what it offers. There are so many different jobs within this field that suit any personality type. The good news is that more insurance courses and degrees are available than ever before.
In your opinion, what are the possible advantages that await young potential professionals who enter the insurance industry?
SK: I think it's important for young advisors to be positive and proactive about changes coming to the industry. As new products and methods of doing business emerge, advisors have the opportunity to take advantage of those changes and develop their own niche in the industry.
AE: There are also many trainee positions available depending on which insurance sector you want to work in - company and broker side. We offer a producer trainee program at KASE Insurance that follows a lot of the training and mentoring the two of us found success in.
Related stories:
From trainee to partner: A broker's success story
Brokers: Obsolete or innovators