Are your clients on the right side of risk? | Insurance Business Canada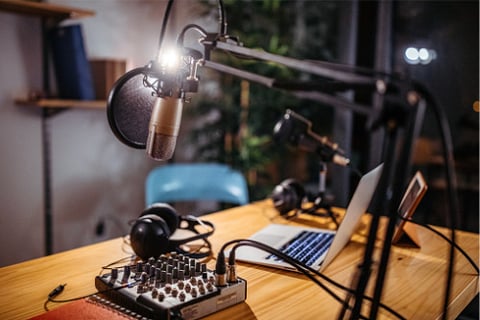 This article was produced in partnership with Navacord.
As we approach 2022, brokers have many challenges - and opportunities - coming their way. In a series of podcasts, Lloyd Sadd Insurance Brokers Ltd., a Navacord Broker Partner, delves into five trends Canadian brokers should have on their radar heading into the New Year. The episodes aim to help clients protect, build and sustain their business - and give brokers the information they need to ensure their clients are always on the right side of risk.
The first instalment of the podcast series takes a close look at what legal considerations are at play for businesses when it comes to the post-pandemic workplace. Joined by Tom Duke, an experienced labour and employment lawyer at Miller Thomson LLP, the episode touches on working from home, accommodations, what a company needs to have in place before considering termination - and of course the hot topic of vaccination policies, where there's been a significant amount of change recently.
"There was a time - even in the early summer - when I wasn't anticipating we'd have as many mandatory polices as we've seen," Duke said. "Over the last couple of months, employers have become a lot more assertive on this point."
Duke said employers have some compelling arguments on their side, but there's no denying there's risk in implementing these policies - and the situation is constantly evolving. While employers are obligated to take all reasonable steps to ensure a safe work environment, and mandating vaccines is one more tool that can help them do that, it's not that simple in practice, he noted.
When it comes to the important issues of inclusion and reconciliation, it's important to take not just that first step, but the first right step. Episode two welcomes the insight of Annie Korver, a purpose-driven entrepreneur dedicated to enriching relationships between Indigenous communities and Canada's energy sector. Korver, who passionately champions a values-based approach to strategic inclusion, said reconciliation starts on a micro level and "is an intentional process that takes time, and starts with listening and learning."
From there, employers and business owners need to make a proactive and purposeful shift of that awareness from micro to macro. What can organizations do to build reconciliation into their business plan and culture? Look at all areas of the business, and make a commitment to being an active participant in the process, Korver said.
"That means it's not something that's sitting on the side of the desk - it's woven into the fabric of an organization to build an inclusive organization," Karver said, before addressing common roadblocks and how they can be overcome.
Another critical element that must be ingrained into company culture is cyber security. It's a must-have for all organizations, but where do you begin when the key trends and threats are constantly changing? Episode three of the podcast provides an update on the current state of the landscape and outlines immediate action businesses can take to minimize the risk. Stacey Adams, a business leader and IT veteran, helps achieve business outcomes with technology and shares his best practices when it comes to preventing - and navigating - a cyber event.
"The majority of attacks start with a phishing attempt, and all end up looking for funds," said Adams. "The human element is the weakest link, and when we talk about educating people it has to start at the top."
Insurance brokers play a role in bringing awareness of the importance of cybersecurity to business leaders whose investment is so vital. Everybody should start with the assumption they'll have a cyber event, Adams said, and a big piece of preparedness is having - and understanding - cyber insurance coverage. Education and communication are key, and brokers can start by going through the details of the policy and outlining exactly what an organization's coverage is.
In the fourth episode, Calle Johnson and Jonathan Reimche, deals partners at PwC, discuss the considerations that should be top of mind for organizations as they navigate an M&A transaction. Strong equity markets, a lot of capital and considerably low interest rates are the main factors driving the deals right now, and representations and warranties insurance is becoming an increasingly more prevalent option. Johnson has seen it as a requirement by the seller and as a differentiator on the buy side in a competitive process.
"It provides that comfort to the seller and typically makes the negotiation at the end of the deal a lot simpler, with comfort on both sides that if there are any issues they can be addressed readily," Johnson said.
The final episode of the podcast delves into psychological safety in the workplace, and the impact it can have on businesses. Melanie Pump, a financial executive and current chief financial officer of Brane Inc., has spent her career studying the impact leadership behaviour and the health of corporate cultures have on employees' security and performance.
"Psychological safety is created in an environment where we feel accepted and respected," Pump said. "If you're in a work environment where there's a bully, for example, your focus is on how to protect yourself and not on your work and your objectives, and ultimately that's going to reduce the company's performance. And that's not what business owners want."
As well as not being as productive, employees' distraction means they're more likely to miss opportunities and risks in the business environment. They're less likely to share ideas or admit to mistakes that could improve the business, and are less able to receive feedback or collaborate. This impedes growth, innovation and risk-taking — all of which are critical to the bottom line.
With risks abounding in an ever-shifting environment, education is more important than ever — and is a key element of the value brokers bring to their clients. Stay up to date with Lloyd Sadd's the Right Side of Risk Podcast as it helps you manage risks your client's business may currently be facing — or prepare for those that are right around the corner.
Listen to the full episodes of the Right Side of Risk Podcast today.
Lloyd Sadd Insurance Brokers Ltd. is a Navacord broker partner, one of Canada's largest commercial insurance brokers, and its goal is to provide clients with expert advice in risk management and insurance.