Barely a few months in from its pilot stage, the
Insurance Bureau of Canada
's cargo theft reporting program is proving its worth, helping return approximately $1.4 million in stolen cargo to its rightful owners.
"This is an excellent example of the effectiveness of our process," says Garry Robertson, IBC's National Director of Investigative Services. "With the help of IBC's program, police were able to quickly identify the source of the stolen goods and return them to their rightful owners."
Following a police raid, the stolen property from 15 separate cargo load thefts over the past several months were returned.
The IBC cargo theft reporting database – the heart of the reporting program – facilitated communication between insurance companies and law enforcement regarding the return of the goods.
"IBC recently expanded its cargo theft reporting program nationwide," says Robertson. "The program, administered in conjunction with the Canadian Trucking Alliance and supported by law enforcement, is aimed at fighting the rapidly escalating crime that is costing Canadians up to $5 billion a year and is a significant problem in transportation hubs in southern Ontario, Vancouver and Montreal."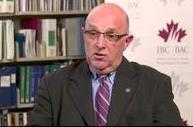 What began as a pilot program back in 2011, the IBC and CTA
expanded the program
in March of this year from Ontario and Quebec to right across Canada, allowing the trucking community, insurers and the authorities to better share timely information to help crack down on cargo theft.
"The bottom line is that this process will help prevent crimes and lead to faster turnaround of recovered stolen goods and prosecution of cargo theft criminals," says Robertson.
Through the program, all property and casualty insurers in Canada, as well as trucking association members, can report cargo thefts online directly to IBC. IBC acts as a clearing house for cargo theft data, and collects, analyzes and shares information with a national network of law enforcement partners including Canadian and American border agencies.