Close-knit like Taber corn: The secret to Saunders Insurance's 50+ year relationship with RSA Canada | Insurance Business Canada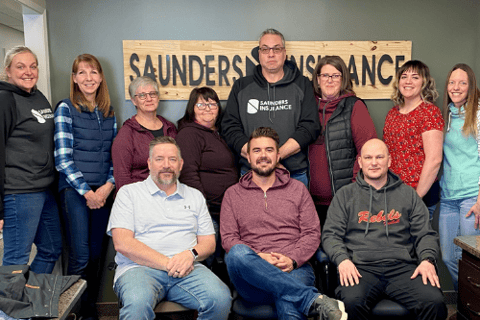 The phrase "insurance is a people business" really comes to life at Saunders Insurance, an independent brokerage based in Taber, Alberta, which is an agricultural community about 2 ½ hours south of Calgary.
One could go so far as to describe the 10-employee team at Saunders Insurance (pictured) as kernels on an ear of world-class Taber corn (the ear being the local community). They're close-knit, they're deeply connected with the local community, they understand local businesses and the lay of the land, and, most importantly, they're packed with personality and local flavour.
Saunders Insurance was formed by Gordon and Joseph Saunders in 1963, and to this day, it remains the only family-owned and independently run insurance brokerage in Taber and the surrounding area. The brokerage has since been passed through the family to Mike Saunders, who retired a little over six-years-ago, and current president Ken Holst, who said the firm "hangs [its] hat" on its long-standing independence and strong local relationships.
"Because we're locally-owned, we're very invested and involved in our local community," said Holst. "We take real pride in serving our community properly and doing everything we can to take care of people. Often, someone will come to see us and we'll talk about their family or the local baseball league for 15 minutes before we actually get on to their insurance needs. Establishing and retaining those relationships is important, and I think people really enjoy that aspect of working with Saunders Insurance."
Read next: Jones DesLauriers CEO sees "flight to quality" from mid-market clients
While Taber is known specifically for its corn, the surrounding area of southern Alberta is "an agricultural area like nowhere else in Canada," according to Holst. The local farms grow regular crops like corn, potatoes and cereal, but they're also known for producing specialty crops like sugar beets, hemp, and canola. Many farms in the area have grown into huge commercial entities, with thousands of acres of land, supported by high-end harvesting equipment, irrigation technology, and large storage facilities.
"It's been a challenge keeping up with these changes, but also a lot of fun, and we pride ourselves in our expertise in this agricultural world," Holst told Insurance Business. "Of course, we also work with a lot of mom-and-pop shop farms, but we really love finding insurance solutions for these big commercial entities that are always changing. The technology on some of these farms is crazy – for example, one high-end potato harvester can cost up to $1.2 million – and as farms increase their reliance on technology, they require a different type of insurance. We're constantly working with our insurance carriers and our farming partners to look at how the agricultural industry is changing, and how we can provide insurance and risk management solutions that best meet their needs."
One carrier that has supported Saunders Insurance since its early days is RSA Canada. Through its sales team in the Prairies, RSA Canada and Saunders Insurance have built a fruitful relationship over five decades – one that centres around the willingness of both parties to engage as people and friends. After every fall harvest (prior to COVID) the team at Saunders Insurance takes dozens of bags of Taber corn to RSA's office in Calgary, where they set up a huge corn roast, and they get to know RSA's underwriters and sales specialists on a personal level.
"Susie from the phone suddenly becomes Susie with the hockey-mad son who likes extra butter with her corn. That type of relationship is just awesome, and we find it extremely valuable to invest our time in these types of things with RSA. That's the secret to our long-standing relationship; that's what solidifies business and how it needs to be done. It's all about the people," said Holst. "And what differentiates RSA as a carrier partner is that they're willing to get to know us on a personal level and they want to provide that personal touch. We love their service and their products, but what we value most are the people."
Read more: Zehr Vintage C.A.R.S. Program's "next level" partnership with RSA
Small and specialized brokerages, like Saunders Insurance, need underwriters that understand and appreciate the unique risks in their communities. Recognizing this, the brokerage has hosted RSA underwriters over the years, taking them to see and experience the risks that they're insuring. While RSA no longer has a farm program, it does provide commercial auto insurance for farm vehicles, and a vast array of solutions for other key markets that Saunders Insurance deals with, like oil and gas, construction and retail.
"We've had RSA underwriters in Taber during harvest time, and we've taken them out on these huge new potato harvesters and corn harvesters," Holst reflected. "We've visited clients together, looked at their machinery and their operations, and then they've gone home with a clear understanding of their insureds' businesses – plus a whole bunch of corn, sugar beets and pumpkins. After that, when we approach them and say: 'Joe needs another high-end potato harvester for his farm,' or 'Remember that belt we saw in the corn harvester and how that pulled the corn up – that's hit a rock and broken' – they know what we're talking about and they're able to help. What a world of difference that makes."