Controversial pricing method responsible for runaway condo insurance costs - report | Insurance Business Canada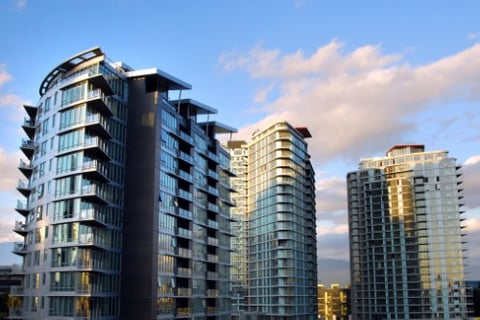 The considerable spike in condominium insurance costs in British Columbia could be attributed to a controversial pricing method, reports suggest.
A preliminary analysis by the BC Financial Services Authority found that of the 500 stratas that renewed their insurance policies in April, 95% of them involved "best terms pricing," a method of pricing that can lead to considerable increases in rates for some properties.
How does best terms pricing work?
Condominiums and other large townhouse-type buildings are worth millions of dollars, which can be quite pricey to insure. To divide the financial risk, usually more than one insurer provides coverage for the building. Each participating insurer indicates the percentage of the building's policy it is willing to cover in a bidding process, as well as the rate it will charge.
Best terms pricing comes into play once the insurance broker gathers enough insurance companies to fully cover a condominium. Under the best terms pricing model, the cost of the condo's insurance premium is not based on the average of all the bids, but rather is based on the highest proposed bid. This means that while all the participating insurers get paid the highest possible rate regardless of their bid, the cost of the policy itself increases.
According to BC Financial Services Authority vice-president Frank Chong, best terms pricing can lead to "very substantive" increases in insurance rates. However, the amount by which insurance costs have increased thanks to the pricing method, and how many BC condos were affected, is still being determined, Vancouver Sun reported.
Condo Home Owners Association of BC executive director Tony Gioventu commented that a lack of transparency in the insurance industry has left everyone in the dark about how best terms pricing works, and how it may have led to the province's spike in premiums.
"The difficulty is trying to get real numbers," Gioventu told Vancouver Sun.
The association director pointed out that the strata council of a condo was recently able to learn how best terms pricing affected its premiums. The first 70% of the strata's insurance was covered by seven insurers, averaging a rate of 23 cents per $100 of coverage. But the rate for the final 30% clocked in at around 46 cents per $100 – an amount which "basically doubled the cost of their policy," Gioventu said.
That condo's premium reached nearly $500,000 – over three times the amount it had to pay last year. In order to pay for the new insurance policy, strata fees increased by 22%, meaning condo unit owners had to absorb the costs in the form of paying hundreds of dollars more each month.
"You rarely ever get to see that information," stated Gioventu. "The brokers don't want to disclose their commissions and how the pricing works."