Gore Mutual generously grants GivingTuesday gifts | Insurance Business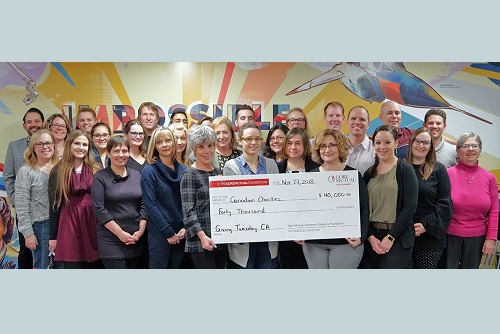 Gore Mutual has announced the winning charities from its GivingTuesday campaign, pledging to reward the winners with one of the biggest donations it has ever made for the annual event.
First announced earlier this month, Gore Mutual's charity competition called on its national network of insurance broker partners, customers, and the public to nominate charities the Gore Mutual Foundation will donate to. Eight winners will be selected to each receive $5,000 grants – a total of $40,000 in charitable funding.
Nearly 350 community organizations were nominated. After the nomination process was closed on November 19, Gore Mutual employees from all throughout Canada were invited to vote for the eight winners.
This year's winners are Hamilton's Camp Trillium, Cambridge Self-Help Food Bank, Waterloo's KidsAbility Foundation, Transition to Betterness in Windsor, Mississauga's A Child's Voice Foundation, Alzheimer Society of B.C., B.C. Cancer Foundation and B.C. Children's Hospital Foundation.
"As a modern mutual company, giving has always been an integral part of our identity," said Gore Mutual president and CEO Heidi Sevcik.
Sevcik added that there is more to the competition than just awarding grants; it was also an opportunity to bring to the public's attention community efforts in need of more support.
"We have a long history of supporting organizations that strengthen Canadian communities. But GivingTuesday is not simply about us granting funds. With our GivingTuesdsay campaign we wanted to give Canadian charities a voice and facilitate discussions about the important work that they do. It has been inspiring to see the stories people have shared on social media about the positive impact charities have made in their communities," she said.
"We're excited to have Gore Mutual be a part of GivingTuesday again this year," remarked Lys Hugessen, president of GIV3 – one of the organizers of GivingTuesday. "Their donation is one of the biggest 2018 gifts we've seen and we're happy with the awareness their social media campaign helped to create for the GivingTuesday movement. Each year GivingTuesday continues to grow and we're encouraged to see more Canadian businesses like Gore Mutual embracing the spirit of the day."