How Canadian insurance brokers are banding together during the coronavirus | Insurance Business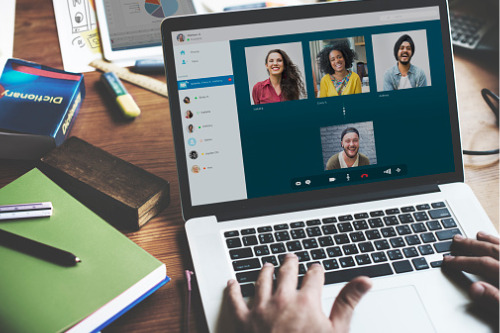 Insurance brokers across Canada have banded together to give an overwhelmingly positive response to the challenges set by the global coronavirus pandemic.
With the majority of brokers now working remotely from home, firms countrywide have had to make some quick transformations to their operating models, their digital presence, and how they communicate both internally and externally. Such changes, even in normal times (those not dominated by a global pandemic), could cause anxiety and uncertainty among the broker force … but it seems like Canada's brokers are on top of things at the moment.
Brokerages across the country are enjoying win after win in what should be called 'beat the COVID-19 blues'. Despite many coronavirus-related challenges, spirits remain high thanks to the creative steps firms are taking to boost broker morale and engagement. Without further ado, here are some great examples of brokerages in Canada that are refusing to let COVID-19 bring them down:
Avant Insurance Brokers
Headquartered: Manitoba
Cole Leitch, president and CEO: "At Avant Insurance, we've had our staff working from home doing daily video conferences to check in and just to talk about our day. In addition, we're going to be doing an insurance bingo for everyone, with prizes for the winners. We've also been planning a virtual paint night for all of our staff which we're hoping to do soon."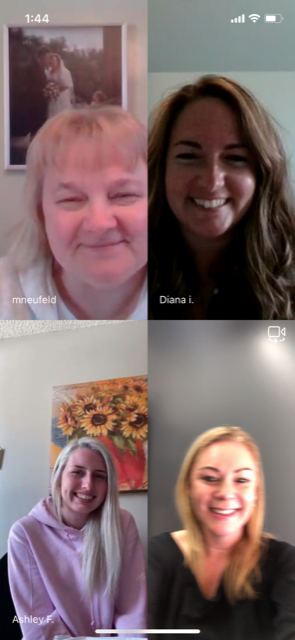 Some of the Avant Insurance team working from home
Billyard Insurance Group
Headquartered: Ontario
Mark Whiteley, director of commercial lines: "Our head office commercial lines team was the first team at BIG to launch Microsoft Teams daily video chats in the brokerage. The goal early was to take the first 5-10 mins to replicate our regular 'water cooler' chats that we would normally have in office. We've shared the responsibility of leading the meeting each day and have implemented various other things including: meetings outside on nice days, team stretches, a quick game of scategories, and daily 'highs and lows'. We all look forward to 2pm each day to see each other, and the morale and engagement within the team is at an all-time high."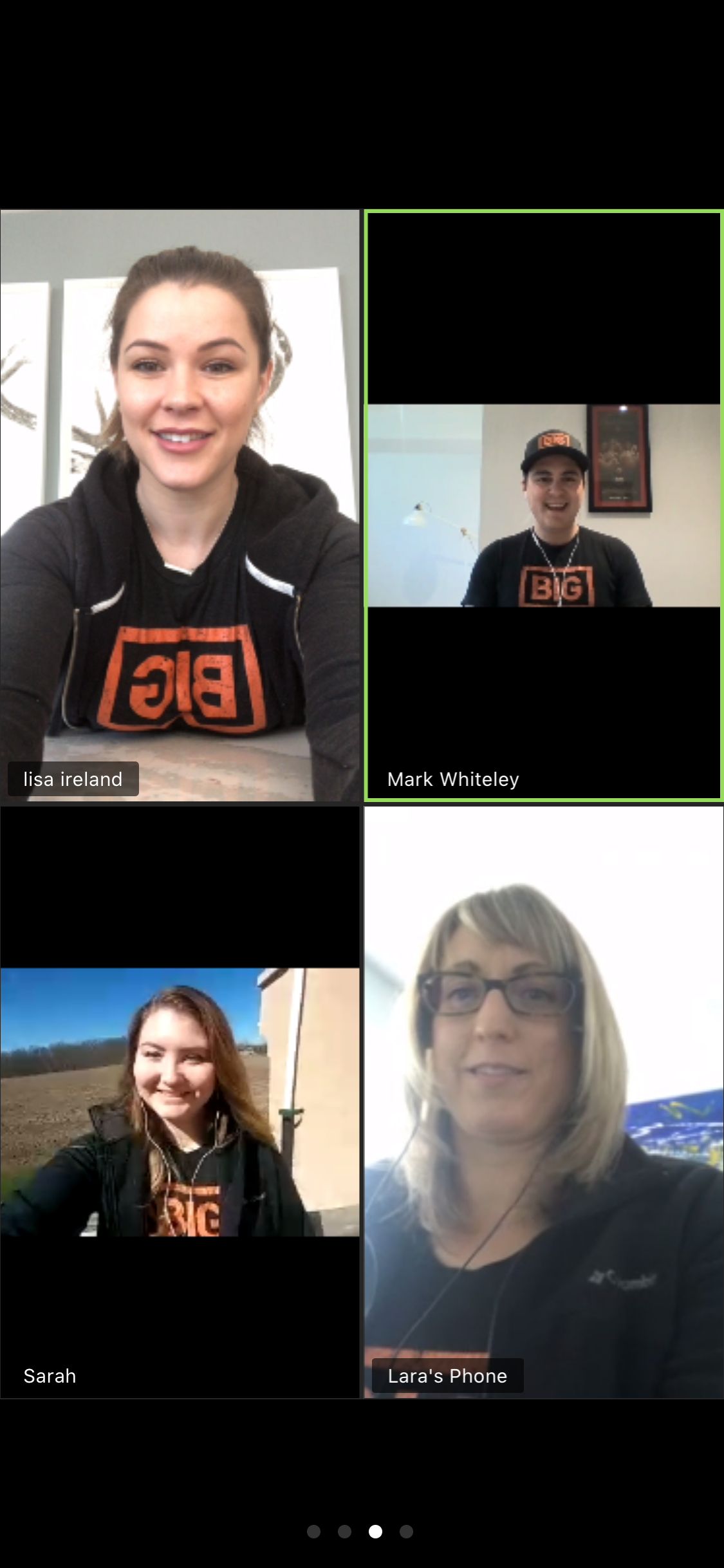 Lisa Ireland, Mark Whiteley, Sarah Gallagher and Lara Sobchishin of the BIG commercial lines team
Archway Insurance
Headquartered: Nova Scotia
Gina McFetridge, president: "We have a few things going on at our office with staff sharing photos of their pets and at-home work set-ups. One of our departments is doing a theme day each Friday for their virtual team meeting, so last week they all wore hoodies and this week they're going with a Hawaiian theme. Perhaps the most positive outcome of this pandemic is our executive team morning huddle. We started by teleconference and last week switched to using Zoom for a morning update on what's happening across the company. The pandemic has created a higher level of engagement among our teams due to regular check in calls that we certainly were not doing as frequently previously. I think it's improved the level of communication in the brokerage and facilitated more conversation among staff and management."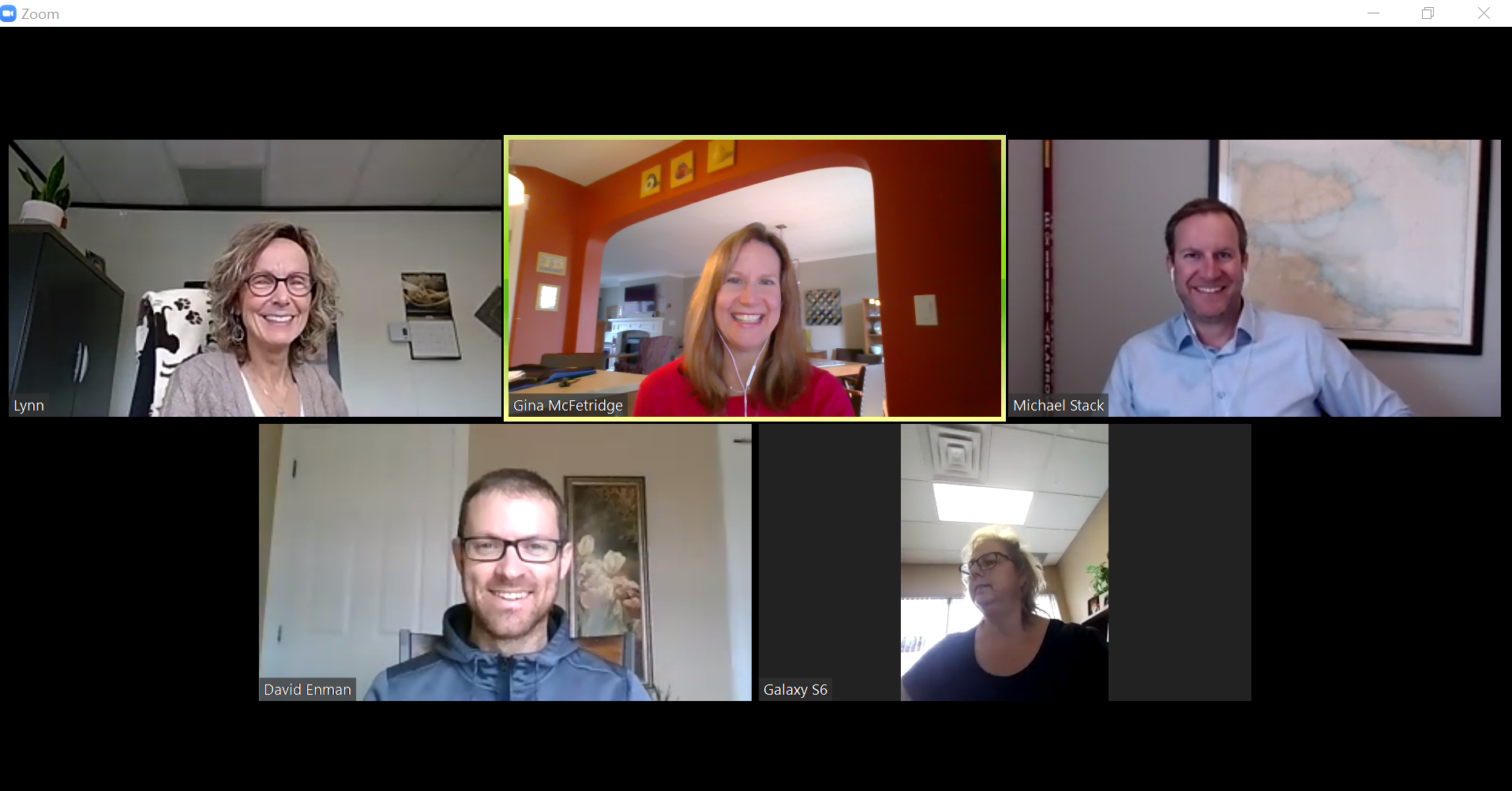 Lynn Michaud, Gina McFetridge, Michael Stack, David Enman, and Joanne Deveau-Murphy on an Archway Insurance executive huddle.
Surex
Headquartered: Alberta
Jennifer DeFrenza, vice president of marketing: "We've started a digital series on social media called #familyphotos. This is just showing our staff and their families, maybe a porch photo, or a mom working with her baby – it's just a way to share a smile! Another thing that's fun is that our new branding that we adopted over a year ago consisted of the tagline, "We're In This Together," and ironically, this hashtag has been shared like crazy, which we are super proud about.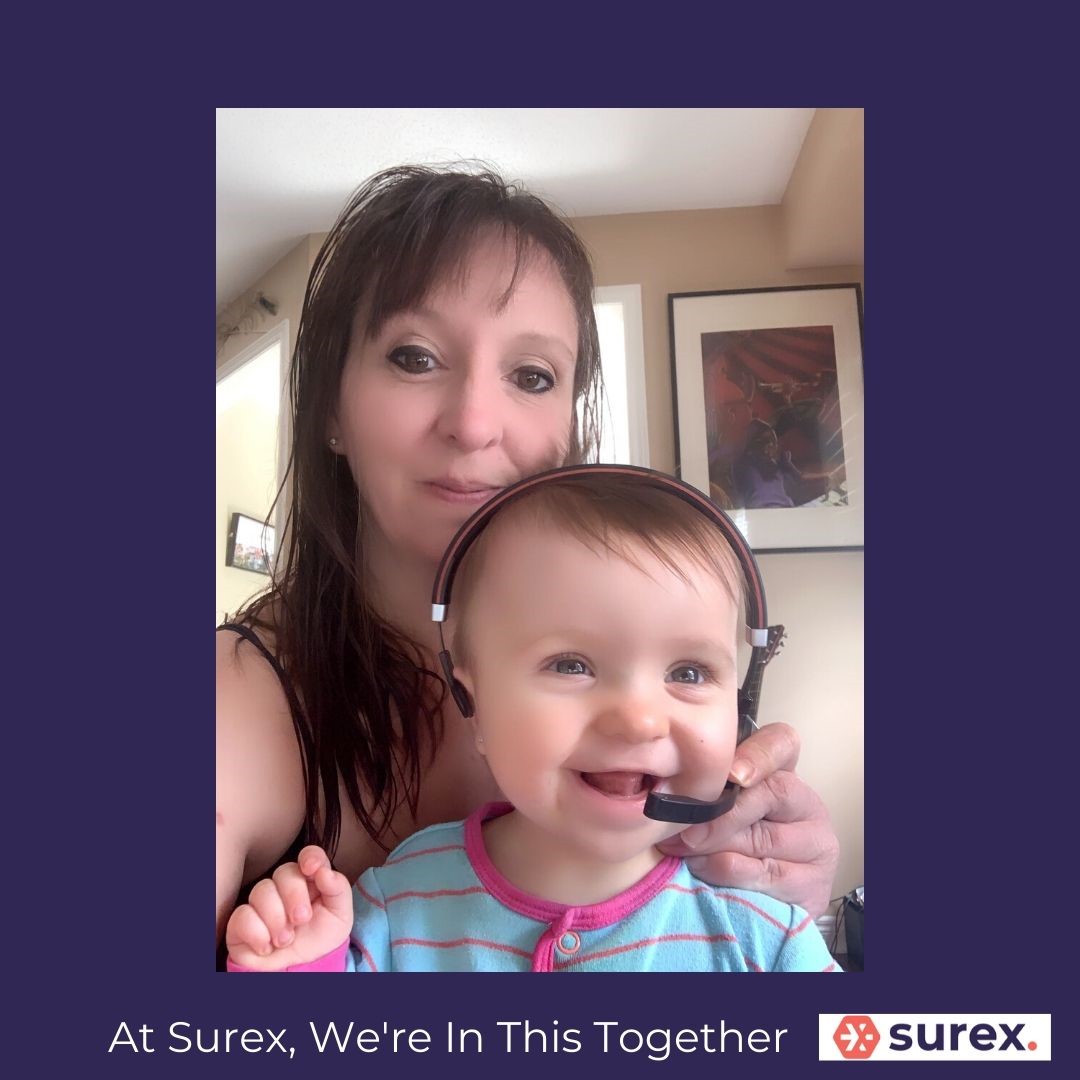 A Surex employee with a special little helper
"Internally we have really adapted Slack as a way to keep in touch with each other, so we've started some channels like 'Water-Cooler' to share chats, fun memes etc., as well as a channel Work-From-Home-Hacks where we've shared things like recipes, online ordering tips, work station ideas, or happy moments from home."
Mitchell & Whale Insurance Brokers
Headquartered: Ontario
Al Maggi, communications: "Mitchell & Whale has been 100% remote for the last several weeks, and we're doing everything we can to keep our team motivated, connected and supported during the pandemic. For example, the team shares business, personal and pandemic-related updates with each other through Microsoft Teams on an ongoing basis. When we were all set up at home, we asked everyone to share pics of their home setup with the rest of the team, and we continue to hold our regular team meetings through Ring Central video chats. Each afternoon, we use Survey Monkey to ask each team member, confidentially, how they're doing both from a business and a personal perspective. If someone is having a tough time, we reach out one-to-one to see how we can help.
"The social committee engages team members with weekly challenges, including PJ Day, The Pandemic Cocktail Challenge and a video dance-off. Every morning, Adam [Mitchell – president] sends a video or audio update to the team, mentioning birthdays, pandemic stuff and business metrics … and he always slips in a few jokes too. We also use Ring Central to hold a video chat during every lunch hour, and also on Friday at 3:30 (when we would usually share a toast at the office) so people can socialize and see their teammates."
The Mitchell & Whale PJ Day
KASE Insurance
Headquartered: Ontario
Arian Ebrahimi, managing partner: "One thing KASE Insurance has in conjunction with daily morning huddles on Zoom is the "One fun thing challenge." During our huddle, everyone talks about one fun thing they did the night before. This encourages everyone to make sure they are conscious of doing something they enjoy so that each and every day has a highlight. Since it's run by me, the odd time I fail someone if I feel they haven't actually put effort towards doing something fun (one person used group chat with friends twice in a row for example)."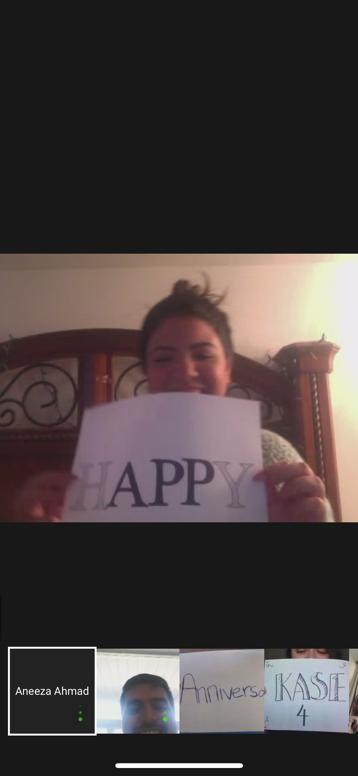 The KASE Insurance team celebrating their 4th anniversary on April 01, 2020
Fuse Insurance
Headquartered: Alberta
Kevin Lea, president: "Our brokerage, being a digital brokerage, was set up for remote work right from the very get go, so from a technological standpoint, it's been pretty straightforward for us to move to work from home. We've done a couple of virtual happy hours with some of our underwriters that we work with on a regular basis, where we have a couple drinks and just chat and be social. It's similar to how we might try to catch up with an underwriter that we work with for a coffee or beer in person before all the restrictions went into place, only now we're trying to do it virtually. It's actually beneficial because we've been able to do this with a few of our underwriters who aren't located in Calgary, which for us is great because they don't have to travel here and we don't have to travel out there, but we can still have some of that social contact without the travel expense we would have seen beforehand."
AA Munro Insurance
Headquartered: Nova Scotia
Angus MacCaull, communications analyst: "We started a weekly newsletter for our coworkers called "Hump Day @ Home." Jennifer MacLean from our accounting team sent out a call for home office photos, recipes, craft ideas—anything fun to share and help ease the stress of the new normal. One entry that brought a lot of smiles was the attached image of Wayne Ezekiel from our culture team. (His shorts are a Nova Scotia hockey club that we sponsor.) Our coworkers loved the first edition of the newsletter, and by week two lots of people stepped up to help with production.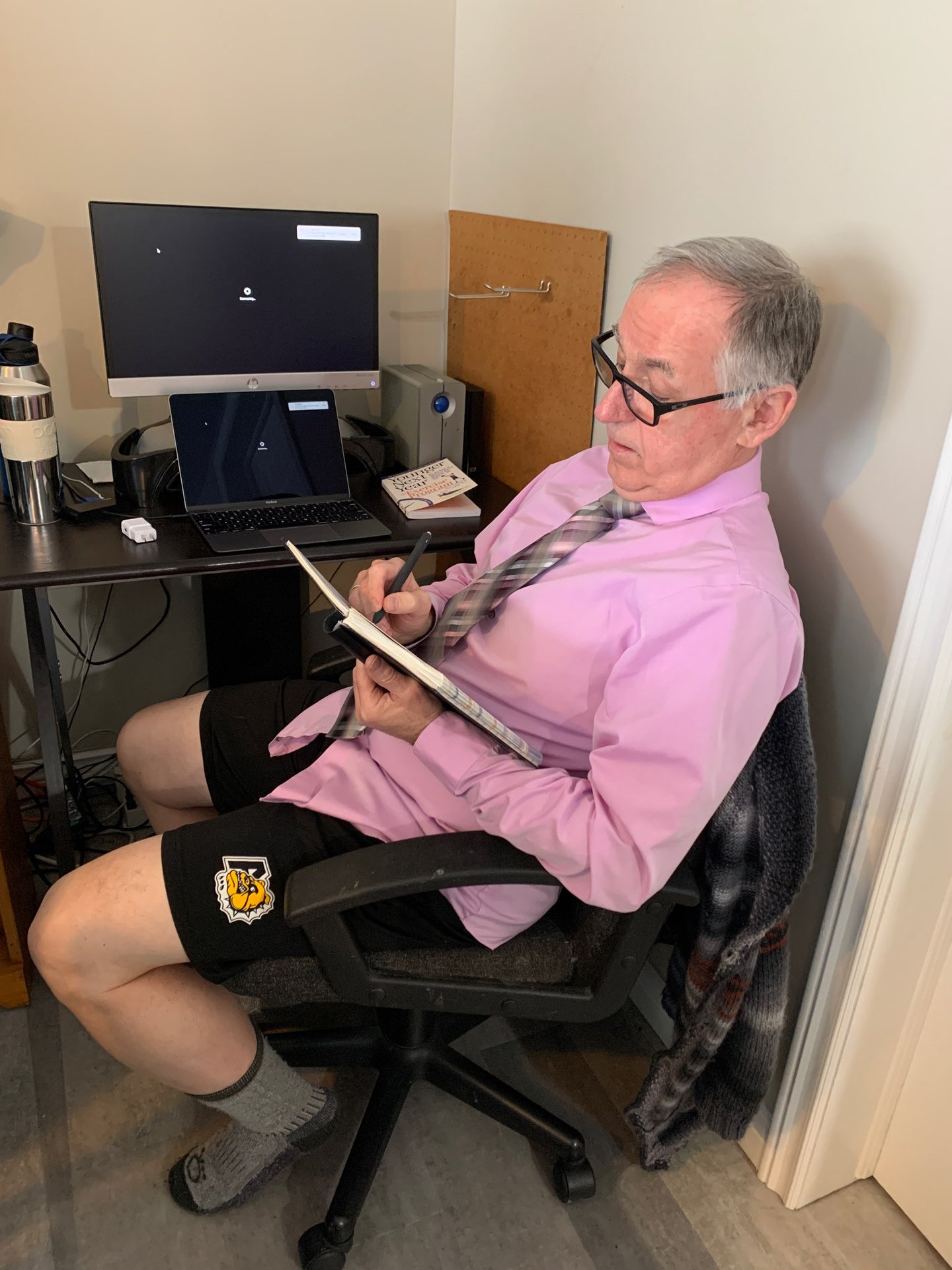 Culture champion Wayne Ezekiel working from home

How are you keeping your staff happy and engaged during the coronavirus pandemic? Let us know by getting in touch via: [email protected]