Joe Sun Yung Tsu, a 91-year-old insurance agent, has been awarded a Guinness World Record for the "longest career as a corporate salesperson", having spent 62 years and 238 days with
Manulife
Hong Kong.
Sun set the world record on July 11, and was awarded the official certificate at a ceremony held by Manulife in Hong Kong yesterday.
"I am very honoured to have set a new world record with my lifelong career as an insurance agent," he said upon receiving the award. "I would like to thank Manulife for making it possible for me to do the work I love and to make the friends I hold most dear. I have enjoyed every moment of my first six decades with the company, and I am not planning for retirement yet. In work and in life, it is important to always look forward and be passionate."
Search and compare product listings for Insurance Brokers from specialty market providers here
A native of Shanghai, Sun was one of only seven candidates hired from a pool of 400 applicants by Manulife in 1954. His professionalism and passion enabled him to gain numerous awards over the years. He was named Five-Star Master Builder in 1979, and he achieved top 10 Divisional Leader rankings 15 times and 'Superstar' status five times throughout his long career.
"While technology is creating seismic shifts in the insurance sector, our industry will always rest on people who are dedicated to helping others and developing long-term relationships with clients and colleagues," said Guy Mills, CEO of Manulife Hong Kong. "Joe exemplifies this more than anyone, acting as a true example of the professionalism we should all strive for and the values we should uphold."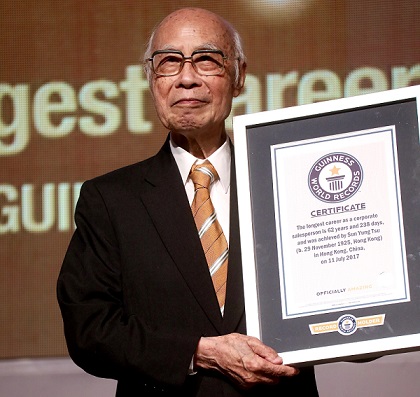 Related stories:
Manulife takes action to help those affected by BC wildfires
Manulife considering IPO or spinoff for American unit