Pandemic reveals areas for improvement in insurance industry comms | Insurance Business Canada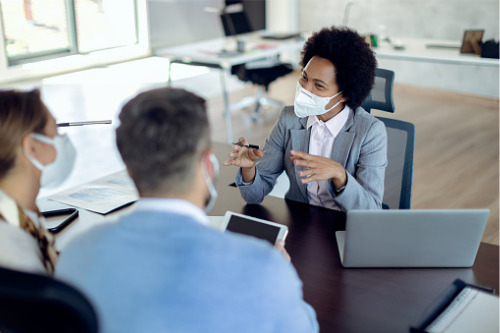 The COVID-19 pandemic will long be remembered as a monumental point in history. Moving forward, there will be 'pre-pandemic,' 'pandemic,' and (hopefully soon) 'post-pandemic' – and the terms will refer to largely different worlds.
A lot has changed since March 11, 2020, when the World Health Organization declared the novel coronavirus COVID-19 a global pandemic. Social distancing measures introduced to prevent spread of the virus triggered an explosion in the use of digital tools to carry out everyday tasks. This, in turn, forced businesses (insurers included) to expedite their digital strategies and figure out new ways to communicate with and serve their clients.
The pandemic caused "a seismic change" in the insurance industry, according to Mona Krolak, senior vice president and partner, healthcare practice leader at Hub International. It has also presented learning opportunities and chances for the industry to reflect on its pre-pandemic, pandemic, and post-pandemic state.
"I think our quick shift to working virtually, with very little disruption to our clients, we did very well across the board as an industry. There wasn't much disruption in the way we did business," said Krolak. "We [the brokers] continued to provide coverage to our clients, [and insurers] continued to provide claim support to our clients as well. So, in the fundamental ways, I think we did things well in that there wasn't a lot of disruption."
But Krolak pointed out that "there's always room for improvement". Throughout the pandemic, one fundamental element of business that has proven challenging at times is communication – in particular, the coordination of communication between insurers, brokers and end-clients.
"We did have some good communication, but I think there was a little bit of a breakdown at times," she said. "I think the coordination of communication between insurers and brokers could have been better – allowing the broker to communicate messaging to our clients rather than, at times, receiving communications at the same time as our clients. For us to get [the information], digest it, and express it to our clients ourselves would have been good. [But] it was the environment that we were in. Understandably, we were all trying to get as much information to the client as possible – but that's an area that I believe we could have improved on."
Read next: The biggest challenges P&C insurers have faced in a hard market
Reflecting on the past 18 months, Krolak also questioned some of the messaging around the pandemic, especially the "prevalent assumption" that the pandemic and its related challenges are responsible for all the changes in the insurance marketplace over that time period. That, she stressed, is not the case. Many changes – such as the rate increases and capacity limitations connected to the hard insurance market – were well underway in the pre-pandemic era.
"We had been in a hard market [before the pandemic] and it has continued. It may have been exacerbated by the pandemic, but certainly the pandemic was not the absolute reason why our clients were seeing change," Krolak commented. "Again, I think this is all part of the communication and education [we must give] to our clients, by both brokers and insurers. I think the hard market [messaging] was lost amid the pandemic and the challenges of the pandemic in the communication between ourselves, and between us and our clients. We can certainly take what has happened here and improve on that."
Moving forward, throughout the remainder of the pandemic and into the post-pandemic era, Krolak advocates for greater collaboration and more strategic communication between insurers, brokers, clients, and other key stakeholders, like federal and provincial policymakers and industry associations. She bottled it down to "emergency preparedness".
"We have a lot of information, and this industry is so well prepared," she said. "We aggregate data to prepare for unforeseen catastrophic loss, [so] how do we use that to prepare for another seismic event like this one that may come out of the blue? We ask our clients to be prepared and we talk about their emergency preparedness, and we may do it individually as organizations, but we are an interconnected industry where I think we should have a plan of how things flow in a crisis like this."
Krolak is not alone in seeking better industry-wide collaboration during systemic catastrophes like a pandemic. Many leaders have contributed to this chorus, and many insurance organizations in Canada are engaged with the concept.
Read more: How is the Canadian P&C insurance sector holding up?
Heather Masterson, president and CEO at Travelers Canada, said she was impressed by how the industry came together and approached the pandemic, "working very collaboratively" with the Insurance Bureau of Canada (IBC) "in a very appropriate way" to develop solutions and solve problems for industries and individuals impacted.
"It's something that I think needs to be highlighted, because it has really set the tone for how we can continue forward," Masterson added. "A high degree of collaboration, working together, and making sure that we provide marketplace stability - I think that's really important, and we can do that. Stability and consistency is really where we need to be. We need to understand what the emerging trends and risks are, we need to make sure that we're pricing our risk appropriately, so we can have that smooth and consistent approach on a going forward basis for our customers and for our clients."
At the same time, Masterson is calling for continued collaboration and communication with regulators – something that has been relatively successful during the pandemic, with the help of the IBC. She said: "We want to make sure that - in terms of working with the regulators, and working with government through IBC - that we're continuing to work on legislation improvements. Throughout the pandemic, we were working province by province on immunity legislation, and that seemed to be very effective, and it really meant that risks that might be problematic from an insurance perspective, they now became insurable and with a lot of comfort on the part of the carrier."
The market stability and consistency that Masterson desires can only be achieved with the improved communication that Krolak is calling for – and the digital evolution that was given a booster shot during the pandemic will only help with that.
"I think we very successfully deployed technology to allow us to continue doing business almost as usual," said Krolak. "[Insurance] is a face-to-face business, and we missed that aspect of it both with our clients and our insurer partners. But we certainly had very little disruption with the deployment of the capabilities of the technology that we have. We never thought that we would have to do it so fast, but it was there and we used it successfully. So, how do we build on that? That's what we should be thinking about.
"We have this technology available that we know works, so how do we further deploy and build on that to improve our interconnectivity and to improve how we exchange information together and with our clients? I think we need to work together as brokers and insurers to see how we can further leverage technology to communicate better and to service our clients better, faster, and in a more efficient way. Certainly, if we can figure that out, it'll be better for all of us."