Tech trends that will transform the insurance industry in 2021 | Insurance Business Canada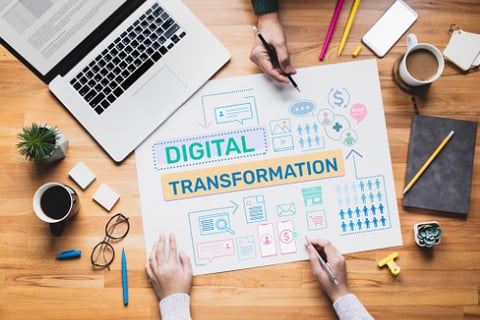 The insurance industry has been in the midst of digital transformation in recent years – but experts say this technological shift has been accelerated by the need to address the unprecedented challenges brought about by the pandemic.
"2020 has been a year when many digital transformation projects that were previously put on a backburner made their way to the front of the line," wrote Tal Daskal, chief executive officer and co-founder of digital insurance platform EasySend, in a recent blog.
"As the stakes of business survival reached new heights, so too did the momentum of the digital revolution, with insurance companies making clear efforts to improve their agility, deliver better service, and better their customer and employee experience."
Faheem Shakeel, head of insurance practice at software company Damco Solutions, agreed, noting that while the insurance sector is a "late bloomer when it comes to the adoption of cutting-edge technologies," the abundance of innovative options is paving the way for the industry's quick transformation.
"Until the digital revolution accelerated, the insurance sector was content with its legacy models," he wrote in a separate blog. "However, with the rapid proliferation of the new-age technologies such as artificial intelligence (AI) and internet of things (IoT), the industry landscape is evolving, and the industry incumbents are making strategies to enable the digital transformation of their firms."
Here are some of the top tech trends experts say will transform how insurance businesses operate in 2021:
1. Shift to digital channels
The industry will see an increase in the adoption of digital tools, especially among agents and brokers, as the use of self-service digital channels also rises because of "skyrocketing customer demand," according to Daskal.
He cited an April 2020 survey of insurance executives in Europe that revealed about 89% of respondents anticipating a rapid shift to digitization.
"Increasingly, offline processes are transitioning into the digital realm," he wrote. "Even products that sometimes require offline execution, such as physical signatures and medical underwriting, are increasingly transitioning to digital with the help of technology such as legally binding eSignatures or face-recognition and telemedicine.
2. The need for no-code/low-code development
Daskal also sees a "normalization" of no-code and low-code development when it comes to the IT tools that insurance businesses use. He noted that no-code and low-code tools allow companies to "offload certain security and compliance tasks" to third-party providers without sacrificing security and compliance standards.
"Such tools owe their growing popularity to the fact that they solve some burning issues facing IT teams," he wrote. "No-code tools amplify overstretched internal resources, reduce backlogs, and improve productivity."
However, Jeff Wargin, chief product officer of P&C insurance platform Duck Creek, noted that IT specialists are not the only ones who can benefit by using no-code and low-code platforms.
"Low-code configuration tools allow business stakeholders – not just IT professionals – to update and manage apps and software using an intuitive, user-friendly drag and drop functionality," he wrote in a separate blog. "With moderate or even elementary app and software experience, insurers will be able to quickly implement new and different user interface (UI) features that customers demand, in a fraction of the time usually required."
Wargin also listed four benefits that low-code development brings to businesses. These are:
Drastically increased speed to market
Widespread app development across the organization
The ability to build foundational features that can be expanded upon
Empowering employees to take control of their work and offerings
3. Automation and machine learning
With the use of AI software, insurers and brokers can automate many aspects of the insurance process, including risks assessment, fraud identification, and underwriting. This can significantly increase accuracy and efficiency, according to Wargin.
"Machine learning cannot only improve claims processing – it can automate it," he wrote. "When files are digital and accessible via the cloud, they can be analyzed using pre-programmed algorithms, improving processing speed and accuracy. This automated review can impact more than just claims – it can also be used for policy administration and risk assessment."
Wargin added: "With AI, insurers can improve claims turnaround cycles and fundamentally change the underwriting process. AI also enables insurers to access data faster and cutting out the human element can lead to more accurate reporting in shorter periods of time."
4. Use of IoT to gauge policy pricing
By providing accurate and real-time data, IoT improves insurance companies' the ability to assess risk and allows policyholders to gauge the cost of their premiums. However, Daskal admitted that IoT implementation presents its share of challenges.
"Data provided by IoT is real-time; unfortunately, real-time analytics leave much to be desired," he wrote. "We expect a lot of innovation in this space as the market demand for IoT has driven analytics grows."
5. Rise in insurtech joint ventures
Daskal also predicts that partnerships between insurtech companies and insurance providers will increase this year because it is "often a win-win proposition."
"Established insurers are harnessing their customer data and relationships and have the opportunities to create new income streams," he wrote. "While incumbents are tapping into their existing customer relationships and customer data, insurtechs provide the technology, technical know-how, and support."
6. Blockchain disruption
The increasing incidents of cyberattacks in the insurance sector makes the adoption of blockchain technology essential, according to Shakeel.
"With the main premise of fraud detection and risk prevention, blockchain technology is the natural candidate for deployment in the insurance industry," he wrote. "Issuance of insurance policies through smart contracts and encryption of medical records will make the operations secure and efficient, apart from bringing transparency between insurers and reinsurers."
He added that several industry giants, including Allianz, have already been involved in building blockchain apps for the sector through the Blockchain Insurance Industry Initiative (B3i).
"When bigger players adopt blockchain in their mainstream operations, it is imperative for medium and small players to follow the technology trends in insurance industry," Shakeel wrote.
7. Focus on providing tailored digital services
Personalization capabilities give insurance companies a competitive edge, according to Daskal. Because of this, he expects insurers to place a stronger focus on delivering tailored digital products this year.
"Offering a particular client, a particular product at a particular price point can significantly increase a policy sale probability," he wrote.