To build or buy insurance tech? Brokers have their say | Insurance Business Canada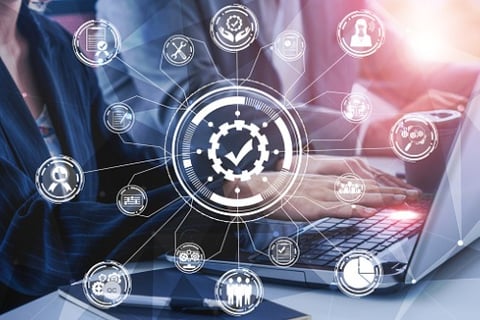 Do we build or do we buy? It's the question that all insurance brokers must ask themselves when working out their digital strategy. There are pros and cons to both. Those who build their own technology in-house will get something proprietary and specific to their exact insurance needs, but the maintenance requirements are high, and they'll often end up paying more for it. Those who buy could end up with tools that are a bit more run-of-the-mill, but they will have the support of a third-party vendor, and the price tag is often lower.
There's no right or wrong to the insurance technology equation. What's important is that brokers board the technology train and work out what solutions best fit their needs. In a 'Technology round-up' panel discussion at the IBAO annual convention in October, various insurance brokers in the province shared their experiences with both building and buying technology. All panellists agreed that developing technology that simplifies and modernizes the insurance experience is key, but they all had different ways of going about it.
Read next: Insurtech investment keeps up, but not all will survive the pandemic
Greg Raymond, founder and chief executive at InsuranceHero.ca, had a traditional entry into the insurance industry when he started working for his family brokerage in northern Ontario about 15-years-ago. He described the firm as "a traditional, medium-sized insurance brokerage" that used some technology, but only what was widely available from vendors at the time. In 2011, the brokerage wanted to expand its footprint outside of northern Ontario, but instead of making an acquisition or opening an office from scratch outside of its traditional trading area, the firm shifted its focus to the digital channel. It launched a new brand and business model in the shape of InsuranceHero.ca.
"At the onset [of InsuranceHero.ca], we continued to purchase all of our tech from vendors," Raymond reflected. "It was after a couple of years of operating that way, and growing our tech ecosystem significantly, that we realized we were depending on a lot of third-party applications to offer that digital experience that we wanted. It was also getting to be very costly, and training new staff on all these different systems was becoming quite a challenge."
It was at that time that Raymond happened to be reading Steve Jobs' biography, which goes into great detail about how Apple builds the hardware and software for all of its products because it wants to own and control 100% of the customer experience. "That's when everything clicked," said Raymond, who decided that "ownership" of the customer experience was the way to go. InsuranceHero.ca then took the next logical step of hiring a software developer, who, after a successful trial run, is now a full-time member of staff and has been building proprietary technology for the brokerage ever since.
"We all know that as insurance brokers, we don't have much control over the product or the price, hence where we need to differentiate ourselves is in how we deliver that experience," said Raymond. "In our case, we strive to offer a fully integrated digital experience, so it only made sense for us to start taking more control by building out our own technology."
Read more: COVID-19 crisis is an 'inflection point' for the insurance industry
Jeff Jones, president of Jones & Associates Insurance, an independently owned, family run brokerage operating out of north-western Ontario, tends to buy technology rather than build, but he has experience with both strategies. Even though buying has worked better for his brokerage so far, Jones said the brokerage has "definitely learned some hard lessons with some of the purchases" they've made so far.
"First, you have to start looking at what problem you're trying to solve, instead of getting excited about a piece of technology that's flashy and cool," said Jones. "I think there's a lot of really innovative products in the marketplace right now. The insurance industry is the tech dream because there are these businesses that have not evolved, there are some deep pockets, and there are lots of opportunities to grow a product. So, I think you have to be really careful [and make sure the tech you buy is] going to solve a problem in the brokerage. If you're not careful, it can be a big distraction to your entire team, and it can be costly."
When brokers find a piece of technology that's going to solve a problem they're having, the next thing they should do is seek out references and reviews from peers who are already using it, according to Jones.
"Make sure you have a list of questions that are really pointed at what you're trying to get out of it," he added. It's also important to assess the tech vendor's rate of progression to ensure that they're constantly updating their product, bringing out new versions, and always striving for improvement. Sometimes, depending on the maturity of the technology company, that product development requires heavy involvement from the brokerage, which can be both "rewarding but time consuming," Jones stressed. Before entering into any partnership, brokers need to determine how much involvement they want in development.
"The next piece would be implementation - we've run into this a few times - it typically always takes longer than the vendor is going to tell you it does," Jones added. "And for higher adoption with your staff, make sure you're picking the right time of year to roll with that product. For a personal lines department, January and February are perfect times to roll out a new product, because there's going to be a lot of training involved, but I wouldn't want to see that on the commercial side because that typically looks like a really busy time of year for us.
"And then, once you're implementing, make sure you have benchmarks to measure the progress, and that you're getting the value. And the last couple points I'd say on that is don't bring on too much technology too soon. Focus on one or two products, make sure you're maximizing it, and that you have someone that takes ownership in that setup and or team involved with it."