"We forget that all of our clients are normal people" | Insurance Business Canada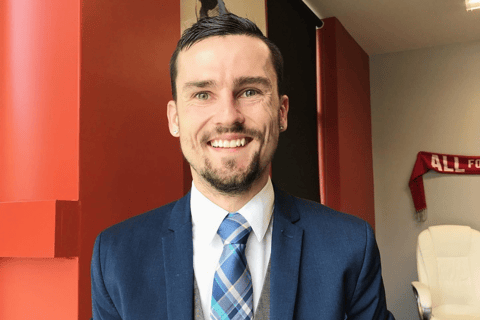 What does it mean to be a helper?
In his twin roles as a managing partner with Billyard Insurance Group and as co-founder of a mental health support blog, Luke Prominski (pictured) truly embodies the role of a helper.
Insurance Business, who previously selected Prominski as one of Insurance Business Canada's Young Guns, recently spoke with Prominski to discuss his current role, and how brokers should take on a more supportive role amid an ongoing pandemic.
How did you first become a broker? What do you particularly enjoy about broking?
Truthfully, I hit a crossroad at one point in my life and I had no idea what I wanted to do but I knew that I wanted to be in business. I attended a "meet the grad" event at Mohawk College where I was enrolled in the general business program and I heard a brokerage owner speak about the insurance industry.
I instantly fell in love and decided at that given moment that insurance was for me, so pivoted to the insurance program and haven't looked back. Insurance broking was the obvious choice for me, as I love sales and I am a "helper" in nature, so the thought of doing both in one role was an ideal fit for me, I never even considered going the company route. I enjoy the relationships that I am able to build on a daily basis, both on a customer-facing side as well as my team, knowing that I am constantly helping people makes it a very fulfilling career for me.
As one of Insurance Business Canada's Young Guns of 2019 - what key tips would you give to young brokers looking to stand out?
A previous "me" would have said to work endless hours to try and be the best in the industry, which will probably lead to burnout, but in hindsight, everything is 20/20. Today, the best advice I could give is to be your authentic self and be available for your clients. I have had a lot more success in my own personal business, once I was open and honest about who I truly was and didn't have to put on some façade, I believe at times that we, as a professional community, try to put on an appearance so we "fit in" with the social norms of this profession.
We forget that all of our clients are normal people, just like you and I – in turn, by being yourself and being vulnerable, you may end up being more relatable with your clients (which I find that a lot of our clients respect, in my experience). By being available for your clients or prospective clients, you may very well be doing a better job than the broker down the street.
In no way am I putting other brokers down, but again in my experience, people just want to know that you are going to be there for them when they need you to be, if it takes 48-72 hours for their broker to get back to them (which I hear commonly nowadays) those clients will have very little faith that you will be there for them when they actually need you.
Can you tell me about your role – and its key responsibilities?
My role as the managing partner of Billyard Insurance Group Inc. – Hamilton is to oversee the day-to-day operations of our branch office including things such as (but not limited to), train and mentor new hires, manage a team of 20 people, monitor production, monthly and annual business plans and projections, liaison with our internal bookkeeper and payroll, complaint resolution, etc. This is in addition to broking insurance and building and managing my own large book of business. My role allows me to wear many hats on a daily basis, and no day is the same so it's always exciting for me.
What are some of the key ways that you are able to support your clients right now?
As I mentioned above, being available and being vulnerable is the best way to support our clients right now. A lot of people are experiencing a lot more stress than normal both mentally and financially. We as brokers need to remember our clients are people to and not just a commission cheque. I have always said this and I always will, being an insurance broker isn't just being an insurance broker, we wear many hats. Some days we act as a shoulder to lean on, a confidant, advisors and consultants. We are limited in our capacity to financially support our clients, so the next best thing we can do is just be supportive for our clients in any way that they need us.
What are some of the key challenges and opportunities you are seeing impact your clients at the beginning of 2022?
I can see that the market will tighten up a little bit when it comes to rates on the personal lines side which will give us a challenge on the retention side of the business. As you know, a lot of insurance customers are in a tough place financially right now and 2022 will be the year that a lot of people hopefully get back on their feet per se, so with markets looking to take some rate we as brokers all need to pivot and be ready to retain our clients to the best of our ability.
While this can be a challenge for us, it is also a golden opportunity as rates changing are a universal challenge across the marketplace. Giving brokers a lot of opportunities to win business from the direct channel as customers across the marketplace will be shopping more frequently than normal due to the rate fluctuations in the marketplace.
In addition, we are still seeing quite a bit of market tightening on the commercial lines side when it comes to certain classes of business. We are navigating this with our carriers to keep our best-in-class clients (all of our clients) with favourable terms.
How are you and your team working to mitigate those challenges?
We have made some changes within our service team and adding some staff who specialize in renewals and retention (prior sales producers), which is now a specific role in our office. This will allow 2 brokers to focus solely on renewals and retention to make sure we are hitting renewals before our clients even receive renewal terms from their respective carriers, in turn, this also lightens the load on our other service brokers who can focus on day-to-day policy changes and billing requests.
We decided to go against the norm of the traditional alpha split to accommodate the never-ending market fluctuations and make sure that our clients are serviced by those brokers who specialize in the service they require. This also allows our team to focus on their strengths, rather than trying to constantly improve their weaknesses, which in turn makes the job more enjoyable.
Tell us about the company you co-founded, The Stigma Company. How does your work with the community blog – which is about ending the stigma associated with mental health and addiction – inform your work as an insurance broker?
The Stigma Company was co-founded with my sister Jess, this is a project that has been in the back of my head for about 10 years now, but I was too busy building up my insurance career to have the time to focus on it. Now that I am where I want to be professionally and where we are at with the pandemic, it was an ideal time to spend some time focusing on ending the stigma associated with mental health and addiction.
This company is a pretty "in-your-face" brand to hopefully give some comfort to other people who may be living with mental health concerns, mental illness, or an active addiction to know that there are many other people out there who may be walking a similar path or similar experience that they are currently facing. I previously had a pretty bad substance abuse problem pre-insurance life and I have also faced some mental health concerns along the way. The stigma that was associated with mental health concerns was the reason why I kept my concerns to myself for far too long, causing more damage to my mental health along the way, rather than getting the help that I actually needed. There's no shame in therapy!
In addition, I feel like the pandemic has caused a lot of issues on a greater scale, not solely with the economy, but the people who may have lost their jobs, or the business owners who have had to close down 4 times, or the business owner who went bankrupt, or the people who no longer had a social outlet to turn to in the workplace being remote, or maybe those who have a lonely household or toxic/abusive household. There were so many stressors in all of our lives [given] the constant change of routine that was out of our control, and these are the same stressors that can cause major mental health concerns.
I can talk about this for days, but my goal with the community blog is to be so open about the mental health conversation with others in our community, from all walks of life, that it can eventually be as normal as talking about your broken arm or sprained ankle, as it should have always been. While supporting the Centre of Addiction and Mental Health (CAMH) through donations from our apparel sales.