We're facing up to more "headwinds" – Aviva Canada CEO | Insurance Business Canada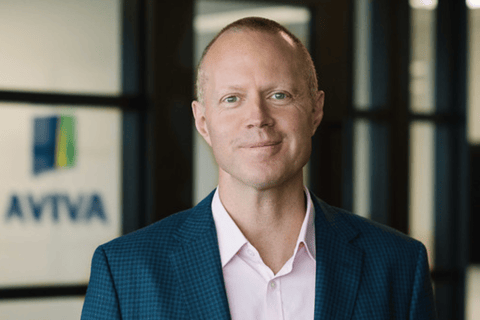 Following a results showing that propelled it into second place in the Canadian property and casualty (P&C) market, Aviva Canada expects to manage more challenges this year as it embarks on further growth.
"It feels like we've gone into 2023 with more headwinds than we were thinking about when we went into 2022," Aviva Canada CEO Jason Storah told Insurance Business.
Inflation concerns have expanded into recessionary pressures, while global supply chain issues show no sign of abating. Reinsurance renewals in January will also have a "flow-through impact" for many carriers.
Storah also said he expected claims frequency to track back to pre-COVID levels or higher. Finally, auto regulation is a "moving target" in terms of pressures in different provinces.
"We're acutely looking at Alberta, because there's obviously some short-term pressures out there with elections coming up," he said.
As the insurer looks to many challenges and opportunities ahead, Storah said he had three messages for brokers:
"The first is a big thank you to all of our brokers, because we wouldn't have achieved our results without their support and their hard work along with everybody at Aviva.
"I hope that brokers expect us to continue to be candid with them about how we mitigate the downside risks and challenges, and how we work together to make sure that customers are properly insured.
"The third thing I would say is that brokers should expect us to keep investing in our infrastructure and the capabilities we offer to them.
"There's still more to come in course of this year."
Aviva plots "more of the same"
"More of the same" – that's what customers can expect from Aviva Canada this year, according to Storah, with the insurer looking to extend its growth momentum from 2022.
The business's premium growth of 8.6% in 2022 drove it into second place in Canadian P&C, nipping at the heels of rival and number one Intact.
"We're definitely looking to continue growing in the commercial space, particularly in the mid-market and what we call GCS, the global corporate specialty business," Storah said.
"We have a fantastic partnership with RBC [General Insurance], and given the brand, the investment, and the capability they have, we're really excited about the growth opportunities there. We've got a specialty business both in commercial and personal lines that we see lots of growth opportunities with our brokers.
"If I look across the spectrum, it feels like there's some good and broad opportunities for us to keep growing in 2023."
Profitability dragged by claims frequency, inflation
Aviva Canada has reported its combined operating ratio sat at 92.5% in 2022, deteriorating from 90.7% in the previous year. Storah attributed this to an uptick in claims frequency, paired with an economy double-whammy of supply chain disruption and inflation pressures.
"We were expecting [profitability] to deteriorate a little bit because auto claims frequency has continued to creep back with more people on the roads," Storah said.
"Broadly, we've seen more supply chain and inflationary pressure, particularly in the past year. We expected those things to play through, but when you look at our results on an underlying basis, we stack up very, very well versus our top competitors."
Growth 'across the board'
On the other hand, Storah attributed Aviva Canada's growth to a diverse portfolio between its personal and commercial insurance lines.
Commercial lines premium rose 14%, helped by continued rate hardening across the market, but several segments also grew on an underlying basis, according to Storah.
Personal lines grew 6% in 2022. At the same time, the company hit $100 million in high-net-worth business in its specialty personal lines.
"We want the balance between growth and achieving our profitability objectives," he said. "We moved into number two [in the P&C market] after Q1 last year, and then just built on it through the course of the year."
What do you make of Aviva's plans for the year? Leave your thoughts below.