IBAO launches hybrid learning licensing course | Insurance Business Canada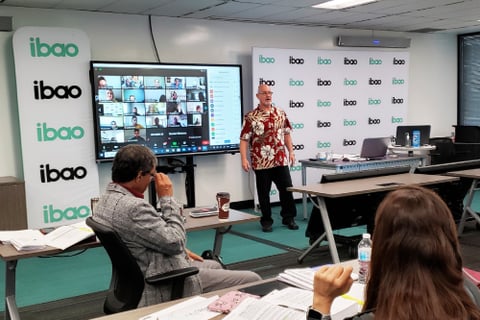 Learning in a classroom might be a thing of the past, at least for the time being, so the Insurance Brokers Association of Ontario (IBAO) is adapting to this new normal with its broker education offerings. In fact, the association recently released its revamped licensing course, called Broker Launchpad, that includes a new hybrid classroom, textbook, brand, and microsite.
The licensing course provides prospective brokers with choices designed to accommodate their schedules, learning preferences, and personal situations, according to a news release. Participants can decide between weekday or weekend sessions, participating in-person or virtually, choosing a textbook or eBook, and writing an in-person or online exam.
Read more: IBAO moves to online learning amid COVID-19
"I think that hybrid learning is actually the future of education, and the pandemic has expedited this," said Brett Boadway (pictured), IBAO's chief operating officer. "With all the technology available these days, the ability to join a course – and join it effectively using technology – is very real. We're taking advantage of that, and delivering an option so that it doesn't matter if you live in Ottawa, Thunder Bay or Toronto, you can still have access to best-in-class instructors and our classroom experience, which ultimately will lead to better brokers and more brokers."
Strengthening the broker pipeline is a key goal for the IBAO that's reflected in the new Broker Launchpad offering. After all, if you want to recruit brokers, you need to license them first. The Broker Launchpad also casts a wider net and removes barriers to becoming a broker, especially in parts of Ontario that are farther away from the GTA, noted Boadway.
"Sometimes, brokers struggle to find licensed individuals, so now they can focus on finding individuals with the soft skills or talents that they require, and then get them licensed after the fact easily," she continued.
Broker Launchpad is the latest addition to the IBAO's catalogue of broker education tools, and fits alongside its other releases, which include the new broker essentials course (helping newly licensed brokers transition into the practical day-to-day of a broker), commercial lines certificate (training personal lines brokers to work in commercial lines), and redesigned eLearning library (bringing continuing education courses to brokers of all levels). However, the Broker Launchpad is the root for the rest of an insurance professional's education journey, and when this journey starts with a strong foundation, that's the best way to kick off any type of career trajectory, said the IBAO COO.
Read more: IBAO launches broker education aimed at newly licensed professionals
"[Broker Launchpad] is the starting point," said Boadway. "And then we'll hopefully see more people go through some of our other options as well, from a designation to a commercial lines certificate, to more advanced technical information, getting into policy wordings, and then finally ending with the RIBO Level 2, which is required to become the principal broker or owner of a brokerage."
The first Broker Launchpad course is in session already, and there's a full house, with some of the 60 participants learning online and others working in the classroom, with the groups interacting with each other regularly.
"The two groups are meshing, sharing information, and feeling like they are one unit, even though some are on Zoom in the comfort of their own home, and some are sitting right here in our classroom," said Boadway.