Calls for Canada to prioritize climate defence after another $2 billion loss year | Insurance Business Canada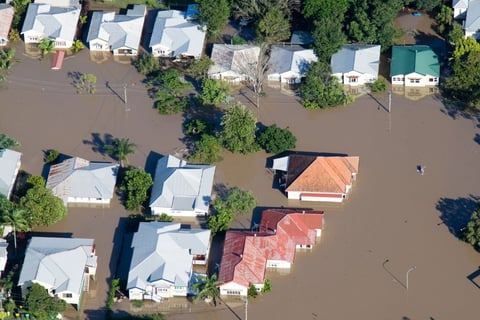 Insured damages for severe weather events across Canada reached $2.1 billion in 2021, according to Catastrophe Indices and Quantification Inc. (CatIQ), making it the sixth highest loss year on record.
Two single events resulted in almost half of the total insured damages: the November flooding in British Columbia (approx. $515 million insured damage), and the Calgary hailstorm in July (approx. $500 million insured damage). The remaining losses were the result of storms countrywide, wildfires (the most notable being the Lytton, B.C. wildfire, which caused approx. $102 million in insured damage), and the Barrie, Ontario tornadoes, which caused approx. $100 million in insured damage.
"2021 is on par with the loss numbers that we've seen in recent years," said Craig Stewart, vice president, Federal Affairs, Insurance Bureau of Canada (IBC). "We've been averaging about $2 billion in losses annually over the last five years. The number in 2020 was $2.3 billion and the number in 2018 was around $2 billion, so this isn't surprising anymore. However, we're looking at four to five times the numbers we were seeing 15-years-ago, so there's been a rapid escalation in insured losses across the country."
While Western Canada experienced its fair share of extreme weather events in 2021, with wildfires, floods, heatwaves, and hailstorms all wreaking havoc at some point, Stewart stressed that no part of Canada is immune to escalating catastrophe losses. All parts of the country have been impacted by extreme weather events in recent years, which is why the IBC is pushing for lawmakers to prioritize climate defence and resilience.
"We have seen a real shift in governments prioritizing climate defence over the past year," said Stewart. "Five-years-ago, when the IBC went coast-to-coast making presentations and speeches warning of what we might see [in terms of extreme weather] based upon our modelling and what we were seeing internationally, it was hard to get traction at that time. But that has now changed, and climate adaptation is front and centre in our conversations with the federal government and with provinces."
Read next: Modelling – an important tool in Canada's natural disaster resiliency
The federal administration under Prime Minister Trudeau is developing a National Adaption Strategy, which is intended to propose measurable and concrete actions to protect Canadians by 2030. Furthermore, the government has appointed a new Minister of Emergency Preparedness, Bill Blair, who will report directly to Trudeau. Stewart deemed this appointment "the clearest signal yet that they're taking this seriously".
"We're seeing commitments to a high-risk flood insurance pool, which is now being treated with increased urgency by the new Minister of Emergency Preparedness Bill Blair," Stewart commented. "We're also seeing commitments to increase the funding for the Disaster Mitigation and Adaptation Fund run by Infrastructure Canada, and we're seeing a commitment to a new resilient home rating system so that Canadian homeowners across the country can determine exactly how resilient their house is according to some sort of national framework. All of this is new, and it gives us hope that governments are treating this much more seriously, as they should.
"We are behind where some of our G7 peers are, and we do need to accelerate this work. For instance, we do not need to wait on a National Adaptation Strategy to be released before funding some of these things in the next federal budget. IBC has been pushing for this. There's low hanging fruit, and we know what to do: investments in disaster mitigation, investments in home retrofit programming – expanding the existing home retrofit programming that focuses just on energy efficiency, to include resilience retrofits. There are some things that we could be doing right away, and that we hope the federal government will implement as soon as the spring."
Read more: Federal government welcomes CCA climate change resilience report
Insurance carriers and brokers play a key role in informing Canadians of the risks they face. Brokers and agents are particularly important, according to Stewart, as they're the first point of contact with consumers, so they need to be armed with the right information and insurance solutions to adequately inform and service their customers.
"There's a real education and advocacy role that our industry should be playing," Stewart told Insurance Business. "We're seeing that there are particular pain points that are being felt by Canadian consumers – and this was evident with the flooding in British Columbia in the fall. We need to work with governments to address those pain points, and evolve our offerings to ensure that our customers are protected - and we're doing so. We are participating fully with governments in developing a National Flood Insurance Program, which is probably the biggest insurance protection gap related to climate change - and we're tackling that head on. We just need to continue working with governments across the country to make sure that gets implemented in the near future."
In the past year, there's been a positive shift in Canada in terms of awareness about climate change and the need for countrywide adaptation.
Stewart commented: "Most of the climate change dialogue in this country has been focused on emissions reduction and 2050 Net Zero targets. And while those are fundamentally important, the fact that Canada is witnessing the impacts of climate change today - much quicker than we thought – that means we need to accelerate our work on climate adaptation. And we are witnessing that governments are finally coming to that conclusion as well.
"As an insurance industry, we need to be solutions-focused, we need to be working in partnership with governments to ensure that our customers are protected. Our call to action is for our industry to continue to play a constructive role and to evolve our offerings to ensure that Canadians are protected given the new realities that we're facing."