Canadian catastrophe marked as one of most severe in North America | Insurance Business Canada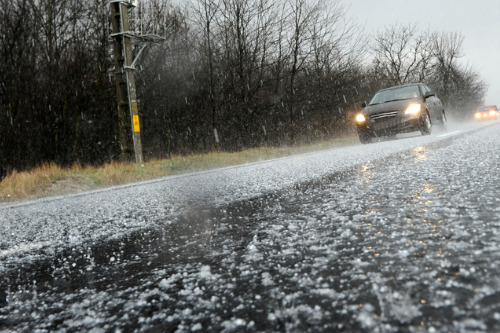 The major hailstorm that battered the Calgary metro region in June 2020 has made it into Aon's Weather, Climate & Catastrophe Insight: 2020 Annual Report as being one of the most severe catastrophic weather events in North America last year.
On Saturday June 13, a severe convective storm brought tennis ball-sized hail and flooding northeast of Calgary, resulting in more than a billion dollars' worth of insured losses, primarily from flooding and hail damage claims. It was the costliest severe convective storm even on record for the Canadian insurance industry.
This event was one of many record-breaking climate-driven weather events in 2020, according to the Aon report. Tropical cyclones, floods, wildfires and thunderstorms all heavily contributed to global economic damages of US$268 billion, of which public and private insurers only covered 36%, at US$97 billion. That left a significant 64% insurance protection gap worldwide.
Read next: "Climate-influenced" weather key driver of catastrophe damage
While Canada's economic resilience is strong and the insurance uptake is generally quite high, there are always challenges and concerns around economic volatility following large-scale events. While approximately CA$1.2 billion of damage from the Calgary hailstorm in June was covered by insurance – most property and auto insurance policies will cover hail damage – there were still significant uninsured losses for locals to deal with.
Soon after the event, Alberta Premier Jason Kenney announced that the province would offer disaster relief funding for uninsurable loss and damage from the storm related to overland flooding, but the funding did not include coverage for hail, sewer backup, or insurance deductibles. Local activists criticized the relief program for not doing enough,
Reflecting on the amount of global uninsured losses in 2020, Steve Bowen, director & meteorologist, head of catastrophe insight at Aon, commented: "As climate change continues to effect the behaviour of weather events and humans continue to move into vulnerable locations, the impact and financial costs of natural disasters will only increase.
"Business and governments alike need to navigate this volatility and rethink access to capital to protect people and their assets. This high amount of uninsured loss continues to highlight the importance of making sure that more people have access to insurance products in the future."
According to a report published recently by the Canadian Institute of Climate Choices (CICC), Canada's GDP has lost between 5% and 6% of growth annually over the last decade after suffering billions of dollars' worth of severe weather-related damage. The report states that costs per disaster have jumped from an average CA$8 million in the 1970s to approximately CA$110 million in the 2010-2019 period, marking a 1,250% increase.
Read more: Damage from recent snow squall likely to be "significant"
CICC recommended that Canada's federal, provincial, and municipal governments increase their spending on disaster prevention, and improve how they coordinate mitigation efforts among themselves and with other key industry stakeholders. This is something that insurance industry experts have called for time and time again.
One of the more vocal supporters of a multi-stakeholder catastrophic resilience approach is Monica Ningen, Swiss Re Canada's president and CEO. She told Insurance Business: "Countries are more or less vulnerable to natural disaster risk according to their level of preparedness and their ability to absorb losses.
"We must take the steps necessary to protect Canada against the impact of severe weather. Some are costly from a financial standpoint, and some would require a complete change in the way that we live our lives. But we can't afford not to make these changes. Anything done to mitigate and adapt natural catastrophe risk is a step in the right direction to ease the elevating burden of the economic future."
The stability of Canada's economic future and resilience to climate-related perils has only grown more important in the context of the COVID-19 pandemic and resulting financial hardship suffered by countless Canadians.
Aon's Bowen commented: "COVID-19 has accelerated the complex nature of handling parallel and connected major events that have global implications. It has proven that preparation for long-term risks, such as climate change and other types of societal disruptions will require bigger and more strategic decisions around risk management and business continuity.
"The goals are clear: to provide cover in times of need, to help better manage physical risks, and to address the underserved with more affordable and scalable products. It can and will be done."