Investigation reveals conclusions on record-breaking wildfire | Insurance Business Canada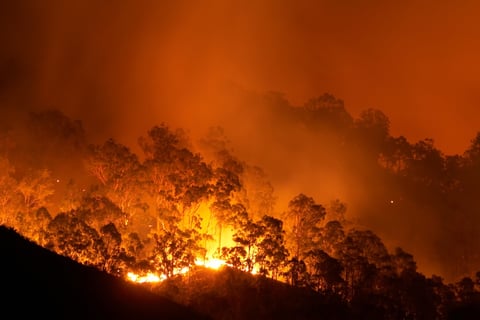 A report from the Transportation Safety Board (TSB) has concluded that there is no evidence to support the claim that a train caused the wildfire that destroyed the community of Lytton, BC.
Released yesterday, the summation found that a Canadian National train with 157 cars passed through the area where the fire is suspected of starting some 18 minutes prior to the initial report of the blaze. An inspection of the train found no evidence of hot bearings or "other potential fire-creating causes," TSB said, and no other anomalies with the train were found.
TSB also inspected samples of a coal-like substance, which was found in an area west of the track which was suspected to be the source of the fire. But the agency ruled that the substance had "little in common" with samples taken from an exhaust stack or a rail grinder vehicle.
"Based on this review, we have found no evidence to conclude that the Lytton fire was caused by railway activities in the area," TSB chair Kathy Fox said in a media conference.
"Consequently, we have concluded our investigation."
However, Fox said that the TSB's findings do not fully rule out the possibility that sparks from a passing train could have started the wildfire; the report only says that there is no evidence to support the train spark claim, the chair noted.
Toronto Star reported that both the BC Wildfire Service and the RCMP are still investigating the cause of the wildfire.
A proposed class action lawsuit was filed in August on behalf of those who lost their homes or businesses to the Lytton fire, alleging that rail companies contributed to the fire. Neither Canadian National nor Canadian Pacific – the companies named as defendants in the suit – have filed a statement of defence, Toronto Star said.
Read more: Lawsuit claims CN, CP railways at fault for fire that wiped out B.C. town
The Lytton fire, which sparked June 30, 2021, set a record by reaching temperatures of 49.6 C.
Some 250 people called the village of Lytton home, and about 2,000 Nlaka'pamux people also live within proximity of the community. It only took 10 minutes for the fire the spread throughout the village, due to 50 km/h wind.
According to the Insurance Bureau of Canada, two people were killed by the Lytton fire, and it caused approximately $78 million worth of insured damage.